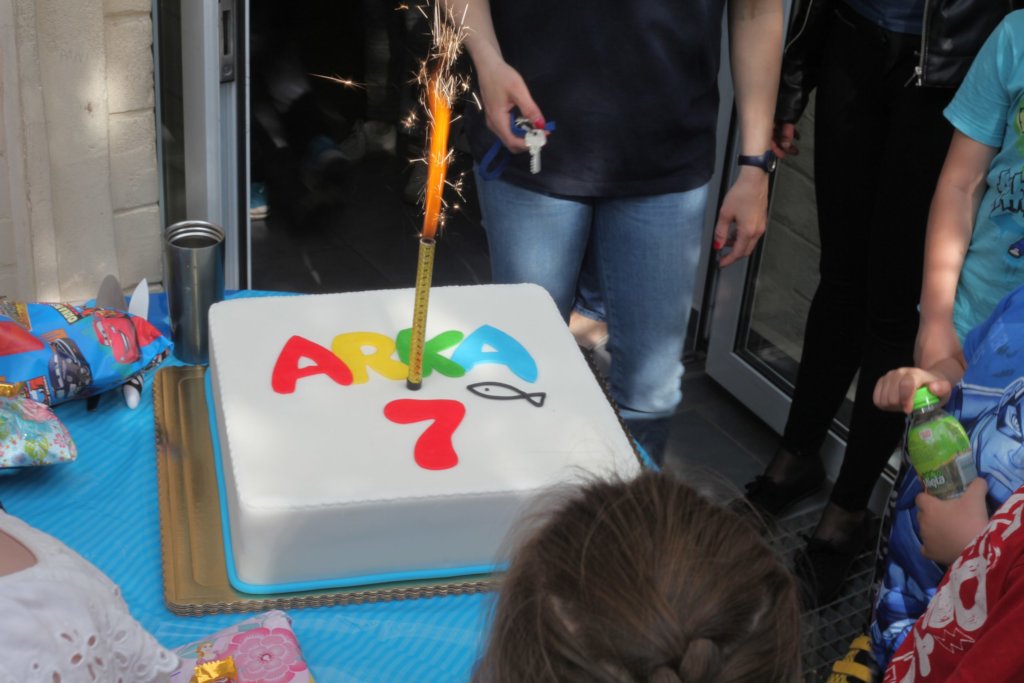 // Time to celebrate!
We recently celebrated the 7th birthday of our Arche (Arka) Warsaw!
For seven years, we have been working for children and youth in Praga Pónoc district, helping kids spread their wings, gain new skills, give them our attention and time. Above all, we have a lot of fun with each other and we are a great team. We had a wonderful celebration with gifts and lots of cake!
We thank our partners for the great support!
// Back to school = Back to normality?
The summer vacation is over and school has started again. "In our class, it's terribly noisy, no one can concentrate, and the teacher can hardly get a word in," tells us Pascal, a 12-year-old boy. One and a half years without regular classes lay behind our Arche-kids. A time marked by lockdowns, school closures, and homeschooling that didn't work very well for most of our children and teens. Many of the children are overweight because they spent their time in isolation in front of the television rather than on the sports field, which was closed. I notice concentration difficulties, an increased potential for aggression, resignation, and fear of the future.
Appearances are deceptive when you see the smiling children at the Arche. Of course, they feel at home at the Arche and are happy to finally be back in their second home, being able to meet staff and friends again. But something about our children is different. It is striking how much they have been affected by the last few months. They are aware that they have been left behind. Because they often lacked electronic devices for homeschooling, their internet connection was too slow, or their parents couldn't support them enough. Some kids were doing better academically in early 2020 than they are doing now. Many second and third graders spent more time at home than in school.
A regular daily learning routine was the exception. Most children lacked the necessary structure. Now, sitting and concentrating in school again for six hours every day seems impossible for many children. Even though we are - hopefully - slowly returning to the normality of everyday life at the Arche, it feels like a new era. We have learned new lessons, become more digital, and have visited more families at home. We have become aware of additional needs and challenges and have created new projects to support our children even more individually. Meanwhile, we even use trained dogs in families for better harmony and to compensate for deficits in the children. I am glad that we have managed over all these years to always keep our finger on the pulse and not lose faith and hope.
With all the challenges our children face, they need a lot of love and understanding right now. We can only do that with people who are there for them. With employees and volunteers who listen, look, encourage and support. People who take the time to convey faith, hope, and love. After 26 years of fighting child poverty and exclusion, we face a new stage. We must help heal, connect and nurture. During lockdown and isolation, we have visited children at home, brought them food, and provided digital devices so we could stay in touch and help them learn virtually. With great success: everyone who was about to graduate from high school did so.
But now, we must succeed in ensuring that they do not miss the boat. It is a big challenge because our children have changed. We have to bring many of them out of their despair. But I am confident that we will succeed. Because we have you, our partners, supporters, and friends, to whom I am grateful from the bottom of my heart that you have not lost faith in our children. Let's continue to reach out to the children and teens so that their childhood turns into a beautiful and encouraging experience.
Links: