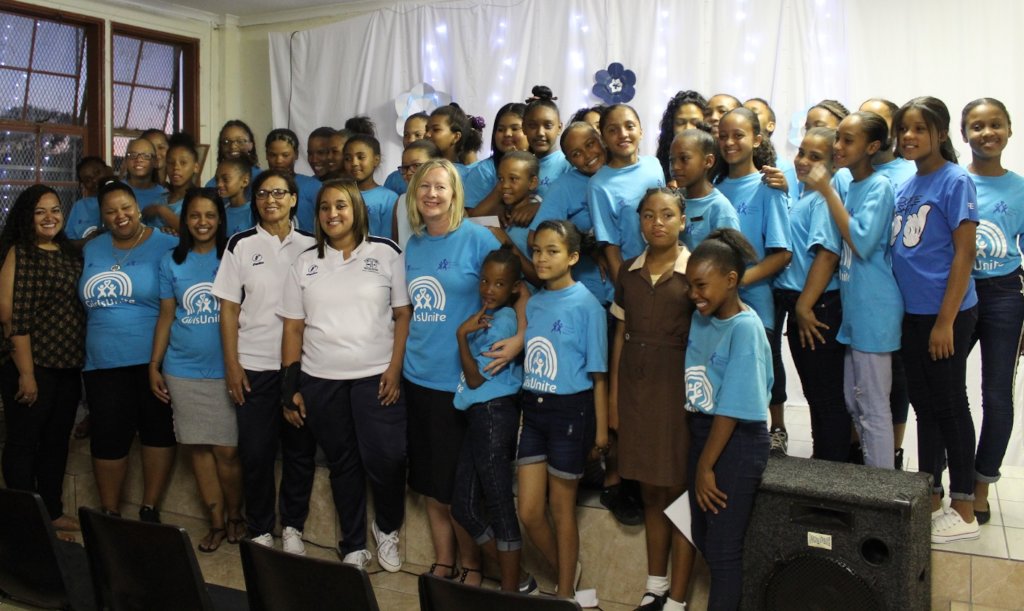 United Through Sport recently celebrated its pilot girls' empowerment programme with a graduation ceremony hosted at Astra Primary School in Bethelsdorp, Nelson Mandela Bay, South Africa.
Here, in their own words, are what some of the girls had to say about the programme:
"My Voice matters because I have the right to say no to things."
"GirlsUnite taught me to speak up."
"GirlsUnite helped me to share my problems in a safe space with other girls."
"GirlsUnite helped me through difficult times, when I was in trouble."
"I learnt that I am strong, brave – I will always be, because of GirlsUnite".
GirlsUnite has been running at the school since the second semester of 2018, where girls aged between 10 and 14 years from the local community – including girls attending neighbouring schools – were equipped with skills and knowledge to safeguard and empower them to cope with challenges in their socio-economic environment more effectively.
United Through Sport General Manager Spakes Xapile said the programme has achieved rewarding results, with the desired impact on the lives of the girls who graduated.
"We find this to be a critical intervention age, where girls reach puberty and are exposed to many challenges. They do not always feel comfortable discussing sensitive topics with the boys present in class. The programme had excellent results with regards to building the girls' self-actualization and self-esteem," said Xapile.
The programme included activities such as sexual health workshops facilitated by graduate counsellors from Nelson Mandela University's Missionvale Psychology Centre; self-defense sessions on physical safety as well as a talk on being safe online by a social media expert. Several guest speakers were invited to address the girls on various topics to empower them.
The theme of all the sessions and outings revolved around the power of the girls' voices, said GirlsUnite Co-ordinator Cindy Preller.

"The girls became more confident, they know their rights, they know where to turn to for help, and importantly, they are able to share this knowledge with other girls in their families and their communities. It has been amazing to see the transformation in the girls as they find the power of their voices," said Preller.
United Through Sport would like to thank all the guest speakers and corporate partners who donated of their time and in-kind donations to support the programme. A special thank you to the main funder of the programme: EMpower Innovations Awards through the Estee Lauder Companies Charitable Foundation.
United Through Sport plans to continue with the programme in 2019/2020 and would like to expand it to other schools in Nelson Mandela Bay, as well as include a dance component to the programme, where the girls will learn new life skills through interactive dance moves.