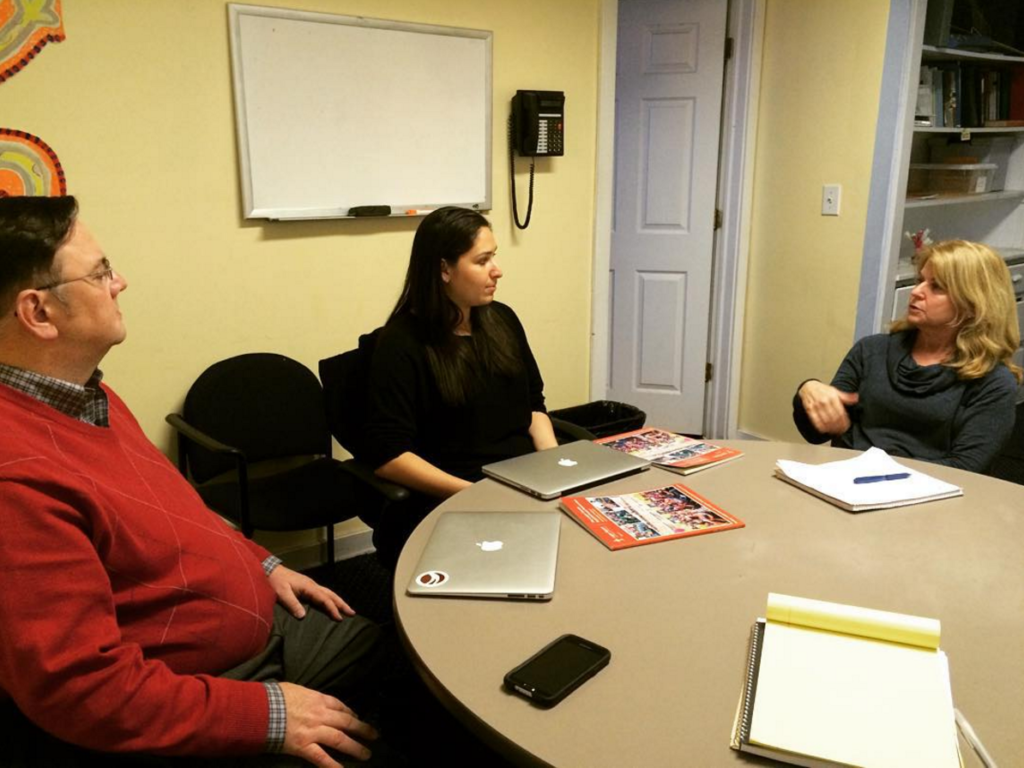 Ten years ago, GlobeMed was founded on the idea that students have immense potential to advance global health equity if they work alongside with grassroots organizations already making change in their own communities. This model of partnership drove GlobeMed's growth, as we quickly scaled from 7 university chapters in 2007 to 47 chapters in 2013.
In 2013, after years of continual growth, we took a step back to reflect on what we had accomplished thus far. What we found surprised us. While we had done well in recruiting chapters and students passionate about a different approach to global health, we saw that our organization was homogenous. Our university chapters were housed at predominantly white institutions that were rich with resources and whose campuses heavily skewed towards white and Asian populations. There was something wrong with that.
If we were truly trying to change the dynamic of how student global health engagement, how could we only include this specific type of university? If we thought our programming provided a vital experience to students, how could we make it more accessible to those who had the passion, but lacked the outlet? If we wanted to make our network inclusive, how could we expand our reach?
Starting something new
In 2014, these reflections led us to found a chapter at Wilbur Wright College, a community college on the west side of Chicago. We recognized that there would be challenges to starting a GlobeMed chapter at a community college - namely high student turnover rate - but we were committed to seeing what was possible.
Our initial idea was to have the Wilbur Wright chapter work alongside an existing GlobeMed chapter to learn about the organization, build a community of peers, and participate in a chapter's existing partnership with a grassroots organization abroad. By fall of 2014, our pilot was launched - we had a committed Wilbur Wright student who was ready to work alongside our established GlobeMed at University of Chicago chapter.
Throughout the course of the year, we tried to plan meetings to help guide the students' collaboration, but challenges sprung up from every angle. While both schools were in the same city, it took over an hour to travel from one campus to the other. Students on both sides had competing priorities that reduced their availability for collaboration. Ideal meeting times for one set of students clashed with what was possible for other students.
Although there was interest and commitment, we weren't making progress. By the end of the year, we still only had a couple of committed students and it was clear that collaborating across the different campuses was not going to work.
In 2015, with the intention of starting anew, we took a different approach. Instead of trying to pair the Wilbur Wright chapter with an existing GlobeMed chapter, it would stand alone but have its own type of partnership. Given the students' high turnover rate and the lack of fundraising culture at the school, the GlobeMed chapter would focus on partnering with a local organization, one that could use the resources and skills students had to advocate for local change. That year, the chapter partnered with the Logan Square Neighborhood Association (LSNA), a nonprofit organization focused on protecting housing rights in Chicago.
The partnership began well. The students volunteered at the organization, serving in awareness campaigns and organizing citizenship classes for members of the community. Yet by the end of the year, the partnership ran into trouble. Students, who still so wholeheartedly believed in what they could do alongside LSNA, were juggling their GlobeMed responsibilities with obligations to their families, employers, and studies. The leaders, who had been driving the chapter, were getting ready to transfer to other institutions. The chapter still hadn't gained steam on campus and was again left with to start all over the next year.
After two years of failure, we began to ask ourselves: was this possible? And if so, what changes do we need to make?
Learning from experience
Seeing the challenges and failed models at Wilbur Wright, we started to more deeply reflect on our experiences. Ten years ago, GlobeMed was founded as a response to a lesson. We learned that in global development, "experts" are often people who design programs without direct input from communities where these programs are implemented. From this lesson, we created the current GlobeMed model of working in partnerships, alongside grassroots organizations who are working to improve their own communities.
In reflecting upon the failed models at Wilbur Wright, we realized that we were using the exact approach that we criticized in development "experts." We had started our pilot chapter at Wilbur Wright by implementing our own ideas - we had come up with a "solution" while still lacking a true understanding of the culture and structure of a community college.
We realized that the staff, faculty, and students of Wilbur Wright needed to have more input on strategy since they were the ones deeply embedded in the school's community. They were the people who had an intimate understanding of the campus. They were the ones who needed to be centered in our program design. The only way to adapt our model successfully would be to co-design, co-develop, and co-implement our programs alongside these campus leaders.
Moving forward
With these lessons in mind, we committed ourselves to not only incorporating the voices of Wilbur Wright and LSNA into our next steps but also making sure those voices were the ones leading the process. This time, rather than putting forth our proposals and asking for feedback, we had in-depth conversations with Wilbur Wright's faculty advisor and staff members at LSNA's to co-develop our strategy.
Eventually, these conversations led to the chapter's faculty advisor proposing that GlobeMed be incorporated into her class' academic curriculum. As we talked through the idea, we were reinvigorated by the potential of what GlobeMed at Wilbur Wright could become. Together, working alongside the school and partner organization, we co-developed a modified structure, partnership model, and integrated curriculum. This time, instead of leading the conversation, we listened, making sure that the Wilbur Wright faculty and LSNA staff members were the primary decision makers in their own partnership.
We're continuing to draw on this failure - and the lessons learned - as we prepare to pilot our first international chapter. Instead of launching immediately, we will be spending a full academic year collaborating with the chapter founder to understand the university and community culture and co-develop a modified chapter structure, governance system, and partnership model to fit the needs of the students and university.
Despite two years of challenges, we are excited to see how applying these lessons will move our network forward as we continue to expand our reach and impact.