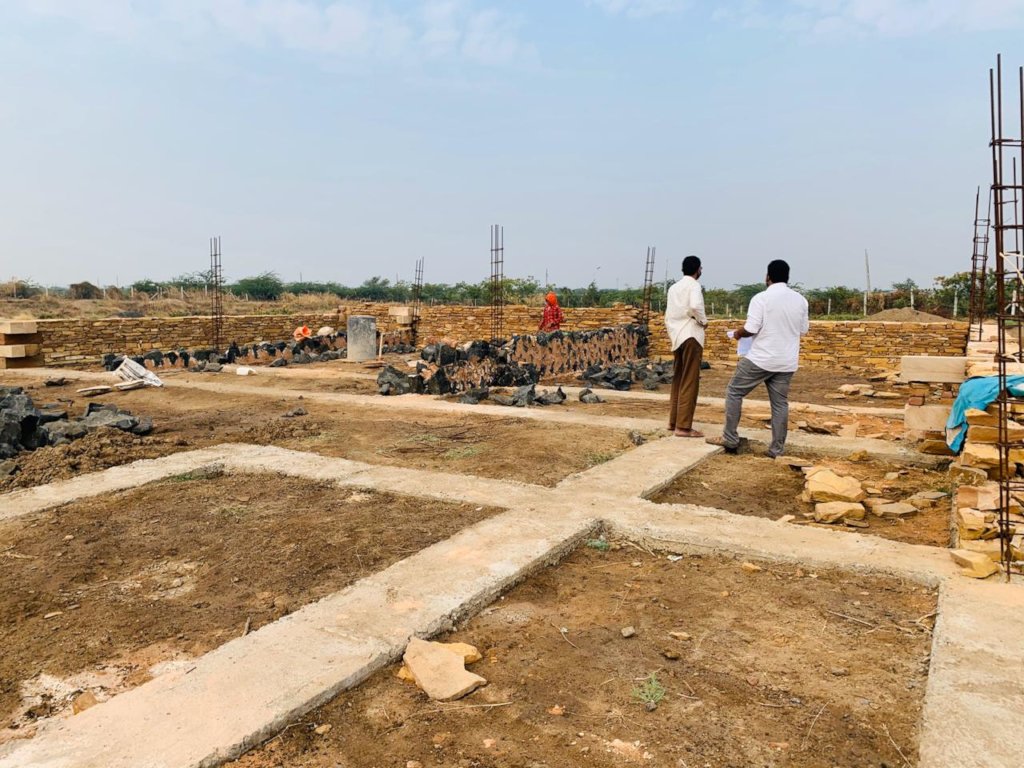 Somaiya Kala Vidya Class of 2020
PROJECT REPORT
January – 2021
"This is the future of my home, my child and my life," - Priyankaben, Student Class of 2020-2021
A Note on Names
A key goal of Somaiya Kala Vidya's education for artisans' programs is to bring visibility to unrecognized artisans. Our students and graduates, faculty and workshop participants are proud and happy to be recognized and have consented to have their names shared.
Somaiya Kala Vidya is an institution for traditional artisans of Kutch, India. Combining over fifty years' experience of Somaiya Vidyavihar University with fourteen years of design education for artisans, it offers sustained, coherent programs in design and business to provide effective, relevant and practical education. SKV honours and incorporates existing traditions. Its advisors are Master Artisans. Its faculty are professional educators. SKV offers workshops to the world and courses in craft traditions taught by artisan designers. Artisan-to-Artisan Outreach programs and Co-Design Collaborations demonstrate the importance of education for artisans and generate motivation to build a movement of Design Craft.
EDUCATION FOR ARTISANS
DESIGN FOR ARTISANS COURSE 2019
Education for artisans is SKV's reason for being. This academic year started with two classes for the design course running simultaneously. The men's class has ten students and the women's class has seven students. The classes of 2020 began their design education journey with orientation workshops on 26th and 27th of December respectively.
Photography and Videography Workshop
Considering the current pandemic situation, and the increase of influx in digital media, we decided this would be the apt time to educate and introduce our students to basics of photography and Videography. The workshop was taken by Anahita Ginwala for the women's class and Lokesh Ghai for the Men's class. Both the faculty have already taken physical classes with the students making it easier for them to interact and receive feedback. The workshop was organized in the months of August – September. The final videos were shared through our social media platforms. The students have also started their own social media accounts post the workshop and are using it not only to promote and share but also to connect to potential customers.
Governing Council Meeting
The Governing Council was revived on the 25th of November 2020. The meeting was very insightful and was attended by Samir S. Somaiya – in Chair, Judy Frater, Lokesh Ghai, Amrita S. Somaiya Lt. Gen. Jagbir Singh, Nishit Sangomla, Miten Sachade, Anjana Somany Dr Rajasekharan Pillai, Faraz Kagalwalla. In the meeting considering the current circumstances, it was decided to postpone the physical classes until vaccination was available for COVID-19 or until May 2020 when our new campus with better facilities and amenities would be ready. This would give the SKV ample space and resources to follow COVID guidelines for the restart of the physical sessions.
Keeping the Momentum up
A new set of assignments leading to a final online exhibition organized by Somaiya KalaVidya, for the students were conceived. For the women's class, Anahita Ginwala and Shwetha Shettar would be taking the sessions and for the Men's class, Lokesh Ghai would be taking the sessions. The assignments for the women's class began on the 23rd of December 2020 and for the Men's class would begin on the 9th of January 2021. We will update the same in our next report. Keep watching this space for some exciting developments
IKSULA-ETSY Partnership and Workshop for Alumni
Somaiya Kala Vidya collaborated with IKSULA partners from Etsy to do a workshop for assisting the artisans to understand online platforms available for sales. The curriculum covered the basics of online selling to supply chain management and shipping. The IKSULA team also assisted the interested participants with onboarding on Etsy.com. Twenty-five of our graduates were interested in the project and we did the workshop with ten selected Alumni as a pilot. It was a very enriching experience for the Alumni and for the team.
INSTITUTIONAL DEVELOPMENT
The construction of our new campus which began on the 3rd of February 2020 is taking shape. The first phase of the same is to expected to complete in mid-may 2021. The rest of the course for this class will restart on the new campus.
STAFF AND ALUMNI NEWS
SKV in association with the Inner Wheel Club of Women – Bombay participated in an online exhibition in the month of November. Seven of our Alumni participated in the event generating sales of INR 49,450/-. Artisan First online exhibition garnered good support and also helped us getting sales close to INR 50,000/-.
Divyashree Dubey who joined us on the first of March 2020 as the program coordinator resigned on the first of October 2020 to pursue higher studies. Avantika Gandhi has joined in her place from the first of November 2020. Avantika is a graduate of the Indian Institute of Craft and Design Jaipur and is an SBI YFI Fellow 2019-2020.
Since its inception, SKV has been raising awareness and value for artisans' traditional knowledge and skills by conducting workshops and courses taught by artisan designer faculty. In November 2017 SKV launched Open Studio Tours in Bhujodi and Ajrakhpur. Proceeds from both workshops and Open Studio tours support SKV programs, insuring financial as well as cultural sustainability. The workshops, courses and open studio tours are cancelled/postponed until further notice amidst the current COVID-19 pandemic situation.
For more information contact kalavidya@somaiya.org.
SKV IN PRINT, OUTLOUD AND ONLINE
Browse the SKV website.
Learn more about our work on our facebook page.
For a discussion on issues of art and artisan, follow Judy Frater's blog Find SKV on Instagram!
On 6 July 2018, SKV began a YouTube channel.
https://www.youtube.com/channel/UCnbxdYIe8v36eDHqmdEiFsg/featured?view_as=subscriber
We have 9 videos on our channel, all providing important insights on craft in Kutch today. Please do look for updates on our convocation here.
SKV is on Trip Advisor, and our Open Studio Tours are the first and only Airbnb Experiencein Kutch!
DESIGN CRAFT Association
Design Craft Association was formed to foster a community of artisan designers and offer them a presence and a platform. It provides artisan designers with a great opportunity to present their brands, under their own labels.
You can meet Design Craft artisans on the SKV website. We welcome you to log onto www.somaiya-kalavidya.org. Under Design Craft you will find a map and a link Design Craft Members that will take you toprofiles of each artisan designer. We password-protected the profiles. You will have to register to view them, but it is an easy procedure.
SKV GOVERNING COUNCIL AND ADVISORS
SKV's Governing Council includes Shri Samir Somaiya, Amritaben Somaiya, Lt. Gen Jagbir Singh, Mitenbhai Sachade, Judy Frater, Anjana Somany, Lokesh Ghai, and Irfan Anwar Khatri.
The institute is also advised by a team of visionary Master Artisans, who guide us in honouring and nurturing textile traditions: Gulam Hussain Umar -bandhani artist, Bhuj; Ali Mohammed Isha -bandhani artist, Bhuj; Umar Farouk Khatri- bandhani artist, Bhadli; Dr Ismail Mohammed Khatri – Ajrakh artist, Ajrakhpur; and Shyamji Vishramji Siju- weaver, Bhujodi.
THANKS TO GLOBAL GIVING!
On 13 March 2017 SKV posted a project on GlobalGiving. GlobalGiving makes donation easy. To kick off our project, in March 2017 we met a challenge by raising US$ 6,563 from 43 donors. Today, 116 donors have raised $17,985—more than enough to fund an entire class of our sincere and talented artisan students. This greatly encourages Somaiya Kala Vidya and increases our visibility immensely.
Thank you, GlobalGiving.
LOOKING AHEAD
The classes of 2020-2021 will be resumed as soon as the situation eases down. We are planning to follow all safety protocols for as and when the institute resumes operations. Amidst the ongoing Pandemic, the artisan designers have shown great courage, grit, and determination, they have made us realize that the true test of an education is in times like this. Many of the graduates supported their staff throughout the pandemic both emotionally and financially. They used the time to get back to the drawing board, analyze the situation and make plans and designs for the difficult days ahead.
Keeping that in mind, the team at SKV is also planning a few workshops both for the alumni and the students, that would make them better prepared for situations in which we currently find us in. We hope for a better future but at the same time are preparing, planning for whatever the future has to offer.
"Never doubt that a small group of thoughtful, committed citizens can change the world; indeed, it's the only thing that ever has." Margaret Mead