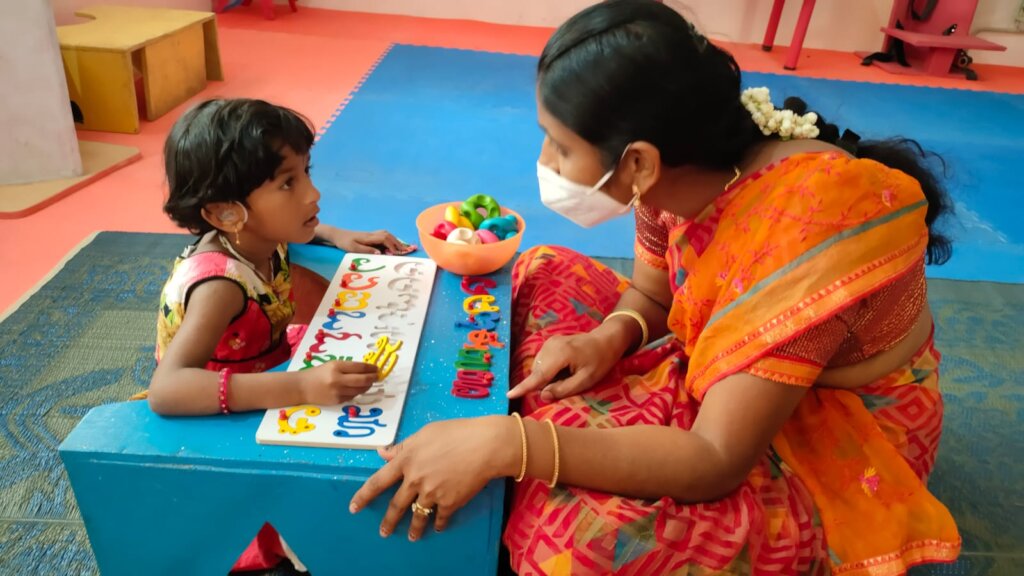 Hello friends,
Greetings from Bangalore Baptist Hospital.
Thank you for joining us in the pursuit of bringing joy and dignity to people with disabilities, including children. Your past donations helped support children in our two centres, facilitate people with disabilities access to government entitlements, offer financial support to start livelihood opportunities and provide wheelchairs and walkers to those living in villages in Bangalore rural.
Here are a few stories of inspiration for your reading:
Freshness in vivid shape and colours
It seemed 5-year-old Dhanasvi was destined live in the shadows with speech delay. Just when her parents lost all hope, kind-hearted friends like you made Dhansvi's and her parents' dream of healing come true.
The good news is not just for Dhansvi, but for around 400 children with different types of disabilities, it's a transformative time. They enjoy the facilities to write, identify objects and colours, and undergo physical and speech therapies. We have at both our centres around 200 children and the rest, whom we handhold through home visits and training the mothers to care for them.
Dhansvi, now at our centre, can form a few sentences and make eye contact. Her aggressive mannerism has turned sober, and she exhibits love and patience.
Her family spends the evening with Dhansvi, and when she identifies objects, anis a tidal wave of applause from her mom and dad. "It feels like hope has finally arrived. Thank you for connecting and engaging with us," said the parents.
Each day at our centres is a victory for the children. Their right to learn and a chance to stay as children. Thank you for your role and support in making this a reality.
Colourful makeover
Tarejan future is unleashed. "Everything he could not do before, he can do now," says his wife. "A road accident put my husband on bed rest for two years. But, with your support, there's a glint of hope. I am diabetic and have high blood pressure, and giving a hand to my husband was minimal."
Before the accident, Tarejan sold steel vessels – which was the only source of income for his family. After the accident, the income c me to a standstill, which forced his sons, aged 18 & 20, to take up painting work. "It broke my heart, but I was helpless," said Tarejan.
You, our dear friend, changed Tarejan's life. Through you, we supported Tarejan financially to sell plastic items on his two-wheeler. Despite the physical demand of h s work of ridding every day to sell, Tarejan is heartened by the income he gets to support his family. "To see there's food and money f r our need is soul-filling. Meeting people from different villages and talking to them makes me happy and takes away my tiredness."
When laughter is the only medicine
Outside the small house in a remote village in Bangalore rural, the air is thick with joy, relief and peace. Hema, the mother of Sridhar and Babu, experience a new level of hope and faith. Her elder son, Babu, is in a wheelchair, and the youngest, Sridhar, steps out of their house with a walker. Their mother cannot but hide her inner joy and relief.
"My boys had good health. Both went to school regularly. First, the elder one, Babu, fell sick and was bedridden. Then followed Sridhar. Both could not walk or even move. We went to many hospitals, and none could heal my children. We are poor. My husband works as a driver, and his income can hardly make ends meet. I work in fields to cut grass, a d I need to walk around 10km to reach the field. Our work is tiring, but we are ready to work harder to make our sons' lives better," she says.
We gather that the parents had a consanguineous marriage, and as a result, both her children suffer from various disabilities. The traditions, customs and, coupled with a lack of awareness of the effect of such marriages, still linger in rural villages. Sadly, many children are victims of consanguineous marriages.
Babu, Sridhar and mother mostly spend their time together in the evening. There's always something to laugh and cherish – be it some old story their mother would have narrated or a movie they watched on television. Happiness comes in different for s to each one of us. It can be a luxury item for some. But for this family, it's simple joy; the joy of her children stepping out and hearing their gales of laughter fill this mother's heart.
"We are so happy to meet Sridhar after a long time," chorus his friends. They elbow at each other with a high-pitched laugh. Armed with this new realisation of their friend's challenge, they vow to fill Sridhar's life with carefree moments.
We look forward to your continued support so that more lives can be touched and transformed by your kindness.
Gratefully
Caroline George