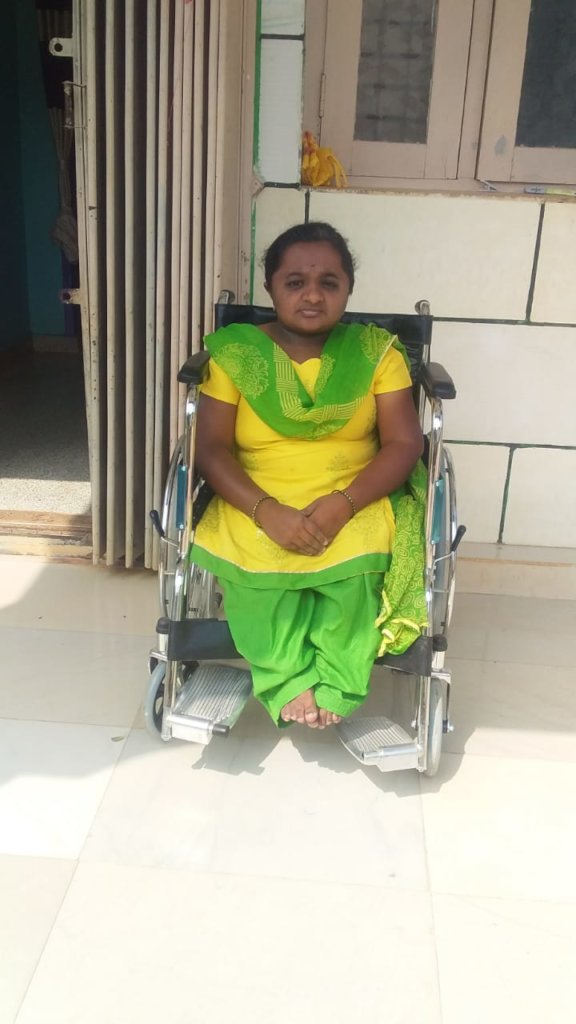 Dear donors,
Greetings from Bangalore Baptist Hospital Society. We hope all is well with you and continue to pray for everyone's safety.
Thank you for your support to people with disabilities and would like to give you an update on our programme.
28-year old Latha who is affected by Polio by birth, for the first time in her life, paused to breathe fresh air, admire nature, listen to the birds chirping. The most important part of her enjoyment was that she was able to witness at her own pace. Because she has a wheelchair donated with the support of donors such as you.
Previously, Latha stumbled; wobbled and sought her mother's support for every action of hers. Latha has endured many difficulties and hardships. From discontinuing her studies after 7th standard to be being confined to her home, she hasn't seen the brighter side of life.
Living with a disability is never easy, but there are ways that we can help a person to cope with limitations, overcome challenges, and build a rewarding life.
For Latha, the wheelchair is helping her move forward, enjoy life independently.
Latha lives with her parents in Honnavara village in Doddabalapura in Bangalore Rural. One of her sisters is married.
Just as Latha, we helped the following people to overcome disability:
People whom we supported to get access to government entitlements:
Siddappa received auxiliary crutches and a commode chair
Laghumayya received air bed and a wheelchair
Venkatesh received a wheelchair, air bed, and a commode chair
Children who received artificial limbs or assistive devices
Lokesh received AFO ( Ankle Foot Orthosis) for both legs
Children with intellectual disability who received therapy for one month
Bhavan and Uday Kiran received a customized wheelchair, special education, and speech therapy.
Thank you for your participation. We couldn't have done it without you. We sincerely hope that you will continue your support.
With gratitude,
Carolin George
Links: