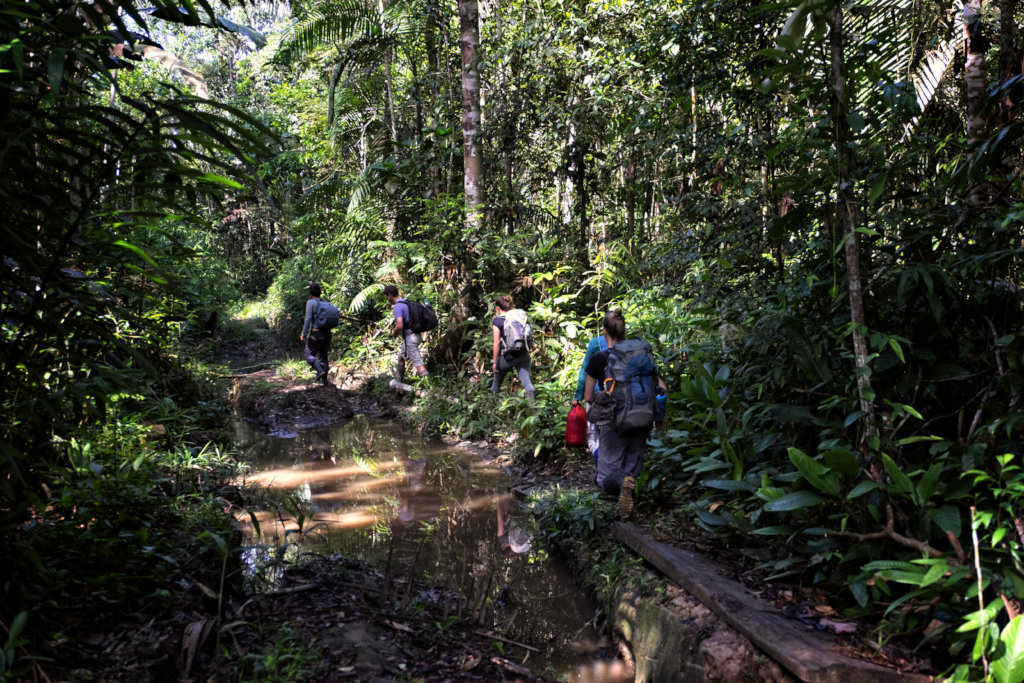 Manuel Huinga was running a tree nursery when he was 17. He had mastered the art of germinating seeds of dozens of species by the time he reached adulthood. Since then, Manuel became the founder, designer, and builder of the three tree nurseries that Camino Verde runs in Madre de Dios. He is our Forestry Coordinator and the director of our largest tree nursery at La Joya, producing over 50,000 tree seedlings a year of 100 different species for our reforestation efforts throughout the region. When we are asked to give reports to our supporters, followers and friends we like to offer a personal look at the interior of Camino Verde. Manuel has written a beautiful piece that we hope you enjoy reading.
~ Robin Van Loon, Director Camino Verde
Walking the Green Path
By Manuel Huinga
After a long time, I am once again standing before the forest, a Brazil nut forestry concession that allows me to feel that particular emotion of knowing that at each step I take I approach the discovery of some secret. Maybe seeds of a species that I do not yet know, seeds that are just waiting to be found and collected. It is a unique feeling to welcome in that silence, the calm, the peace that the canopy of the emergent trees of the forest offer.
I walk with my colleague, my friend Percy, who joined this exciting work of identifying trees that means so much to us both. We move along an almost invisible path that leads to our Reforestation Center in Baltimori. The nostalgia envelops me under the shade of brazil nut trees. Twenty-five years ago my father used to take me on a path like this; he taught me how to identify trees from their bark, by aroma, in the shapes of fruits and leaves. So many memories, so many plant names learned, have made me into the person that I am now, a servant of the forest.
Three hours have passed since we left the city of Puerto Maldonado and we arrive in Baltimori. I am surprised to see the nursery that we started six years ago, how it has grown – the leaves of more tree species emerging from small planting pots, seedlings waiting to be sown. The hands of Don Juan, our nurseryman in Baltimori, have done a great job.

Now I am heading into the forest of Baltimori. We are here to explore Camino Verde's entire conservation area in search of moenas, trees of exquisite aromas capable of igniting the spirit stored in essential oils inside their wood. In our search, Tayra accompanies us, a dog that loves to be in the forest. She appears and disappears in the brush. Her joy is contagious; it seems that she knows where the trees we are looking for are located. We exit the thick and pass onto the main path.
At this point we truly follow the steps of Tayra. The minutes pass and the search gives us its first fruits. Percy has found the first tree of Endlicheria williamsii, a moena of fascinating citrus aroma. We approach trying not to hurt the seedlings that grow around its base, then we take basic data for the tree and mark it with a red ribbon to facilitate its later location. The most rewarding aspect of our work when we find trees is to look for seeds around them. In this opportunity we only find some seedlings, but surely in the coming months we will be able to find fruits. Suddenly the rain appears and falls in force, and we must return and take a rest for today.
Every time we go out in search of new tree seeds, I feel that sense of responsibility that makes us servants, walkers of the green path, allies of the forest. The years are passing, and from each walk we make nurseries of the species that we find. Every day we have learned lessons – we are still learning – from the forest, from each other, and from all those who are willing to be part of this great family's story.
At dusk and in the middle of the forest, I feel grateful for all that I have learned today. The day ends, and the cool night welcomes us on the banks of the Tambopata River.