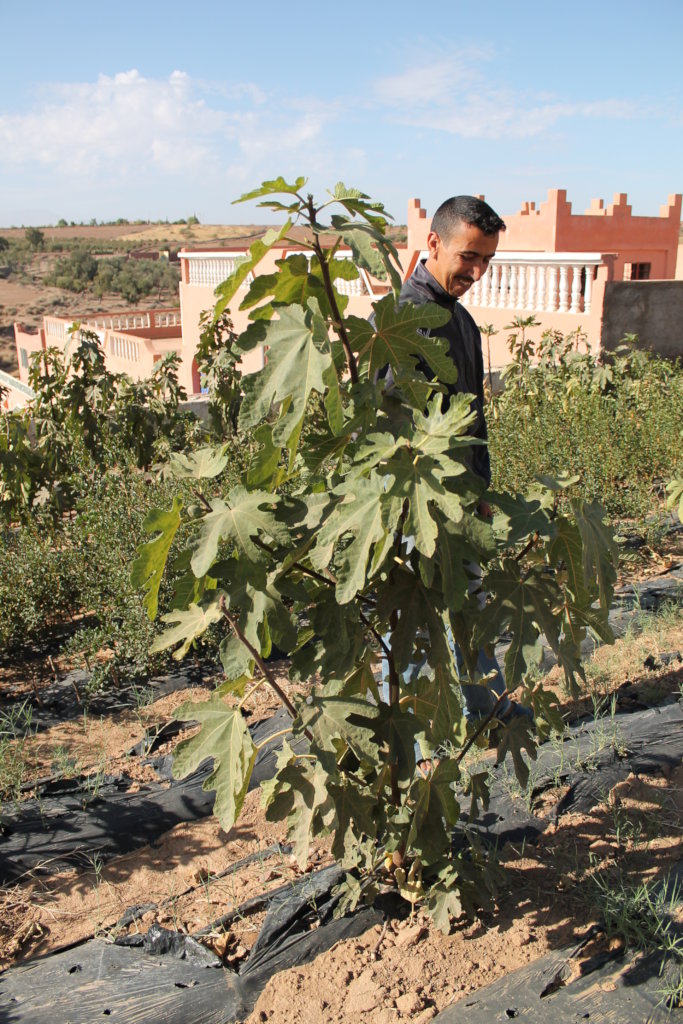 So far in 2018, the High Atlas Foundation planted more than 80,000 fig trees and seeds (cuttings in community nurseries). We also signed a partnership agreement with the Regional Management of Waters and Forests in Tetouane (northern Morocco), that enables us to plant a nursery of threatened fig varieties on a three (3) hectare parcel of land contributed in-kind by the Waters and Forests agency.
The High Commission of Water and Forestry in Rabat partners with HAF by providing nursery land and technical support for a ten-year period. The Commission see the organic figs project as a way to pursue goals outlined in the government's Plan Maroc Vert and Environmental Charter, which set reforestation and agroeconomic targets and strategies for the coming decades, and calls specifically for the rejuvenation and creation of organic enanic ionhich set environmental be given to the local people after 2 years almonds for domestic & international sale
Fruit tree crops and organization of their cultivators. The plan names figs as a special focus. Both organizations have indicated that fig crops in the Tangier-Tetouan region, which encompasses HAF's planned nursery, suffer from ageing, neglect and a lack of effective marketing. The Commission see HAF's planned nursery as strengthening the area's agricultural economy, supporting rural households and honoring the tradition of fig cultivation, to which people in the area are deeply emotionally bound. Support of fig crops will also ensure that figs do not become extinct in the area, a threat that has already eradicated plum and pear varieties there.
As part of the partnership, we aim to create a fig nursery, distribute saplings for free, create a scientific teaching garden with all regional fig varieties, train farmers in production and value-added processing techniques, and create a fig growers' cooperative to further explore opportunities in cultivation and marketing. Ten varieties of fig will be grown, and saplings will be distributed two and three years after seed planting.
The involved organizations plan to reach 35,000 beneficiaries (50 percent of whom will be rural women in Ouezzane province and the greater Tangier-Tetouan region), extend fig crops by 11,000 hectares and reach a 126 percent increase in fig production by 2020.
While the Moroccan government is contributing land and technical support for the organic figs nursery, HAF is still seeking funding for the significant remainder, without which it cannot pursue the opportunities for rural Moroccans accessed by this project.
The environment, youth, women and rural families and communities are key targeted beneficiaries, and the profit generated through this project and model will allow individuals and their associations to improve their livelihoods and develop their country's economy.
This model provides farmers, with a special emphasis on women and youth workers, the revenue and job opportunities necessary to moderate any uprising that could affect Morocco as it has the rest of the Middle East and North African region. Youth and women are key targeted beneficiaries, and the profit generated through this model allows these individuals and their associations to improve their own livelihoods and develop their country's economy.
Morocco is a world leader in fig production: in 2009, the country ranked among the world's top five fig producers (among Egypt, Turkey, Algeria and Iran), and, for dried fig production, climbed to second place globally in 2013, with 22,438 tons produced behind Turkey's 48,000. Figs grow especially well in Morocco due to the country's hot summers and full sun throughout the growing season. This climate ensures one to two bountiful crops a year, as long as fruit trees receive adequate water to ensure fruit does not drop early due to drought stress. Figs are harvested between June and October, depending on the region.
Fig crops from Morocco may tap potential markets in the U.S. and E.U. Despite high U.S. production, for example, acreage dedicated to fig production has decreased by at least 5,000 acres in recent decades. This decrease, combined with stress on California's agriculture due to severe drought, presents a strong opportunity for Morocco to fill U.S. fig demand, especially in the U.S.'s large organic market.
Figs can be sold fresh, dried or processed into many value-added preventative care, medical, agricultural and household products. Organic fig production, especially, can provide great health advantages to local and international consumers. Figs' calcium content is higher than those of apples and grapes, and their potassium levels exceed those of apples and dates. Figs contain higher levels of phenolic compounds than red wine and tea, high levels of amino acids, and no fat or harmful cholesterol.
Figs can be used in epidermal, endocrine, reproductive, respiratory, anti-allergenic and anti-epileptic applications, and to counter conditions like hay fever, eczema, asthma and hives. According to Shamkant and colleagues (2014), Ficus carica presents "a promising candidate in pharmaceutical biology for the development/ formulation of new drugs and future clinical uses."[1]
Fig trees can quickly be propagated through fertilized seeds or hardwood cuttings from female trees, in which one to three-year-old branches are cut, kept in nurseries for three months to two seasons and planted at permanent locations. With enough time, a small number of fig trees can give rise to a large plantation at a minimal cost.
Small-scale Moroccan fig crops are important to the sustainability of fig crops and nutritional systems worldwide. Through growth in small cultivars and breeding between cultivated female and wild male trees, farmers uphold and propagate genetic diversity among figs, thereby providing bulwarks against diseases and effects of climate change that may affect fig cultivars of different sizes and regions.
[1] Salman Shehzada. "Antimicrobial, Antioxidant and Phytotoxic Screening of Ficus carica." International Journal of Advances in Pharmaceutical Research. December 2013.