Thanks in large part to the support we receive from our generous donors on Global Giving, our Consoling Through Counseling program is braced for a strong year in 2011. We extend our warmest thanks to you for helping us provide desperately needed care and nurturing to hundreds of girls and women who have suffered exploitation and survived to share their story. Here is one, told by a young woman seduced by the promise of honest work. After a terrifying foray into Malaysia's migrant labor market, 17 year-old Lily* escaped to Thailand this summer where authorities referred her to our shelter in Sisophon.
Last year, Lily was recruited from her home province of Battambang for domestic work abroad. Her excitement at the prospect of employment was choked off even before she left Cambodia: at the recruiting transfer station in Phnom Penh, recruiters forcibly hacked her hair off and refused to give her a copy of her signed labor contract. Clinging to the prospect of a paycheck, Lily hoped for the best and continued to Malaysia.
Once in the home of her new employers, however, Lily lost what little of her autonomy remained. Discovering she had acquired a debt for her transport to Malaysia, she was informed that she would not be compensated for her labor until it was settled. She soon learned not to expect regular meals. Her travel documents and work permit were taken from her, complicating any scheme to find work elsewhere under new terms and conditions. On New Year's Day in 2010, Lily was given $25 in a red envelope – the only pay she'd received in four months.
After nearly a year as a slave, Lily managed to flee by bus to the Thai border where she was referred to our partner, the Cambodian Women's Crisis Center. As a client in our Sisophon shelter, Lily has receive one-on-one and group counseling to process her feelings of violation and helplessness. Already, she is looking ahead to our reintegration services and getting back on her feet.
"Before I leave here I intend to apply for a loan/grant to raise pigs," says Lily. "I've seen people doing it near my home and feel confident I can do it also."
With such a positive outlook and the right resources, we also feel confident that Lily will be able to build her own secure source of revenue – eliminating migration and personal risk from the equation forever. Thank you for making this possible!
*name has been changed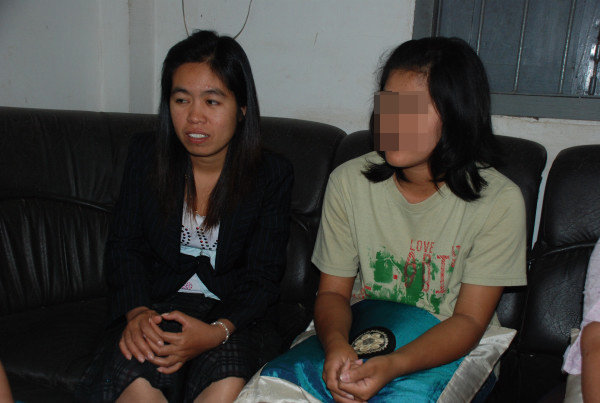 Links: