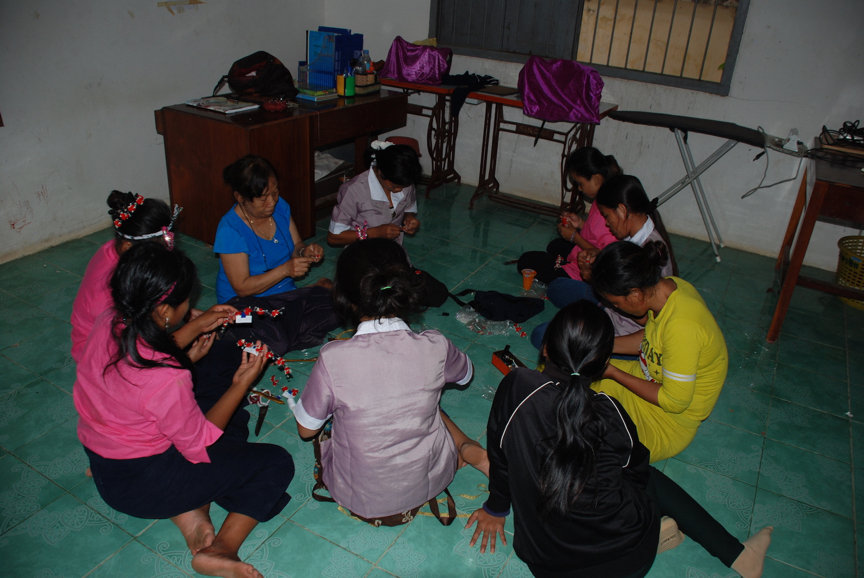 Consoling Through Counseling Program ~ Shelter based counseling and care for survivors of sexual abuse, trafficking and domestic violence.
Abused, vulnerable, and exploited children made up 64% of the clients that were provided a safe haven to recover in the Consoling Through Counseling program in 2016.
Children are the largest percentage of unwitting victims in the greater Mekong area where endemic corruption and extreme poverty feed greed. The destitute conditions create opportunities for abusers and exploiters to use children for profit.
Although corruption continues and confidential shelters are still full, we are happy to report that over the past several years, the legal system in Cambodia has improved in terms of convicting sexual abusers.
It was highly evident during our visit to the shelter that the Counseling Through Counseling program continues to have extraordinary heartfelt forms of innovative therapy that provide healing and hope for the survivors.
Details of this report were recorded in interviews at the confidential shelter in the province of Banteay Meanchey in late March 2107.
During the first quarter of 2017, out of the 28 survivors in the program, 61% were children. Out of the 28 survivors, 41% of those were victims of sexual abuse and 53% were victims of human of trafficking. We met and interviewed two of the children and visited the tailoring training and crafts classroom. 14 of the residents take advantage of this resource. The tailoring and craft teacher has been working at the shelter for many years and is extremely passionate and engaged in the important work she does. Working in the classroom is highly social and the girls have a wonderful time learning, helping each other, and socializing.
This year, Lotus Outreach has agreed to provide funding for three of the girls to learn beauty skill training. They will be apprenticed by a few reliable teachers in the area and will remain in an open-ended training program until they learn their craft sufficiently to work professionally. Both the girls we interviewed during this visit applied for the training. One of the girls at age 13 feels that this intervention has the ability to change her life completely.
Survivor of Sexual Abuse – Sarah* is 13 and has 4 siblings. She is the third child in her family and dropped out of school in the 4th grade while living in a remote part of the province far from school. She was sent by her mother and father to work as a nanny for a seven-month old baby in Poipet City, a bustling border town on the Thai/Cambodian border.
Heartbreakingly, Sarah was raped many times by the father of the household and at first didn't dare tell the wife of the abuser and didn't have access to a phone to call her family.
One day the husband and wife went out and Sarah took the opportunity to call her mother. Her mother then called Sarah's employers and told them she wanted to spend a few days away with her daughter. The Sarah's mother filed a complaint in Poipet and the Police arrested the perpetrator. Sarah was admitted to the shelter in January this year. At the time of interview, the perpetrator was in prison waiting for a hearing date and according to court procedures, should be completed within six months.
Sarah's counseling journey – Soknyi, the senior counselor at the shelter told us, "When Sarah first came to the shelter we took her to have the post rape examination. As expected, she was very nervous. Sarah feared that the man who raped her would come find her. When her mum left the shelter, it took some time for Sarah to open up and become part of the shelter community.
Healing time:
Soknyi, the counselor, tells us in her own words, "First I built trust by talking with Sarah and showing that I care for her and after that she started to talk about her feelings. We introduced her to sewing training to help bring her out of herself and begin interacting more fully with the other girls in the shelter. Sarah was also enrolled in small and big group counseling which brought her further out of herself and back into a more natural state of being with others. She did continue to feel nervous and afraid for some time and then gradually began to interact comfortably with others."
"I used Art therapy to help get Sarah in touch with her emotions. She used nice colors that suggested she was not full of hot angry emotions and the therapy helped calm down her state of anxiety and nervousness. As with many of the shelter guests, Sarah was encouraged to see tailoring as a possible preparation for a livelihood that could provide financial support in future as her family is poor and she cannot ever depend on them." Soknyi also introduced her to the vegetable patch and she enjoys working there.
After two months, Sarah is much better adjusted and relates well with others. Soknyi buys vegetables from Sarah's garden to encourage her to see it as a business and encourages her to grow more and more, telling her, "If the shelter can't buy them, I will find a market for them outside."
We are told that Sarah's parents are asking her to come home so they can put her to work to help support their family. Soknyi is trying to convince them to allow her to stay so that she can continue to heal but also so that she can learn a skill. Soknyi has been working on enrolling Sarah in the beauty school training so that her family will agree to let her stay at the shelter for a bit longer.
If Sarah is to return home because of her family's requests, we will put in place the Counsoling Through Counseling social worker who oversees the reintegration of the victims and monitors their progress at home.
Either way, we have full faith in Sarah's recovery and want to thank all of the donors who have supported this program.
*names have been changed for privacy