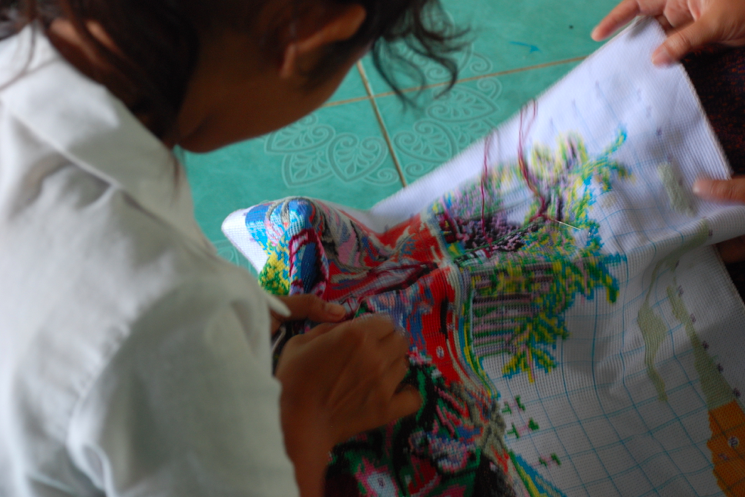 Currently we have 53 clients in our Consoling through Counseling program. Twelve of those rape cases include survivors who are under the age of 18. Our work with these young clients continues to be necessary for the proper healing and eventually the reintegration back in to society. With the appropriate attention, these survivors recover and go on to live fulfilling lives. Below is the case study of a client who was sexually assaulted by a family member and is now in our care facility.
Srey Lys is the oldest of three siblings. Her parents work as laborers on the Thai-Cambodian border (crossing daily) where her father got to know another man who started working with them. They became good friends and eventually the man became the godfather of Srey Lys. He requested that the children come and stay with him at nights sometimes to keep him company because he said he was lonely. The parents felt okay about this because he was like a grandfather to Srey Lys, and she would be accompanied by her brother. During a visit, the godfather asked Srey Lys's brother to sleep downstairs and raped Srey Lys. Her brother heard what had happened from the lower floor and told his parents. Sry Lys's parents took the case to court. The man was arrested by the police and has been taken into custody. He is now in jail awaiting the sentence. Sokni, the CTC counselor, accompanied Srey Lys to court several times. We are still awaiting the verdict.
When Srey Lys first arrived at the shelter, she came with her mother and refused to be left alone. Although Srey Lys was reluctant to stay in the shelter, she didn't want to go back to her village because of the embarrassment that she felt. Her mother convinced her to stay at the shelter and to attend court so that she could complete the case and receive treatment. Srey Lys agreed and enrolled into the school close by to the residential shelter. (It is common that the children at the shelter attend the school near the residential shelter. The teachers work with the counselors to ensure that the client's needs are met. This allows the survivors to continue their studies and have some normalcy in their lives.)
In terms of her behavior, at first Srey Lys was particularly unfriendly towards the other clients in the shelter and responded in a mean and aggressive way if people spoke to her.
Soknyi, the therapist, would ask Srey Lys to paint and color to help get her mind off the negative thoughts and reduce her aggressiveness. She reminded Srey Lys about the rules of the shelter which includes being kind towards others. Soknyi encouraged Srey Lys to be constructive with her energy and put it towards crafts and school.
When Srey Lys would hit people, Sokni would tell her it's wrong to hit and hurt others. After enough interventions, Srey Lys is now refraining from hitting people. She is also studying hard and has enjoyed sewing after school. These elements have added to her healing process and allowed her to feel like herself again. Although making improvements, it is apparent that Srey Lys will need to recover at the shelter for a while. Rather than staying in her home village and having to deal with the heightened sense of shame and self-consciousness, the shelter encourages a safe place in which there is constant support for the survivors.
Once she is ready to return home, we will make sure that she has the correct support. As for right now, we are continuing to focus on her healing process.
Thank you to all the donors who have supported survivors like Srey Lys!