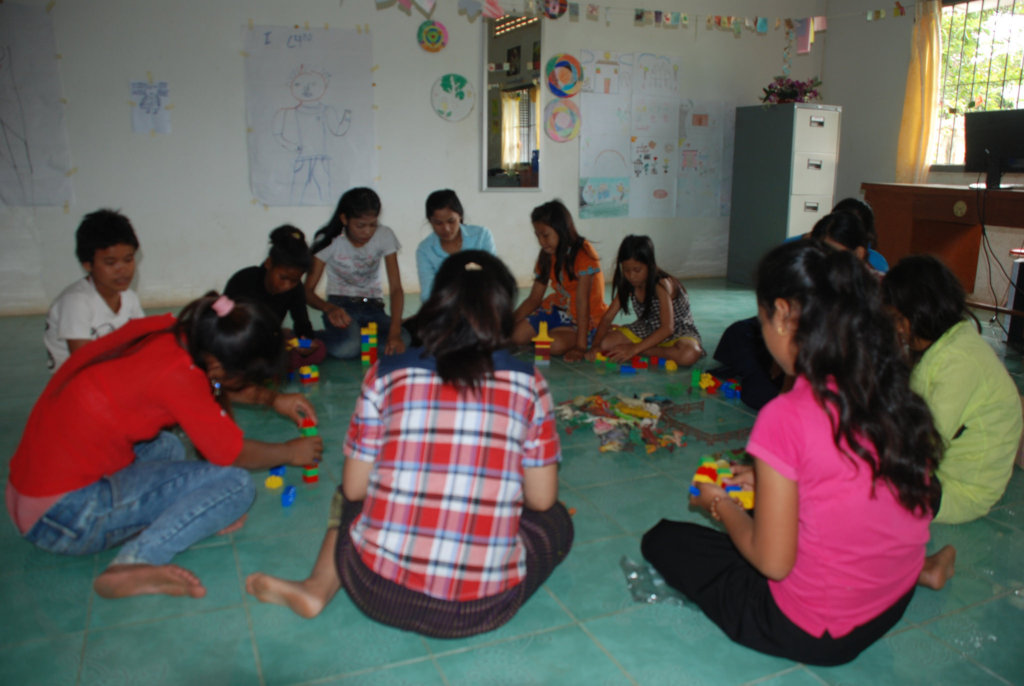 A brief overview and update:
Underlings the importance of this work, 9 of 10 survivors of trafficking receiving counseling in the shelter were children.
Of 24 survivors of trafficking, 17 were children and 2 under 22 years of age. Thankfully, most of the human trafficking cases are concerned with labor while two young adults (18-22) and one over 22, were survivors of trafficking for sexual exploitation.
Unlike in previous years, most all of the sexual abuse cases have been to court and perpetrators are in custody.
Four children and five youth over 18 years received sewing skills training for therapeutic and educational purposes.
All of the children survivors of trafficking came through the Cambodian/Thai border town of Poipet and the Thai repatriation center. Our partner NGO is also supporting one social worker at the government transit center to identify children and women victims of trafficking. Most of the children are dependents of undocumented migrants, flower sellers, and beggars.
The three cases of Human Trafficking for Sexual Exploitation had been sex workers. They are children were discovered during a Police raid in a Poipet massage parlor.
We feel that due to work like CTC, high rates of imprisonment and convictions have significantly reduced the sense of impunity in potential abusers. Fear of social media and increased sensitization and 'humanization' of those involved in implementing the law; border forces, police, judiciary and etc.
Below is a story of 9-year-old Vannit who was found begging on the streets of Thailand:
We met Vannit at the confidential shelter for a few minutes when she was brought in to meet us. Looking at her you wouldn't have any idea what she's been has been through. Rather, she looks like any bright eyed and intelligent primary school kid which is a testament to the work done with her at the shelter and the bonding established with her counselor.
After Vannit's parents got divorced her mother took her to Thailand to work. Her mother put her to work making and selling flowers on the street, which is often a front for begging. A child left alone on such streets is highly vulnerable to kidnapping and abuse. She was 'arrested' and taken off the street without locating her mother. She was sent by herself to a Thai shelter for 6 months. She was then sent to the transit center from where she was referred to the confidential shelter and entry to the CTC program in August 2015.
Vannet was immediately enrolled in 1st grade, as she hadn't been in school before. School took Vannet's mind off of missing her mother and gave her something productive to do. On her arrival to the shelter, she could only think of how much she missed her mother. We can only imagine what her mom thinks about her disappearance.
Vannit told the Reintegration program officer that she lived in Mokul, somewhere near the border. The officer went searching for the grandmother but couldn't find her. CTC has still not found her mother, but they continue to look.
Vennit has attempted to escape and look for her mother but the counselor at the shelter advised Vennit that it's very dangerous to leave the property unaccompanied. Vannit has finally settled down at the shelter and has started to interact with other children. She now enjoys to paint and draw with the other children. The councilor at the shelter keeps Vannit company and helps her with her homework. She now really enjoys her study and is showing signs of great intelligence.
We can only hope that one of these days her mom walks through the door.
Program officers tell us it's a terrible reality that many trafficked children are separated from their parents in the same way and with no reference to their parents that have no idea if their children are alive, dead or worse.
Thank you to all that support this program! Vannit's hopeful that her mother will return, but until then she is in good hands. She will continue to be enrolled in school and making strides in her studies.