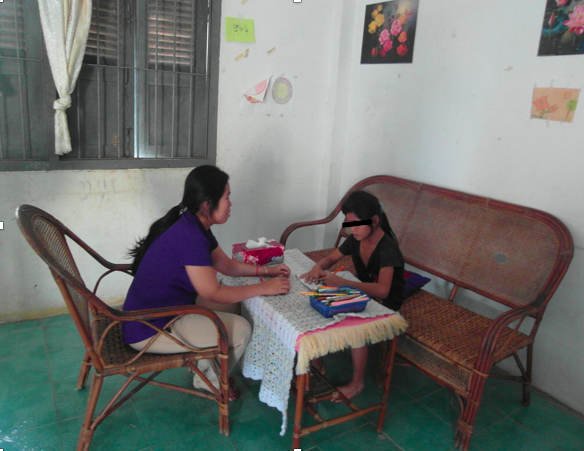 As the first report in 2016, we will take some time to recap some of the milestones in 2015. The Counseling and Reintegration Program has made great leads! There were a total of 127 survivors, along with their relatives, that arrived at the shelter for care in 2015. In comparison to the last few years, in 2015, most all of the sexual abuse cases were taken to court and perpetrators were put into custody. In 2015, 34 survivors were reintegrated to their communities which included 14 domestic violence cases, 7 sexual abuse cases, and 13 human trafficking cases. 10 individuals received professional training to prepare them for small business grants. The following is a story of a Chakrya, a survivor rape.
Chakrya* is from Thmar Pouk District in Banteay Meanchey where she lived with her mother and father and her younger siblings. Her parents migrated to Thailand to look for work and so Chakrya was sent to live with her older sister (20 years old) and her husband (26 years old). While Chakrya was staying with her sister, her sister's husband broke into her room one night and raped her on 3rd of October 2015. He then told her that he would kill her if she told anyone. Her brother in law raped her twice, once at night and once during the day. Chakrya was afraid to tell anyone about what had happened but fortunately she was very brave and spoke to her mothers's close friend and neighbor (who she calls Aunty). Once her mother found out, she called the police station and filed a report.
The police acted quickly and arrested the brother in law. The District Based Multi Sectoral Network member (the policeman who works closely with CWCC) contacted CWCC on 7th of October to advise them of the case. With the local authorities working closely with CWCC, they were able to intervene quickly. On the 8th of October, the Community Organizing Officer and the Monitoring Officer from CWCC went to the police station to enquire about the details of the case and to meet with Chakrya. She was referred to the Referral Hospital to undergo a full medical check-up including a test for STD's. On the 9th October Chakrya was brought to the shelter to stay.
At the shelter, Chakrya was not feeling comfortable at first because she didn't know anyone. The shelter focused on building trust with Chakrya with joint counseling and group activities with other clients. She joined the small and large group counseling. In those groups she was incouraged to share stories, produce souvenirs, and paint and draw pictures. She began to feel more at ease. Her mother also returned back from Thailand to visit her, and her father called her from Thailand to check in on her.
The CWCC is helping to prosecute the brother in law by providing a lawyer for the case. Chakrya has to attend the court to give evidence and CWCC ensures that she is accompanied by a counselor. Along with the medical evidence provided, the brother in law has confessed to his crimes and is awaiting his sentence. CWCC believes that justice will be served in this case.
When Chakrya lived with her parents and then her sister, she was unable to attend school as they could not afford it. Since coming to the shelter, Chakrya has started to attend school and says "I really like school and I want to study".
In her free time after school Chakrya likes to play games with her friends. She likes to play on the playground at the shelter and she loves drawing pictures. Chakrya stated, "I like staying here because I feel happy and not scared and all the staff here look after me."
Thank you to all of the donors who have supported the Counseling and Reintegration Program. Chakrya has had all of the support that she has needed during this difficult time. She continues to grow and make strides towards health.
Chakrya* is a name given by the writer. Her real name is hidden to protect her privacy in according to the Cambodian National child protection policy