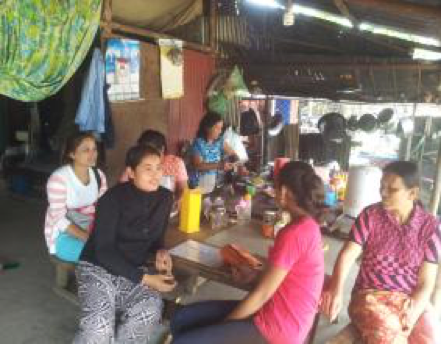 The Counseling and Reintegration Program continues to work with survivors of sexual assault and human trafficking. From January to September our two counselors spent time providing 74 individual counseling sessions to 31 survivors. Of that 31, 17 were survivors of human trafficking, 3 were survivors of sexual abuse, and 11 were survivors of domestic abuse. In this time frame the counselors also accompanied 4 clients to court proceedings and trials. Since September the counselors have also attended a refresher course that discussed new techniques for counseling.
Currently our Reintegration program is working with 22 survivors on creating a plan to return to their communities. Our Reintegration team has reintegrated 11 survivors and 3 relatives back into their communities since September. They also followed up on 45 cases making sure the clients were safe and happy back in their communities.
The following is a story about Reaksa's survival and her efforts to create a better life:
Reaksa*, aged 15 was born in Pursat province. Due to family poverty her family moved to Banteay Meanchey in 2014. Her father has since passed away and her mother at age 45 is unemployed. She is the fifth of six children. Reaska stayed in school up to the third grade.
On the 28th of September 2014, Reaksa was drugged by her rapist who secretly put medicine in her food. She was sleepy immediately after eating and was then sexually assaulted. When she awoke she was naked and very frightened. On the 3rd of October 2014, Reasksa told her mother about the incident and her mother accompanied her to file a complaint against the rapist with the district police on the 6th of October 2014.
On the 17th of October 2014, her mother accompanied her to ask for legal and social support services from CWCC including temporary residence at the shelter. At the shelter, she received good care from the counselors and shelter staff. There, she received accommodation, meals, clothing, necessary materials for girls, counseling, health care, and legal counseling and representation. After a few months Reaksa felt warmth and relief.
Due to her request and readiness to return back home, the reintegration staff had conducted a family assessment on the 6th of January 2015 and decided together that she could reintegrate home. On the 12th of January 2015, Reaksa was reintegrated back home in Banteay Meanchey and provided with life start-up support. The reintegration staff continued to follow up with her after reintegration.
During her stay at the shelter, Reaksa, her mother and the reintegration staff discussed about a possible business for Reaksa and her family. Her family is very poor and have all been living in one room that they rent. After the reintegration took place, Reaksa and her family came up with an idea of requesting a small business grant to buy a pulling cart to start a business at the Poipet international border.
The reintegration staff helped Reaksa and her family to develop a small business grant and it was then approved by CWCC. With the amount of $400 US dollars, a small grant was disbursed to her on the 25th of February 2015. Reaksa and her family can now buy a big pulling cart which they could earn between 200 to 300 Thai baht per day. With this earning, they could survive for their daily consumptions and room rental.
The Reintegration program has followed up three times since June 2015. The reintegration staff will continue to follow up to see her and her families progress.
Reaksa's* real name is hidden to protect her privacy in according to child protection policy of CWCC.