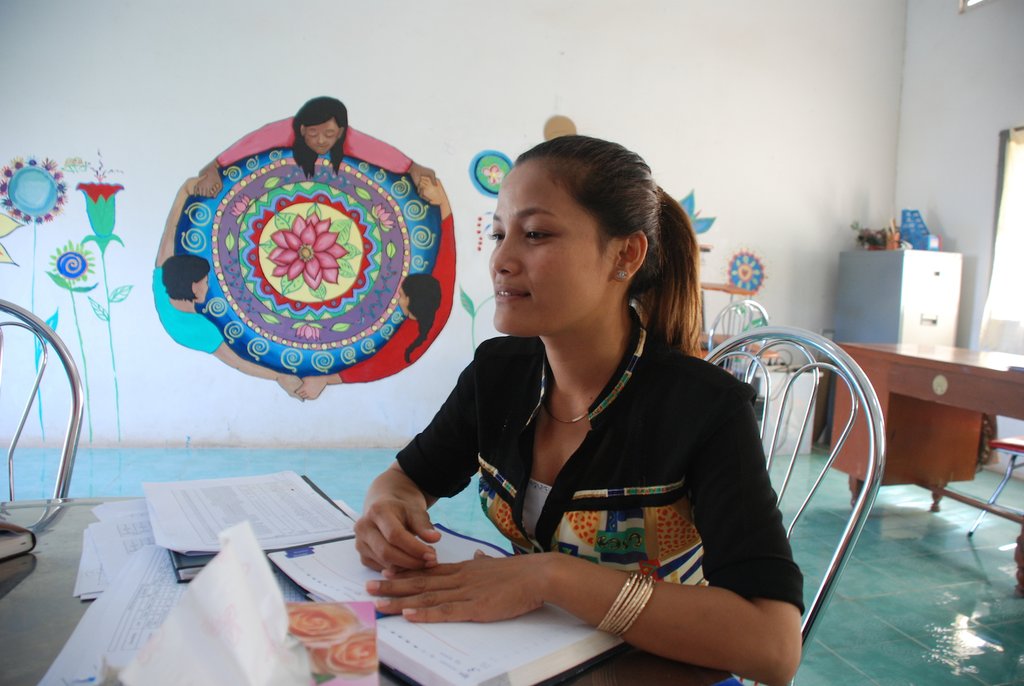 CTC (Consoling Through Counseling) is a program designed to reintegrate and console survivors of domestic abuse, sexual abuse, rape, trafficking, and exploitation. By facilitating discussion, support, and activities, CTC works with the survivors to process their traumas. CTC supports these women as they shed their shame and guilt. CTC then reintegrates the women into their families and communities by making sure the process is done correctly and safely. These women attend support groups and continue to have services to help them along the ongoing process of healing.
Phyma (who's name has been changed to protect her identity) is a survivor of trafficking who has returned from Malaysia to her home in Cambodia. She is from a family of 6 siblings and lives in the Battambang province.
Phyma's family was living in severe poverty whiched forced her to migrate legally to Malaysia two times in search of work, both in 2007 and in 2011. The second time she migrated in 2011, she found herself in serious trouble.
This time, Phyma found a job working as a domestic helper receiving a wage of 800 ringgits a month (US$266). The wife of the house owner started to get jealous of Phyma and routinely would not allow her to eat meals. She fled from this job and became an undocumented worker. She found herself a new job as a domestic helper and faced even worse circumstances. Phyma was raped and became pregnant. She found out that the house owner intended to sell her into a brothel. Phyma said, "I had mental problem at that time. I did not know what I said. And sometimes took off my clothes…" Phyma took the opportunity to escape and found a way to cross the border from Malaysia to Thailand where she met IOM and was referred to CWCC (Cambodia Women's Crisis Center) for help.
Phyma met with CWCC's to identify her case. She was given shelter in Banteay Meanchey for proper services before returning home. At first in the shelter she said was scared and was afraid to speak. She alienated herself and experienced depression. She did not take care of her personal hygiene and felt that ghosts were haunting her.
With the help and guidance of a caring counselor, Phyma worked hard to overcome the obstacles that were keeping her recovering from her sexual abuse and rape. The counselor listened carefully to Phyma and encouraged her to draw pictures and express her fears and hatred in a safe environment. Through this technique of art therapy, Phyma began to reflect on her own feelings and began to improve.
With great courage and strength, Phyma showed great strides towards living a happy life again. She said that she was finally loving herself again and taking care of her pregnancy. Her dreams of ghosts and abuse have started to fade with time, and new dreams for her future are emerging. With the assistance of CWCC's reintegration project, Phyma has made the transition of moving back home to her family. Currently she is living happily with her newborn. With your support and the assistance and services provided by CTC, Phyma continues to follow up with the program and shows a promising future for her and her child.