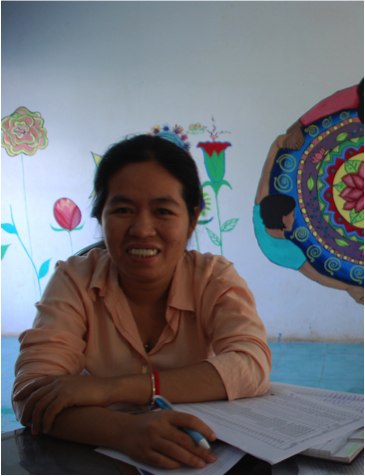 In the past year, the Consoling Through Counseling (CTC) program has consoled and assisted in the psychological healing process of 132 women and girls including 20 cases of sexual abuse, 16 of them children under 18. Two compassionate counselors, Bun Sokny and Prak Phallis, look after a huge caseload between them. It's common for counselors to take on the trauma of their patients so Lotus Outreach has therefore made provisions for them to take regular visits to the capital, Phnom Penh, where they are professionally de-stressed.
This report tells the story of 19 year-old SL (name withheld) and her process of emotion healing during her time at the confidential CTC shelter. SL does not remember where exactly she comes from in Cambodia, but she lived in Thailand for a year and worked in a beverage shop in Pailin town. During that time, she worked very hard and helped even with the heavy lifting, though all was well. One time, however, she went to a music concert and drank beer with her friends and got drunk.
On her way home, someone on a motto abducted and drugged her. She woke at 3am with no clothes on and did not remember anything.
She went back to work and could not get up for a few days, because she was so sick and badly drugged. She got pregnant from the rape and she discovered this harrowing news almost 5 months after the incident. SL was then sent to social affairs and eventually referred to our CTC program.
When SL first arrived she was scared, hopeless and ashamed of herself for being raped and pregnant. On arrival the counselor met SL and began the process of building trust as part of integration into the program. SL attended formal counseling on a one to one basis twice a month and also attended the large and small group therapy meetings. The counselor continued to build trust in the one to one sessions before choosing what kind of approach she would take to help reduce SL's trauma. They began to use art therapy along with talk therapy, while SL built more confidence in group therapy.
As SL settled and relaxed the counselor recapped her progresses to show SL how she was developing psychologically. SL was not at all connected to the idea of the keeping baby in the first session, but after giving birth and through continued therapy, she has now started to connect to the baby and declared she intended to raise it herself. After the birth she stated,
"I have seen his face and want to keep my baby." For the moment, she has requested to stay in the shelter a bit longer until she feels ready to go out and support herself and her child.
The counselor reflects that SL is still in the shelter and seems to now notice others have problems also and feel empathy with the other survivors. Also she noted that SL was very sensitive and cried as soon as she was asked about the baby in the first session, but is now stronger and remains fully committed to looking after the child.
Her family had not contacted her up to the time she was raped. They have since left Pailin and SL still doesn't know where they have gone. When we met SL at the shelter she had a radiant smile and seemed very positive and hopeful. We would not have guessed what she had endured if we hadn't been told her background. Her child is beautiful and healthy and seems to have helped transform SL with the love she now feels for her one-month old baby.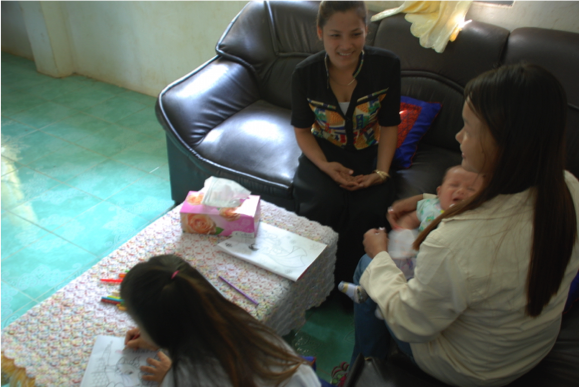 Links: