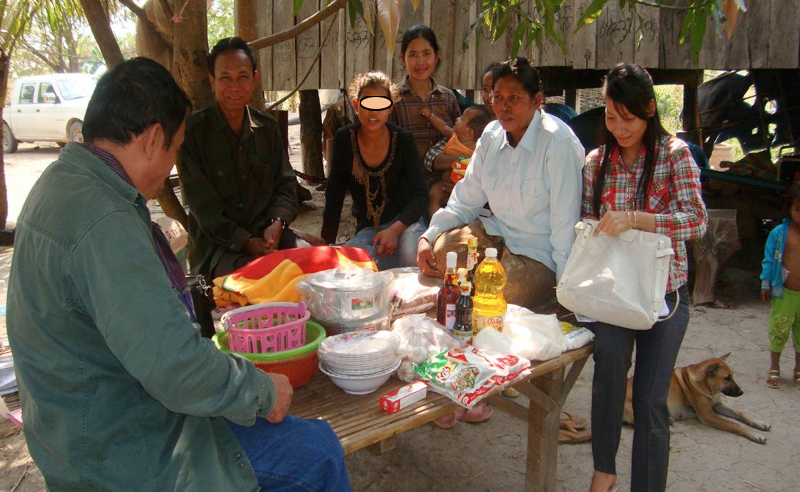 Gender-based violence is prevalent throughout Cambodia. Widespread rape is a reality that many Cambodian women must confront and often without emotional, psychological or legal support. Our program, Counseling and Reintegration, executed by our local partner CWCC, serves to counsel and reintegrate survivors in addition to raising social awareness regarding such gender-based violence in order prevent further assaults.
The following story demonstrates the beneficial work this program can accomplish with your further support!
Nai Lee* aged 14 from Banteay Meanchey, often had to stay with her mother's cousin at the border area, because her mother worked as a laborer along the Cambodian-Thailand border. During one stay, a strange man Lee did not know sexually raped her. Although Lee did not tell her mother after the rape, Lee did tell a neighbor who soon after told her mother.
Hearing about the incident, Lee's mother skipped work and immediately took Lee to the police station to file out a complaint to pursue the rapist. Lee's case was then taken to Banteay Meanchey provincial police station for legal proceedings. Through interviews, the crime division was able to identify the suspect and later arrest the man.
Lee was referred by the crime division to stay at CWCC's safe shelter and receive program services. Although Lee received good medical care by the shelter staff including accommodation, meals and clothing, she suffered deep mental fear. Lee still hated men. She could not relax. She spoke in a very loud voice when meeting with the counselors and the shelter staff. She had arguments with other clients in the shelter as well.
Our team supported Lee through this difficult period and provided her with individual and group counseling sessions. She also underwent art therapy techniques such as drawing and painting. Lee was excited about such art therapy and ultimately reduced arguments with other clients, while our staff witnessed significant improvements in her mental health.
After this period of counseling, the CWCC's reintegration team met her to discuss her plan to return to her regular life based on her request to reunite with her family. Through family and community assessment, the CWCC's reintegration team supported Lee with a life start-up grant including sleeping and kitchen materials, groceries, and a stipend from funding provided by Lotus Outreach.
In return, Lee's mother stated: "I am happy for the quick actions by authorities and CWCC's support… my daughter's case has gone through the legal process and the perpetrator was arrested and is being prosecuted for his crime."
Since this statement, Lee's perpetrator has been sentenced to 7 years in jail and Lee was awarded financial compensation. In addition, CWCC's reintegration team has been conducting ongoing visits to see Lee's progress and to provide ongoing counseling and support as needed. Although Lee has not fully healed up till this point and still faces significant distress, this program has allowed Lee to make huge strides in her healing process and also in reintegrating her back into her regular life.
Support Lotus Outreach and our partner, CWCC, to help so many other girls like Lee that are in profound need of such important aid!
*Nai Lee's name has been changed to protect her identity
Links: