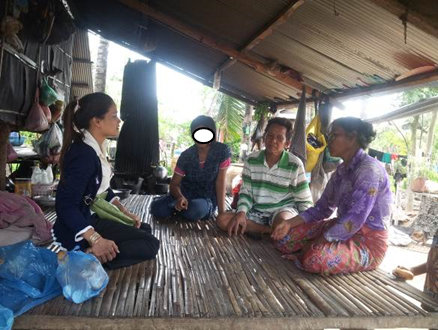 Gender-based violence is rampant throughout Cambodia. Women are expected to remain chaste until marriage and are generally held in lower regard than men. Widespread sex trafficking and rape present Cambodian women with a painful irony: in addition to the trauma of sexual assault and abuse, survivors are often blamed for what has happened to them. Ostracized and shouldering a burden of guilt for having shamed their families, many girls have no one to turn to.
Nana,* only 14 years old, is the youngest of five siblings. Her parents are landless farmers, seasonal laborers. Because of her family's station, she has never attended school. Chasing after whatever work they could find, Nana's parents took her and her siblings to areas near the Thai border.
Just $100 pays for the trauma therapy for a girl for an entire year! Donate today to support this important work.
One night while Nana's Aunt and her siblings were away at a neighbor's house, a rapist broke into the home and assaulted Nana while she slept. Nana was too ashamed to tell her parents directly, but she was able to tell her friends, who told Nana's parents. Her mother reported it to the commune police, and it fortunately resulted in the arrest of the assailant!
Nana voluntarily stayed at CWCC's shelter to wait for her court case and receive services from CWCC. At the shelter, Nana met the counselors who provided her with counseling to reduce her stress and heal her trauma. At first she had a mental block on the memory and an overwhelming hatred of males. She was fearful, she talked to counselors and shelter staff with a loud voice and she was angry with other clients.
After receiving counseling for a full year, Nana worked with CWCC's reintegration staff to plan for her return home. The reintegration team conducted family tracing and assessments on 22ndJanuary 2014 before reintegrating her into her community.
On 24th January 2014, Nana was reintegrated back home with life start-up support. This included sleeping materials, kitchen utensils, and groceries.
The case of the perpetrator is still pending a verdict, but CWCC's legal aid staff have worked to ensure that the violent criminal is kept away from Nana and the village. In the last year 22 perpetrators of rape, domestic violence and human trafficking were arrested with encouragement and assistance from our legal prosecution staff. 4 have been convicted, and 18 cases are still pending.
Your support has helped make Nana's recovery, reintegration and justice possible. Thank you for donating to support Nana and other survivors like her.
*Nana's name has been changed to protect her identity.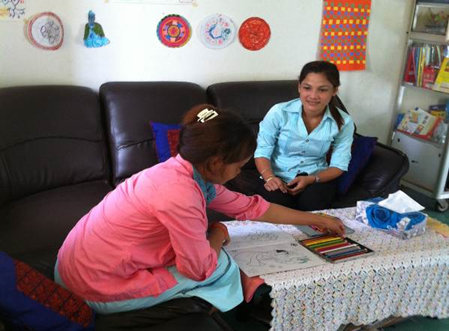 Links: