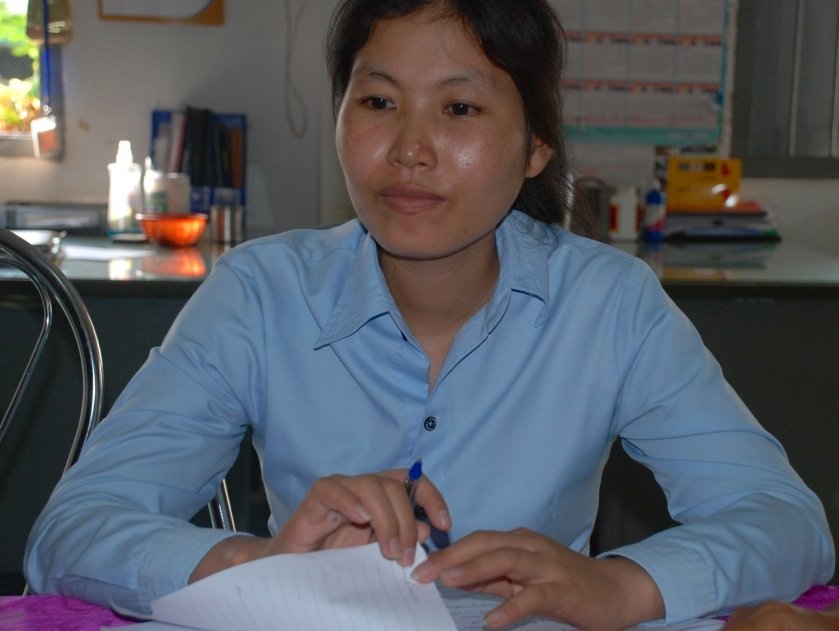 Lotus Outreach's Consoling through Counseling client Dany* has a story not for the faint of heart.
Born the fourth of seven children to a seasonal laborer and her now deceased husband, Dany lived with her younger siblings in an orphanage in Battambang province. Her mother would travel to find work, while Dany studied at the local high school. Her family is so poor that she lived at the orphanage until she was 20 years old, just so she could survive and go to school.
In September of 2012, her older sister who was already married pulled Dany out of the orphanage so she could work as a gardener in the border town of Poipet. She lived with her uncle nearby until a terrible thing happened in January 2013.
Dany's brother in law called her and asked her to come over to his house to talk. Her sister was not there, but their young daughter was, so Dany was not concerned. But everything changed once she stepped in the door:
"When I arrived there, my brother in-law took my hand and dragged me into his room and threatened me. He then forced me to have sex with him and threatened to kill me if I told anyone about it."
At first, Dany did not share what had happened with anyone. She was too terrified to break her silence until her brother in law asked for the phone numbers of her younger sisters. Even more concerned for her sisters' well-being than for her own, Dany decided to tell her older sister what her husband had done.
Fortunately for Dany and her sisters, Dany's older sister believed her, and she took Dany to the police and to Lotus Outreach's partner the Cambodian Women's Crisis Center (CWCC) in Poipet.
To keep herself safe, Dany decided to stay at CWCC's shelter in Banteay Meanchey to wait for her case to be processed and to receive social and psychological support. By the time she arrived there, Dany had sunk into depression. Conselors noticed she spoke and walked slowly. She distanced herself from the other women at the shelter. She was sad, thin, pale, exhausted and hopeless.
Recognizing her psychological symptoms, Dany's counselor listened to her carefully. Over the course of months, her counselor built a bridge across Dany's isolation and taught Dany exercises to deal with her trauma. Small group therapy and breathing exercises are now helping Dany cope with what happened to her. Dany is learning to recognize her strengths and reflect on her own thoughts so she can be motivated to think about good things and move forward.
It is still hard for Dany, but things are getting better.
She feels better from time to time, and she is bonding with the other shelter clients. Lotus's Consoling through Counseling program is providing her with legal representation through CWCC so she can prosecute her assailant, and her court case is being processed.
Consoling through Counseling is currently providing services to 26 women. In the last quarter, eight survivors were reintegrated into their home communities, and staff conducted follow-up visits to thirty-three already reintegrated women.
The program doesn't just help women find reconciliation, but it also helps them find justice by prosecuting the perpetrators of the violent crimes against them. So far, the program has aided in the convictions of eight rapists.
Recovering from trauma and Post Traumatic Stress Disorder (PTSD) is not easy. But you can help these women to overcome and move forward with healthy, productive lives. Just US$100.00 can provide therapeutic counseling for these survivors for a full year. The program also connects them to economic opportunities to make sure they have the things they need to succeed.
Hands can give and hands can take away. Thank you for giving to support the recovery of these beautiful and powerful women.
*Dany's name has been changed to protect her identity.