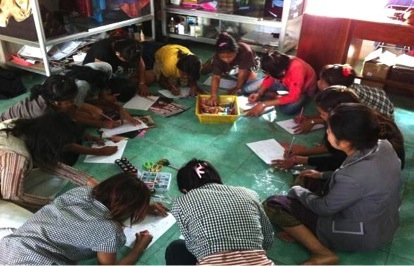 Bopha, whose real name has been omitted to protect her identity, is a sweet 11 year-old Cambodian girl. She lived with her father, a cassava farm security guard, her mother, a housewife, and five siblings in the Banteay Meanchey province. Because her father earned such a meager income, the children had to drop out of school before even completing primary education. To make matters worse, her father is an alcoholic, who on many occasions has physically abused his family when inebriated.
In January 2012, Bopha was raped by her 17 year-old neighbor. He had lured her to join him on an evening walk to a shop and attacked her along the way. Immediately after the assault, Bopha was brave enough to tell her mother what had happened. Unfortunately, the neighbor had already disappeared.
Bopha and her mother reported the crime at the communal administration police post. Thankfully, the police officers at the post referred Bopha to Lotus Outreach's Banteay Meanchey safe shelter.
At the shelter Bopha received crucial legal assistance, including being assigned a lawyer to represent her at the provincial court. She was also offered psychological counseling and healthcare while her case awaited trial. The shelter staff enrolled Bopha in the school nearby, but because of her grave emotional stress and trauma she didn't perform well initially. After several months of therapy – including art therapy, and individual and group counseling sessions - and a great dosage of love and care from the shelter's staff and residents, Bopha's disheartened outlook changed. She was able to rebuild her trust in others, develop healthy relationships and gained renewed enthusiasm in her studies and life.
Bopha has been granted an extended stay at our shelter because her rapist is still on the run. Since she has already testified in court, it is unsafe for her to return home until the perpetrator is caught. Understandably, Bopha greatly misses her parents and siblings, and to ease her homesickness her counselor accompanies her on visits home.
After assessing Bopha's family situation, our reintegration officer recommended she be supported with a life start-up package and a business grant to help lift her family out of poverty. Dreaming about the future, Bopha aspires, "I hope to one day become a schoolteacher!" Accomplishing her dream will allow Bopha to help improve the lives of the people in her community, multiplying the support given to her manyfold.
Lotus Outreach was able to help and protect Bopha because of your generous support. Sadly, there are so many other stories like hers. In the first half of 2013, with the legal assistance provided by Lotus Outreach to rape victims, 4 perpetrators have been tried, convicted, and sentenced to jail. Another 6 cases await trial.
Cambodia has a strict penal code for sexual assault. Nevertheless, according to a 2013 United Nations study on violence against women in Asia and the Pacific, only 49.8% of perpetrators are arrested in Cambodia, and only 28.3% of those are tried and convicted. Disturbingly, the same study found that Cambodia men who admitted to ever raping a woman or girl did so because they felt sexually entitled, wished to punish their victim or were simply bored and looking for "fun." The existence of safe shelters like Lotus Outreach's and the cooperation of police officers are vital to the reporting of cases, protection of victims, and eventual prosecution of perpetrators of sexual assault. This is how together we can help reverse the trend of violence against women in Cambodia.
Links: