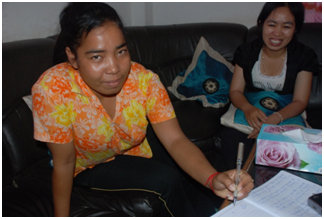 Tuon Van has known little peace or consistency in her 25 years. She left the unhappy home of her brother at just 11 years old, traveling alone from Pursat province to Phnom Penh to look for her mother. Instead she met an older woman who took her to Battambang for work, where they stayed for a year before the woman sold her to a brothel for $100. The brothel owner was kind to her and did not make her work like the other girls, but she recalls two encounters – one for which she earned $650 and another for $500. Although Van didn't specify, we believe this means that her virginity was sold twice.
The brothel owner found her a job in a bakery where she worked for a year. Yet at 14 years old, she decided to leave. She became a sex worker in a karaoke bar. Van was unable to explain why she opted to return to prostitution, but our counselor, Sokny, attributes her decision to guilt and shame. With Van's self-worth severely eroded from abuse at such a young age, Sokny suggests that she gravitated to an environment that felt more suitable to her.
For years she worked in brothels in Pursat and Poipet, although after one raid police returned her to her brother's home. Yet living in a home with family was too drastic an adjustment for her to make, and she returned to prostitution. Nearly a year ago four of her coworkers got into a fight; the police came and took the girls and Van to our shelter in Sisophon. Of the group, only Van has stayed.
"I wanted to leave almost immediately - I thought all the people here hated me because of what I had been," recalls Van. "I was surprised when people spoke nicely to me." Our program director for Cambodia, Raksmey Var, had this impression of Van: "I found Van shy and a lovely person. She has a ready smile and doesn't carry a dark cloud over herself. I told her that it made no difference to me that she had done sex work."
Sokny encouraged Van to see that her circumstances were not her fault, and to claim this perspective for her own. She reminded Van that many other women have had the same misfortunes, and urged her to notice that those women were not being judged but were worthy of empathy and compassion. They had suffered, and people could see and understand that.
Van had difficulty applying this vision to herself. She often said, "People look down on me, and that makes me feel ashamed." Sokny insisted gently that people are generally helpful and caring - the sense of being judged and ashamed comes from within. "Sokny always advised me not to think too much - that's what I do," says Van. "She always talks to me, calms and encourages me. It's a big thing for me to say, but I trust Sokny." Van gave us her permission to publish her pictures and story, so that we can help others like her.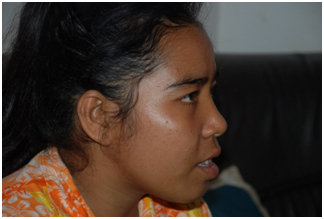 Links: