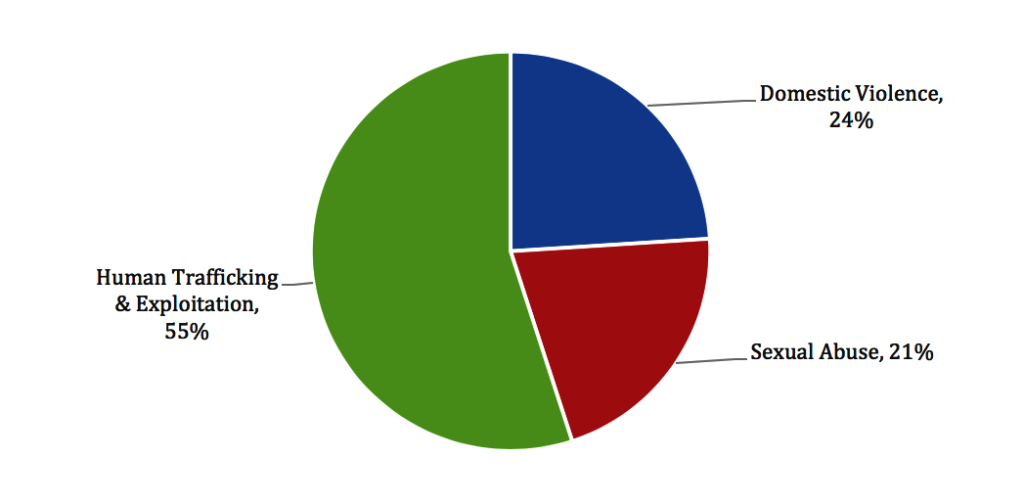 In 2017 the Consoling Thru Counseling program provided safety, care, shelter, counseling, skills training, referral services and reintegration for 41 survivors and 40 of their relatives (81 in total) and which are mostly children accompanying their mothers.
Of 41 survivors, 23 were children
Of 41, 23 were trafficked for labour, 15 of them, children. The remaining 8 of 23 children were survivors of sexual abuse/rape.
10 were survivors of domestic violence.
There is no doubt the heinous nature of child rape is part of the reason most rape cases in the Safe Shelter are children. Of course that doesn't mean rape amongst young adults is not common in Cambodia, rather it is more likely that due to deep poverty, lack of rule of law and low cost of human life, the major percentage of such crimes are not reported.
Whatever the case, the program always provides care, shelter, legal representation and counseling to between 8 and 12 children victims of rape and sexual abuse every year.
We have noted on many occasions that due to many years of lobbying, this program has convinced the Cambodian Court system to respond to high numbers of pending cases such that these days almost all of the perpetrators are caught and convicted, whereas 10 years back, perpetrators were more likely to get off.
A child's life is irrevocably changed in the course of such a tragic event. It's our hope this program and these stories will continue to remind Governments and individuals that all and everything must be done in order to protect these innocent children.
On our recent visit to Cambodia in June we met with the CTC counselor Soknyi and she provided the following account of a 13 year victim of rape by her own father
Phal – Entered Consoling Through Counseling program in January 2018
13 years old Phal has one brother and is the oldest sibling of a family from Banteay Meanchey Province. The family is very poor and raise ducks for a living. Phal's father was an addict sentenced two years prison on drug charges. After one year Phal's mother bailed him out. After one month he began to rape Youry. In July the family moved to Thailand and he continued to rape her. At one point the Thai owner the family worked for arranged for Youry to work by looking after his grandchild.
Youry took the employer into her confidence and told him she didn't want to go back with the father as he had been abusing her. The boss then told Phal's mother what had been happening and they conspired to have the father arrested.
The police arrested the father but let him go back with mother and daughter so they could report father on the rape case. Police then contacted CPU NGO that all Thai child rape cases are referred to. Phal was then referred to the consoling through counseling shelter where she arrived 31st Jan 2018.
The father testified that he was influenced by watching lots of porn and that he didn't hit her. If he is convicted he stands to spend 10 to 20 years in jail. As it turns out, he was abusing Phal since the age of 5.
HER COUNSELING JOURNEY:
Soknyi tells us … "When she first arrived she was nervous and soon asked to return to be with her mother in Thailand. She felt ashamed about what had happened and spent a lot of time alone in her room.
She didn't want to be reminded of her father as he often beat her and was violent and cruel, blaming and scolding her all the time. She felt angry with her father and wanted him to be given a life sentence.
She often felt depressed. Soknyi tried to explain the legal process to prepare her for the court case and that she would have to under go a medical examination.
Reason why Soknyi explained this process is that Phal was planning to leave the shelter. Soknyi wanted to let her know there would be some months required to go through the medical and legal processes.
After than Phal agreed to stay and Soknyi told her that we would send you to school since she was of that age. After a month or so, when she became involved in school she started to enjoy attending and the lifestyle of staying in the shelter. Phal now has a dream to practice medicine. Whether she can or not, the point is she has hopes for her future that she can aim for.
The Shelter staff also let her join beauty skills training but it took up too much time so she went back to plan B. Soknyi tells us, "She is in 6th grade, a smart person, quick learner and a good student."
Soknyi tries to help her come to terms with bad dreams about her father abusing her and to convince her she is safe, the father is in jail and there are people here in the shelter that will protect you. Phal still has real fears that her father could be released and come back to hurt, torture and kill her.
Soknyi tells her, "by the time your father gets out of jail you will be much older and he will also be an old man. You will have a family and husband able to protect you."
With daily counseling and care she is now less worried about her father coming back, she socializes and studies hard toward her dream of becoming a medical practitioner.
Sokyni also tries to explain to her if she doesn't want to stay in the shelter anymore we can refer her to an NGO that will care for her until she reaches University.
Phal is quite mature for her age so most of the counseling was done through talking and reasoning. Soknyi says, "She talks very openly and gets everything out, so no need for art therapy and other counseling techniques.
Her counseling journey has been 5 months thus far and the shelter usually allows stays of 6 to 8 months so she will have to make a decision in the next few months. If her case continues to drag on in the courts however, she will be allowed to stay at the Shelter until the case is completed.
Thank you to donors who have given hope to beneficiaries like Phal.