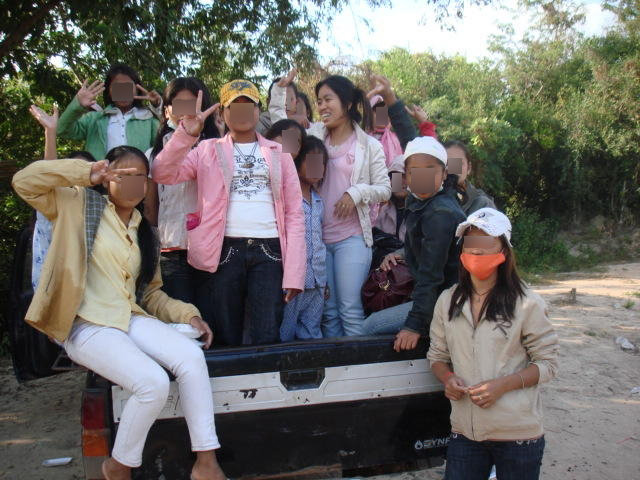 There is no shortage of brave, resilient women recovering from abuse at our safe shelter in Sisophon, near the Thai border. Yet the story of Pich, a 32 year-old woman who came to us after instigating her own rescue from a brothel, astounded our trauma counselors.
Pich's determination and resolve were evident early in life. At 15 years old, she made a bitter sacrifice to help her struggling family. Introduced to a wealthy, older man by her cousin, she opted to sell her virginity to him for US$800 – a small fortune – and gave the entire sum to her mother. She married another man later that year.
By 24, Pich was divorced with two children; her husband had left her for one of her friends. Yet another "friend" told her about a job in Battambang, and after a few other fruitless searches nearer to home, she traveled there to work in a bar. Before leaving the following day, her acquaintance introduced her to the owner, and for four nights Pich sold beer.
The fifth night she had a rude awakening. Her boss told her she wasn't there to sell beer; he expected her to sell sex. Pich then realized that her friend had sold her into a brothel for an unknown sum. Locked in the building with no way out, she was a sex slave.
Yet Pich never forgot who she was. She objected when customers didn't wear condoms or when she was made to service clients when while ill. She even tried (unsuccessfully) to escape. But she paid dearly; each time she stood up for herself, she was beaten, strangled, or worse. By the time she reached our shelter, Pich had only two teeth left in her mouth.
To punish her protestations, the brothel owner had thugs hold her down while he extracted her teeth, one by one, with a pair of pliers. This happened time and again as Pich insisted on her rights, all the way through thirty teeth. Despite having no means of escape and no reason to hope, Pich kept fighting until finally she convinced a customer to let her use his phone to call the police. The police raided the brothel the next day, and brought Pich to our shelter.
In addition to receiving trauma therapy through the CTC program, Pich was provided with legal representation from the shelter's staff attorney. In September 2010, Pich's captors and torturers were sentenced to eight years in prison.
Today, Pich has a positive outlook on life. Her feelings of anger and isolation have been replaced by optimism, comradery and even activism: Pich recently participated in our local partner's Violence Against Women campaign, proudly donning the symbolic white ribbon while passing out leaflets on preventing abuse and exploitation.
With assistance from the project, Pich has received dentures and will be entering a beauty skills training program. With your help, she will never again have to take a job in a strange city, work for someone she doesn't know, or rely on the type of friends who would sell her into slavery.
We thank you for your support, which has paved the way for a new future for Pich and dozens of others like her.
Links: