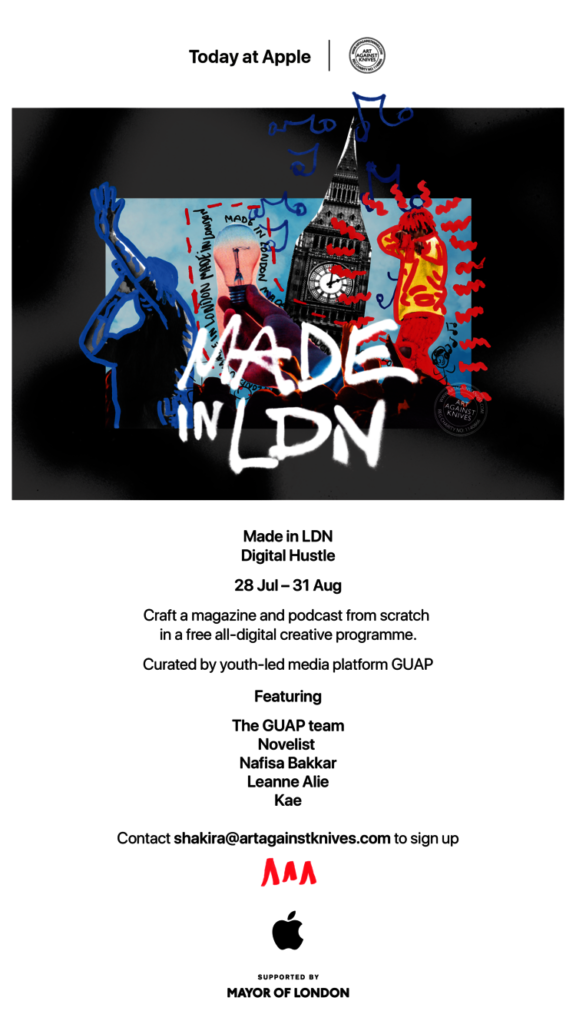 In the last three months, we have continued supporting young people remotely and preparing the re-opening of our spaces for those who can attend in person.
Between April and July, we supported at least 63 young people between the ages of 12 and 25, 40 of whom were regular users; 15 have been working actively towards Arts Awards. 35 were Black British/African, 14 of mixed heritage; 11 had SEND and 7 were looked after.
This includes work towards Arts Awards that is supported 1:1 and with over 20 young people on their way to complete their accreditations this summer.
Over the summer, we have been running an online creative project in collaboration with Apple: young people are creating a digital magazine and a podcast, which will be at the core of our external communications going forward, giving young people a wider platform to share their work and views, have their voices heard and advocate for change.
We also publish a list of creative and employment opportunities every month. An example is attached.
We have now started re-opening our Barnet hub, combining face-to-face delivery in small groups with detached youth work and continued virtual/remote 1:1 support/work, including Arts Awards and our new online creative curriculum. In our creative spaces, staff will do creative work with up to 5 young people and provide mentoring/1:1 support. Unlike before, sessions will be by pre-booking. We developed an online booking system to manage this and ensure that access is fair. Detached youth work will focus on 1:1 and small group support. We also plan some outdoor sports activities for small groups and potentially some pop-up activity.
We are continuing to step up how we co-produce with young people and amplifying their voices.
Attached is a report on our work in this area which we and young people put together in the Spring
Attachments: