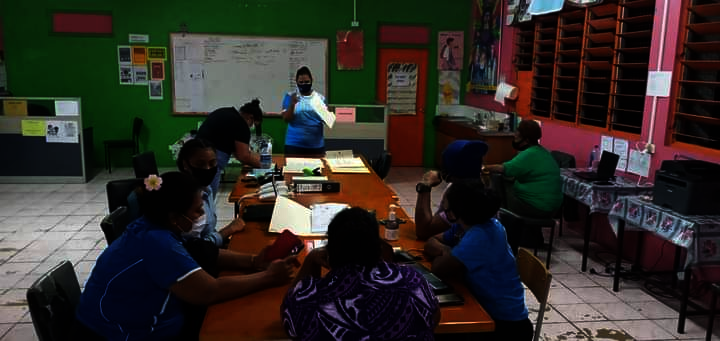 Zoom sessions with some of the peer educators were carried out to refresh them on the five strategies of the Virtues Project. Despite network problems they continued to share their experiences with the five strategies.
One youth explained that during this pandemic these strategies had taught him to be more vigilant, understand and respect the 'bubbles' required for safety from the virus. Even though travelling to and from the island to Lautoka city is quite restricted he had learned to be more patient and continue serving his community with available resources they have.
Other youths have continued to assist in their local community despite these covid crises. One of the virtues peer educators is part of a group that has been assisted by some organisation that looks after the vulnerable in our society by distributing food supplies. Despite that they continue to travel around explaining about covid and giving out the handouts of the five strategies to help the people understand more about the Virtues strategies.
Our youth have been sharing what they've seen going on in the community. People are desperate to survive even though there are few available resources that are available to them but still they need basic items for support. Some families have been living together as an extended family of sixteen in a one bedroom house because they cannot afford rent. Unemployment has really hit the main core of some families as they have had to separate the family members to go in different directions to survive. Children are sent to sell food on the street to help out in the family. Some families cannot afford to pay top up on their phone to support their kids for zoom classes. This has been a burden to parents to look for ways to cater for their children's education.
Once members of the communities are aware of the virtues and the role they play in our lives they can develop the ability to ask questions about the decisions they are making about themselves with the current situation being faced in Fiji.
Fiji needs the virtue of unity & solidarity to show that we are all in this together and it reminds us that the virtues are in evidence all around us during this crisis. They are seen in the small kindnesses extended by a neighbour, friends and families. We should not ignore the virtues as they tell us how to live well as individuals and societies in the face of distress and hardship.
What the youth notice that people are practicing the virtues of kindness, love, caring by helping out with their neighbors in sharing seedlings, church group buying basic food items to their church members, individual groups also help out with the communities with this gesture no one was left out in the community. Working people are also given food ration because their wages has been really reduced.
The observation from our youth that they acknowledge all individual people and organisation for helping out in the community because they see the need that our communities are desperate to survive during this crisis. The government alone cannot solve the problem it took all individuals to come together in solidarity and work hand in hand to overcome this problem.
ONGOING WORK ON THE PANDEMIC
The youth are doing marvellous work helping the medical team in Lautoka doing community profiling for the past few weeks (August). These youth have been liaising with the District Officer and our Lautoka District Council of Social Services.
Now the profiling has ceased and the youth have been trained to operate the emergency line for covid patients who need ambulance services. Natabua High School is the venue they operating this service.
Feedback receive from the youth that they thank virtues project Fiji for supporting the youth which allows them to at least receive allowance from government in their voluntary.
There is also request coming from Ba, Tavua and Rakiraki bubbles for an awareness on virtues strategies to address the issues of using responsibility in using government assistance.
CLIMATE CHANGE ISSUES
The youth continue to work in groups on issues around climate issues and cleanliness.