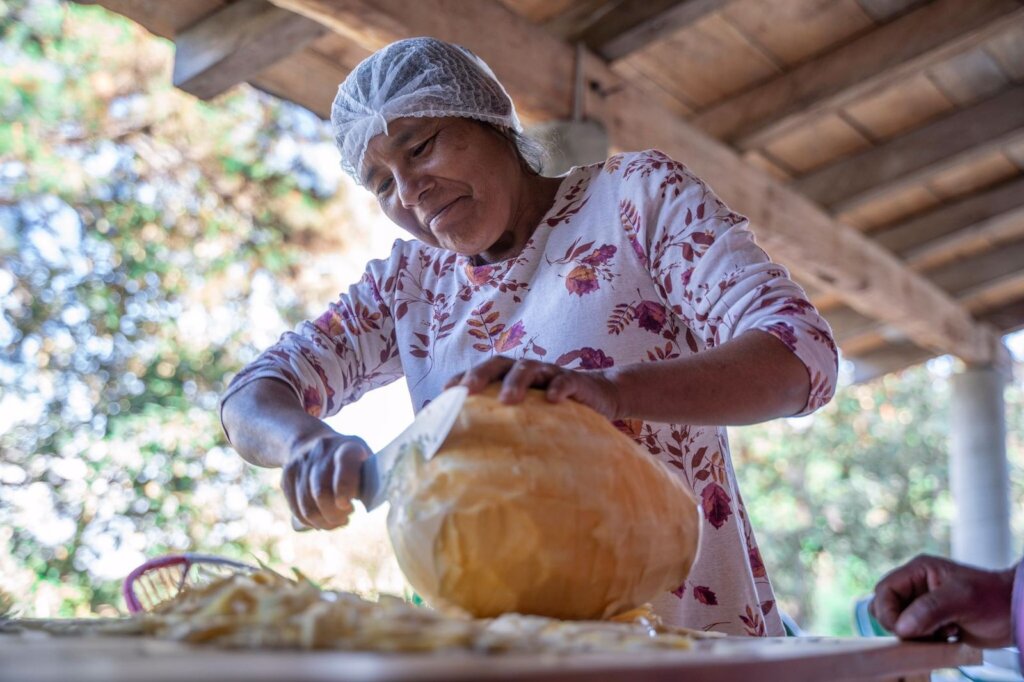 Hi there! We are very proud to share with you our latest news about "My fruit, my town", which is our project to respond to the negative impact of COVID-19 on the economy of indigenous communities in Oaxaca. We achieve this through workshops and learning women groups for transforming fruit and vegetables, to avoid their waste. This time we worked with women of San Pedro Jilotepec, located in the mountains of "La Sierra Chontal", a beautiful paradise full of oak pines.
Arturo was our host, he has a traditional community leadership role "There is a lot of waste in my community, we have a lot of yellow pumpkins, our people don't know many ways to cook it so we usually throw away plenty of it!"
This experience was incredible, 30 women of the community participated, which is the largest group we have ever had with My fruit my town workshops. They are very committed to being "Fruit guardians" of their territory.
During the workshops, women brought a lot of fruits and vegetables for making preserves and other delicious and healthy options. San Pedro has an abundance of squash, tomato, and yellow pumpkin, it's a place in which people sew their own crops such as onions and carrots, which were a great companion for making successful gastronomical experiments. The atmosphere of coexistence between women was very healing. In UMPO we believe that food is a way of connecting with the territory and ancestors of a community, based on experiences of abundance and solidarity.
During one session, the group rescued 25 kg of fruit and vegetables, with these techniques and good organization they are capable of saving 140 kg per week. We were very emotional at the end of the workshops. Maximina, 62 years old, told us "Thanks a lot for sharing this knowledge with us, I had no clue about all the ways we can use pumpkins pulp, we used to take only the seeds for selling them. I think this is the beginning of a big change for San Pedro".
We will continue working with San Pedro's women, it's an opportunity to link our organization to a new environment. The richness of their territory is the most awe-inspiring experience for transforming food. We are convinced that COVID-19 has strengthened the way of organization of many communities. Surrendering to a broken economical situation is not an option for chontal people, but getting new tools for taking care of their fields, regenerating their land, and consuming the food that sprouts from it, is a way to be resilient.
Thanks a lot for being part of this new achievement, and thank you for promoting the well-being of chontal women.