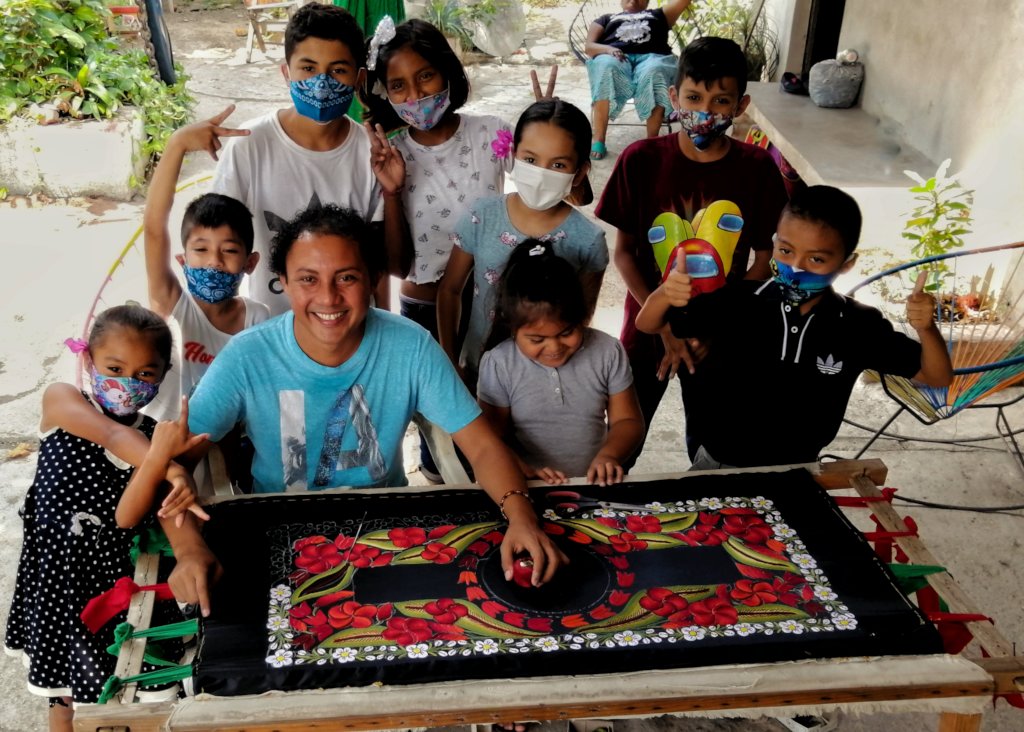 Pandemic lockdown didn't stop zapotec children to be part of our educational model, we recognize that all social intervention with gender perspective must include children in spaces of caring for achieve the strengthening of women education during any crisis.
In our community 72% of the people is indigenous, 80% live in human deprivation and poverty. We found out that if children don't understand the importance of preserving our culture, the opportunities of their territory and embrace the solution within their possibilities and interests the future generations will suffer a wider disparity between social, political and economical dimensions.
One of our favorite interventions is the "Ruta Sabor y Arte" (Art and Flavor Route) , which children visit traditional craft workshops with guidance of important artisans of our region. The Route is full of colorful wall communitary murals made by artists of different origins. After 6 months of lockdown because of COVID.19, authorities allowed us to restart the children route but with small groups and all the measures.
During the mural route tours Paloma, a 9 years old girl was very surprised about this experience "I am happy because I haven't seen before any king of art in my town, nobody use to paint, and I didn't know they were so many beautiful paints near me, I want to visit them all."
Children have to interview the guardians, and work on a compilation of videos in order we can document the incidence of guardians in the new generations. Every child that participates in the route gets a book of "Deshilar el Istmo" (Unravel the Istmo) with which children can learn more about the traditional crafts and the Art and Flavor Route. Last period the route had the participation of 106 children, who received a pedagogical book to introduce themselves to traditional crafts.
After one of the routes Kevin, 11 year old, told us "When I heard we were going to meet a potter man, I thought doing potter must be very difficult, but when I tried I liked it so much, now I want to learn and be a pottery guardian."
We consider that even though we have been working through two crises that have affected our community socially and economically (2017 earthquake, 2020 COVID-19 pandemic), we have achieved a horizontal way to create solutions that impact three generations of the community. We dream that all the children have the opportunity to visit the Art and Flavor Route, so they embrace our culture and fight to preserve our territory no matter what crisis they face next.