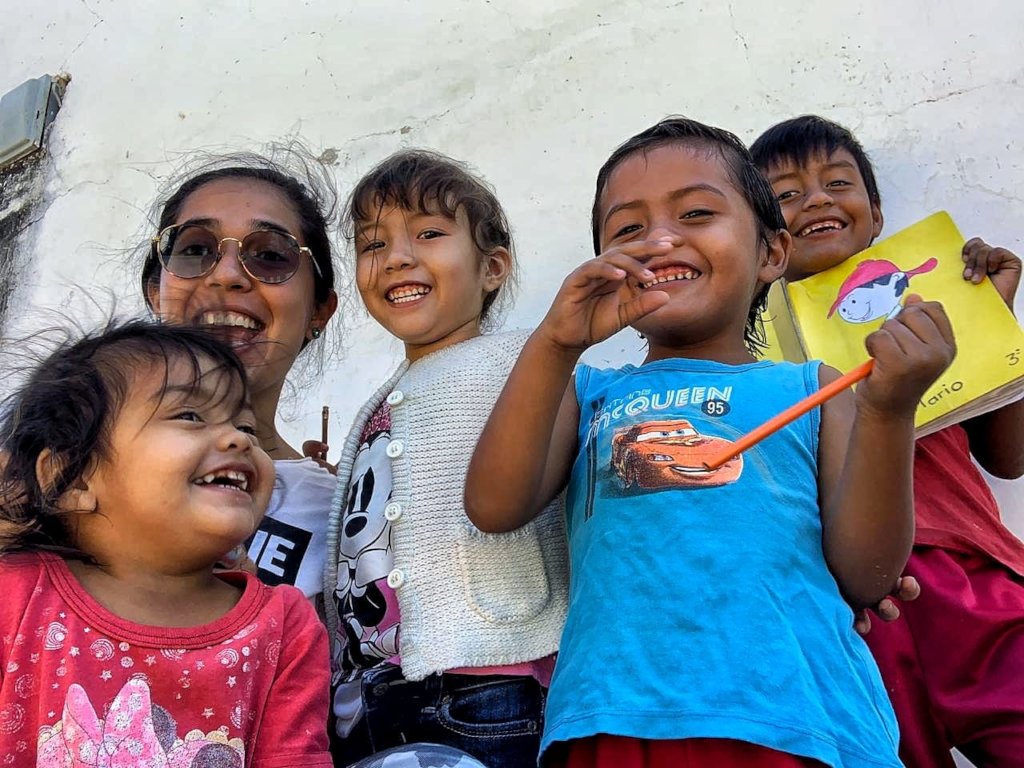 In this picture my partner Aida is with our neighbours, she usually reads to them some short stories in the afternoon. She has been a key bond for maintaining UMPO's activities alive during these days, all the art, communication and every single photo of our media is all her creation. She told me:
"During the lockdown, UMPO has been like a time machine, that transforms negative ideas into positive solutions for facing adversities. We are all surrounded with news about loss and how hard life can be nowadays. But yet I percibe UMPO projects like seeds of love and hope for our communities. Since the COVID-19 lockdown started, we continued implementing productive workshops using digital tools.
We are always creating programs that offer educational tools to become autonomous for creating our own laboral opportunities. We try to boost everyone's capacities for making their dreams come true. But this time using digital platforms was such a big step! because one of our main objectives as an organization is to connect our community and make new bonds and sometimes technology doesn't inspire this kind of authentic sensitive contact. What I can share is that I decided to participate in the traditional herbal medicine workshop [I usually do not participate as a student in the workshops], there, I took the class with 30 different women from different latitudes, this never happened before. I attended the first multicultural UMPO's workshop!
On the other side, it's true that the pandemic has affected children too, because Mexico's educational model is usually precarious and now, trying to pass it remotely is a huge challenge. That's why I am amazed about our reading circles and with our children activities for learning about traditional crafts. I feel that even with the pandemic, we continue sowing the zapotec identity in the heart of the youngest ones.
Finally I want to share that most of the people in our communities are elderly persons, many of them were abandoned and their economical situation is deplorable. These days I had the opportunity to share time with many zapotec grandpas because we started the "solidary baskets". A program in which we buy products of many agriculturists of the zone in order to activate their economy, such as corn, coffee, cheese, totopo (corn tortilla), etc. We put together all these local products in a basket and give them to the elders of our communities. We don't know how long this will last, but what we know is that we have solutions to activate our communities, their economy, strengthen their bonds and also cover their basic needs."
Thank you for supporting us during this COVID-19 challenge, we start a new year and we hope you will be part of the next opportunities for boosting the zapotec communities economy.