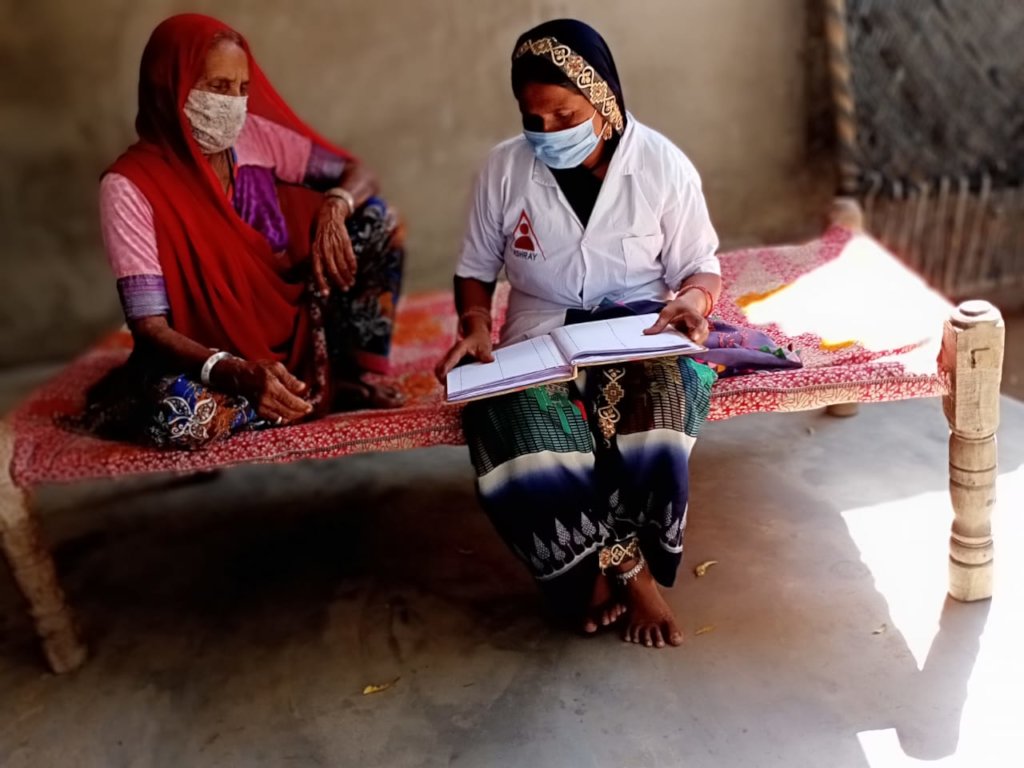 In order to combat the spread of COVID-19 in the villages of Santalpur Taluka, Ashray is involved actively in providing free health care services and hygiene supplies through our Mobile Medical Unit (MMU) in Santalpur Taluka.
The objective of the project focuses on increasing awareness among the rural communities about COVID-19, strengthen the COVID emergency preparedness response system and to increase the access to sanitization procedures & COVID prevention measures.
To sensitize the MMU staff and health workers with the recent developments on COVID-19, two virtual training sessions were conducted.
i) Refresher training – In this our health workers were informed about the virus, case investigation, contact tracing, healthcare infection control. Since the virus has the tendency to spread rapidly, we also trained our health workers about the precautionary measures that should be taken to stop the spread. They were also informed on- at what stage should the emergency number be contacted, providing RTPCR tests and monitoring a person who has been infected. Further they were introduced to vaccine storage, handling, administration, and reporting.
ii) Training on variants – the virus is getting stronger with every mutation and change in its symptoms are also being observed. Keeping this in mind we informed our trainers about the variants i.e. Delta and Lambda. As mucormycosis is also seen on rise we informed them about its symptoms which includes:
a) One-sided facial swelling.
b) Headache.
c) Nasal or sinus congestion.
d) Black lesions on nasal bridge or upper inside of mouth that quickly become more severe.
e) Fever.
This was followed by a session on prevention and cure of the infection. Further we encouraged our health workers to support the local vaccination drives available at local PHCs and encourage their near and dear ones to get vaccinated.
Our impact by the numbers:
Health workers of the villages of Patan conducted COVID awareness house visits to educate rural community about the preventive measures and hand hygiene practices.
1) A total of 6000 families i.e. approx. 24,000+ population were covered as a part of awareness activities. Our health workers conducted these counseling sessions keeping in mind the norms of social distancing and hygiene measures.
2) A total of 20 villages were covered from the date of initiation of the COVID support project.