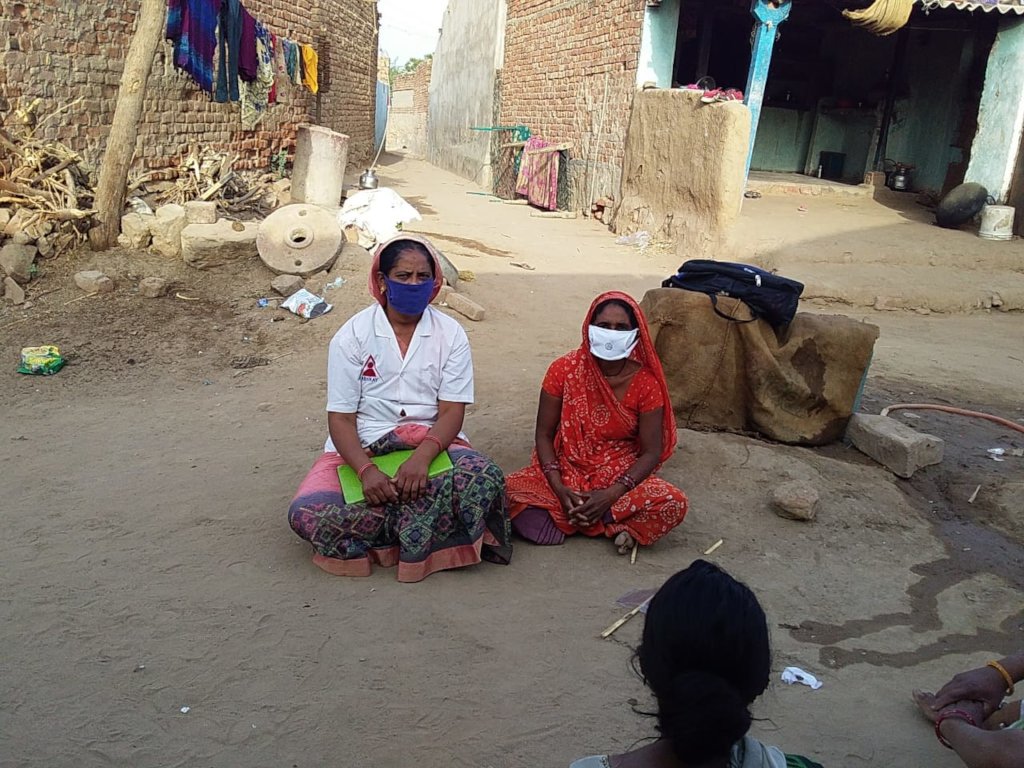 The ongoing impact of the pandemic has been observed far and wide throughout the entire Santalpur Taluka. Amidst these, our goal was to become a credible source of information stating the recent developments of COVID-19 to the community and encouraging them to opt for vaccination in nationwide vaccine drive.
The objective of the project focuses on increasing awareness among the rural communities about COVID-19, strengthen the COVID emergency preparedness response system and to increase the access to sanitization procedures & COVID prevention measures.
Training on Pre-medical conditions
Considering the current scenario of COVID-19 and its underlying aspects, this quarter, we decided to focus on the pre-medical conditions, which if present, may prove fatal for any COVID patient.
The first chronic disease that we focused on was Diabetes. Diabetes is a chronic condition that occurs either when the pancreas does not produce enough insulin or when the body cannot effectively use the insulin it produces. Over time, the health impact that diabetes has, includes damaging the heart, blood vessels, eyes, kidneys and nerves.
As indicated by the World Health Organization(WHO), practicing simple lifestyle measures such as achieving & maintaining a healthy body weight, eating a healthy diet, avoiding sugar & saturated fats and avoiding tobacco can help prevent diabetes and its complications. The purpose of these virtual trainings was to know whether the health workers had enough knowledge about diabetes and to assess their knowledge about possible preventive measures to be taken. To facilitate the learning process, we developed a training manual on diabetes with all the information that will be required by the health worker to spread awareness on the issue. Information on major types of diabetes, the age group they generally appear in, causes & symptoms and their risk factors were shared upon. We also provided them with routine exercise schedule to prevent the complications.
The MMU operating in these villages provides a medium to understand the perception of community on medicine use and overuse. Moving along the lines of same perception, we decided to include a virtual session on antimicrobial resistance. This session included a discussion on main drivers of antimicrobial resistance including role of access to clean water, sanitation and hygiene procedures, lack of awareness and knowledge at community level and misconceptions related to increased medicine use.
Keeping in mind the norms of COVID-imposed situation, discussion related to the learning material was conducted via virtual application to reach as many field workers as possible.
Our impact by the number
Health workers of the villages of Patan conducted COVID awareness house visits to educate rural community about the preventive measures and hand hygiene practices.
1) A total of 7318 families i.e. approx. 25,000+ population were covered as a part of awareness activities. Our health workers conducted these counseling sessions keeping in mind the norms of social distancing and hygiene measures.
2) A total of 12 visits per village were conducted via operation of Mobile Medical Unit.
3) A total of 20 villages were covered from the date of initiation of the COVID support project.
4) A total of 4900 masks were distributed among the rural community.