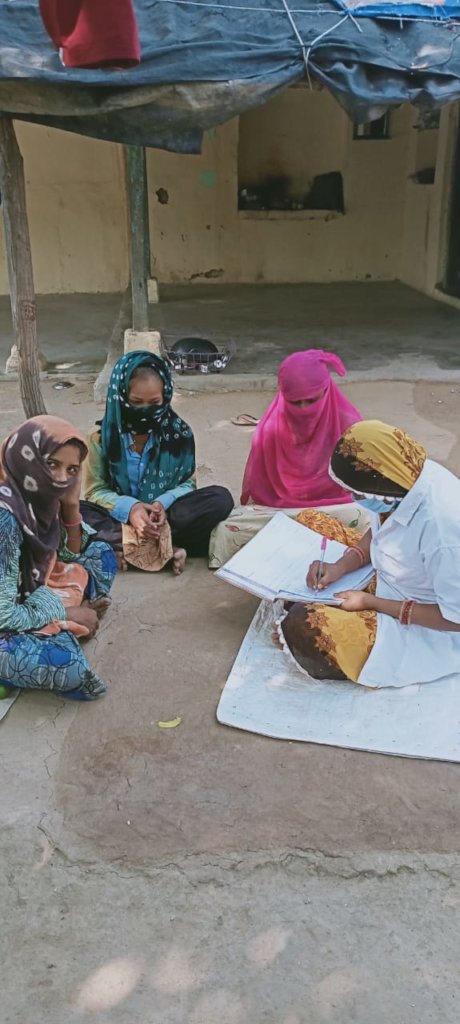 The ongoing pandemic has proven to be burdensome on the rural health infrastructure of several districts of India. In Santalpur taluka of Patan District, we observed a similar case where in health facilities were buried under the cases of symptomatic patients. In order to streamline the functioning of these health centers and to combat the spread of COVID in nearby villages, we undertook a COVID rapid response training in this quarter.
This quarter, our focus was on providing information regarding nearby COVID health facilities to the communities of Santalpur taluka.
Training on COVID Rapid Response
As indicated by the Center for Disease and Prevention (CDC), the time efficient mode of treatment plays an important role in preventing progression of COVID symptoms. As a result of this, we provided training on when to seek medical consultation in these villages. We also provided a roadmap if a COVID case is identified in their family. Considering the proximity of villages and the number of health centers located in the project area, we, with the help of District Health Unit, identified nearby facilities to transfer patients. We gave an online training to our health workers to facilitate necessary counseling in the project area.
In addition to this, a refresher course for preventing COVID was also undertaken during this quarter. This course involved key topics such as modes of transmission of COVID-19, suspected case symptoms, preventive measures to be taken with special emphasis on social distancing, hand hygiene and mask hygiene. We also provided training on importance of data collection and management to evaluate the impact of our intervention and to help monitor the progress of the program.
The major challenges that we faced during this quarter were related to virtual management of staff and information exchange with health facilities' staff to formulate a feasible roadmap villagewise. However, amidst these challenges, our field staff was able to conform with the virtual managing methodologies and were able to keep us timely updated with the happenings in the field.
Impact of our intervention:
A total of 12,388 people were provided counseling on COVID rapid response and management.
A total of 20 health workers were trained to provide COVID rapid response counseling
A total of 10 villages were covered with the updated counseling roadmap in this quarter.