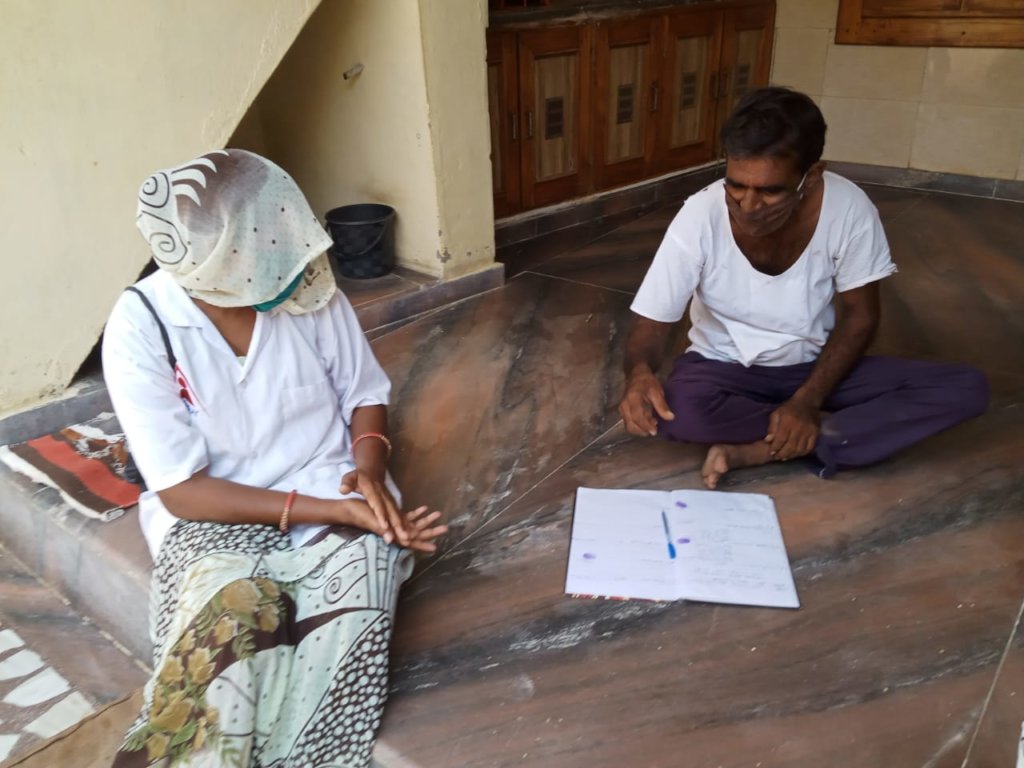 In order to combat the spread of COVID-19 in the villages of Santalpur Taluka, Ashray is involved actively in providing free health care services and hygiene supplies through our Mobile Medical Unit (MMU) in Santalpur Taluka.
The objective of the project focuses on increasing awareness among the rural communities about COVID-19, strengthen the COVID emergency preparedness response system and to increase the access to sanitization procedures & COVID prevention measures.
To sensitize the MMU staff and health workers with the recent developments on COVID-19, two virtual training sessions were conducted.
Training on COVID-19:
As indicated by the World Health Organization(WHO), practicing simple preventive measures such as frequent hand washing and covering your nose & mouth while coughing, can prevent transmission of COVID-19. The purpose of these virtual trainings was to know whether the health workers had enough knowledge about coronavirus and to assess their knowledge about possible preventive measures to be taken including social distancing. To facilitate the learning process, we developed a training manual on COVID-19 with all the information that will be required by the health worker to spread awareness on the issue.
Keeping in mind the norms of COVID-imposed lockdown, discussion related to the learning material was conducted via virtual application to reach as many field workers as possible. Information on how COVID is reported to spread from person-to-person, with an incubation period of 1 to 14 days, symptoms including sore throat, difficulty breathing, low grade fever, weakness and general discomfort were shared upon. Health workers were advised to take immediate actions such as calling the nearby COVID managing facilities, upon identification of potential COVID related signs. At the end of the training, all the health workers appeared for an online COVID-19 certification exam.
Considering the novelty of recent pandemic, there is paucity of credible literature related to COVID prevention. In such a scenario, there is a high probability of involving oneself in sharing preconceived myths which are not relevant to combating the virus spread. In order to sensitize health workers with the credible sources of information, a chapter was included in the manual which identifies fake WhatsApp forwards & list of preconceived myths. To solve the queries related to these preconceived notions, a discussion was held during the virtual training session. Health workers were advised to spread awareness on how not to indulge oneself in spreading COVID related rumors. They were also trained on destigmatizing the concept of COVID illness in the rural community by making special efforts to reach out to high risk groups such as senior citizens and young children.
In addition to this virtual training session, we shared pamphlets and leaflets related to COVID-19, that are to be distributed in the rural community. We have been briefing our health workers time to time about the updated information on COVID-19 to keep them informed about the recent developments in the pandemic. We have been also involved in taking daily follow ups of field staff to ensure smooth operation of COVID-19 related awareness.
The major challenges that we faced were related to virtual management of staff and information exchange for emergency preparedness. However, amidst these challenges, our MMU staff and health worker staff have worked relentlessly to conform themselves to the lockdown restrictions and adapted quickly with the learning methodologies in regards with the pandemic.
Our impact by the number
Health workers of the villages of Patan conducted COVID awareness house visits to educate rural community about the preventive measures and hand hygiene practices.
1) A total of 6221 families i.e. approx. 25,000+ population were covered as a part of awareness activities. Our health workers conducted these counseling sessions keeping in mind the norms of social distancing and hygiene measures.
2) A total of 20 Health workers were trained and certified under COVID-19 awareness and prevention program.
3) A total of 12 visits per village were conducted via operation of Mobile Medical Unit.
4) A total of 20 villages were covered from the date of initiation of the COVID support project.