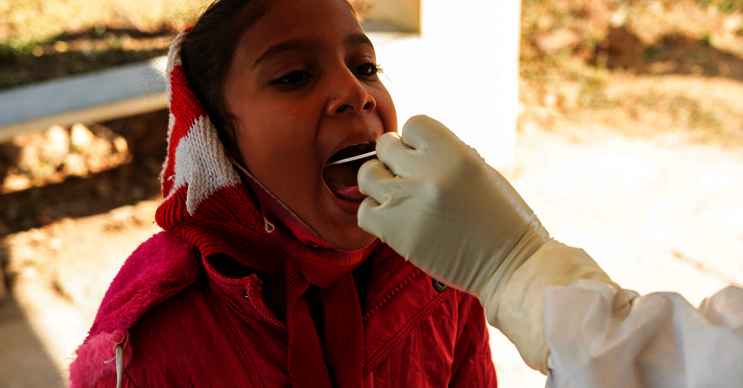 Dear Friend,
As you likely know, India was hit by a rapid and deadly second wave of COVID-19 infections. Health and critical care facilities were overwhelmed, leaving people without the medical care that they so urgently need. Cases continue to surge at unprecedented rates. On May 1, India recorded the highest ever daily count of new cases, in any country at any stage of this global pandemic, exceeding 400,000 new cases.
With time, the virus is mutating, and different variants are breaking out, affecting more young people and children in the second wave. Given the exponential rise in the COVID-19 caseload that India grappled with, health facilities were faced with the dire risk of not having an adequate supply of oxygen for their patients. This life-saving gas helps patients breathe when they cannot do so on their own – whether it be children with pneumonia or hypoxemia, newborns and mothers with birth complications, or patients with severe COVID-19 symptoms. Even before the COVID-19 pandemic, every year 4.2 million children in low and middle-income countries urgently needed medical oxygen to survive.
Thanks to your continued commitment to ending the pandemic, UNICEF has been working tirelessly throughout to help tackle the devastating impact that the virus itself has had, as well as the impact that measures taken to control the virus have had on India's children and their families. Most recently, this response includes support to the COVID-19 vaccines rollout. As India and other countries around the world face this rapidly worsening 'second wave,' UNICEF continues to support governments, WHO and other partners to tackle this fresh crisis and the further impacts it will have on children and families. Your support ensured that UNICEF India was able to achieve the following outcomes over the past several months:
Increasing access to life-saving oxygen: Oxygen therapy is a critical treatment for patients who are experiencing moderate and severe/critical COVID-19 symptoms. However, just one critically ill COVID-19 patient requires between 25,000-80,000 liters of pressurized oxygen per day for approximately five days. Your support allowed UNICEF to invest in the establishment of 40 new Oxygen Generation plants that can provide enough oxygen for 500 hospital beds as well as 3,000 portable oxygen concentrators to support ill patients.
Boosting testing capacity: Rapid, accurate testing is an essential tool in the fight against COVID-19. However, growing delays in the processing of "gold standard" RT-PCR tests are jeopardizing timely diagnosis and treatment. With your support, UNICEF helped boost test processing capacity in some of the worst affected districts.
As the pandemic continues to effect communities around the world, your generous financial support will enable UNICEF to swiftly procure the supplies needed to diagnose, treat and prevent the spread of COVID-19. Beyond this current crisis, your investment will leave a lasting legacy that will strengthen India's health system over the coming 10+ years, improving diagnosis and access to life-saving oxygen that will benefit countless numbers of children and their families. Thank you for continuing to stand with UNICEF as we continue the fight to end the pandemic.
In Partnership,
Whitney