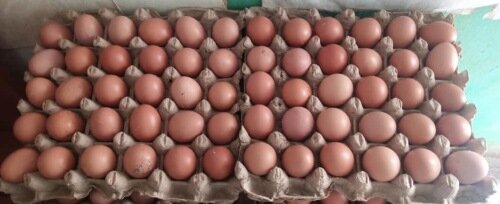 Eggs are now in market
In our previous report, we have mentioned that our agro-pastoral activity has resumed back in activity to begin its egg production phase. Since it has been 6 months now, the hens are already producing eggs!
Currently the eggs are being sold at a small shop which is part of the Centre Marembo's Rehabilitation and Reintegration shelter, located at Gikondo district. A tray of eggs contains 30 eggs, at the price roughly 3.10 USD, or 3200 RWFs. Each purchase helps supporting the cause to aid GBV victims.
Educating on the importance of GBV prevention
Educating the public on the gender-based violence, ways to prevent it and spreading awareness on the issue is a serious matter, which is why various institutions and organizations organise such events for the community to hear about this ongoing issue.
On 9th of Jine, two young mothers who are GBV victims were invited to the Imanzi Radio station to share their testimonies on the GBV; Executive Director of Centre Marembo, Nicolette Nsabimana, and Assistant Commissioner of Police (ACP), Teddy Ruyenzi, were also present during the radio broadcast.
The aim of this broadcast is to bring the importance on the GBV victims' voices and share their stories, and emphasize the importance on a proactive action in GBV prevention.
During the interview, Teddy expresses towards the public on the fight against GBV:
"We need concerted efforts by the families in order to eradicate the violence in our communities."
"....We need to strengthen community awareness, go down to the grassroots, reach to all groups; women, men, couples, children, local leaders and mentors to build a collective bond.''
An important note:
Rwanda is experiencing an increase in the local market price, as a response to the global substantial economic instability and stagflation; it has affected majority of various items and services, such as fuel, school fees, food and other basic need items.Combining with the slow economic rate, high unemployment rate and low supply rate, these factors are adding more pressure onto the marginalised and vulnerable groups, having a negative effect on the daily lives of children, girls and teen mothers.
To give an example, fuel costs 1.42 USD per litre/ 5.38 USD per gallon (for gasoline); for diesel, the fuel costs 1.46 USD per litre/ 5.53 USD per gallon. Another is a 20 litre cooking oil, which last month or so costs around 40,000 RWFs (about 38 USD); the same cooking oil is now increase by about 20%, costing almost 50,000 RWFs (about 50 USD). Since the beginning of this year, many goods have experienced a substantial increase in prices over a period of 5-6 months.