Project Report

| Sep 25, 2023
Achieving results in Belize against Lionfish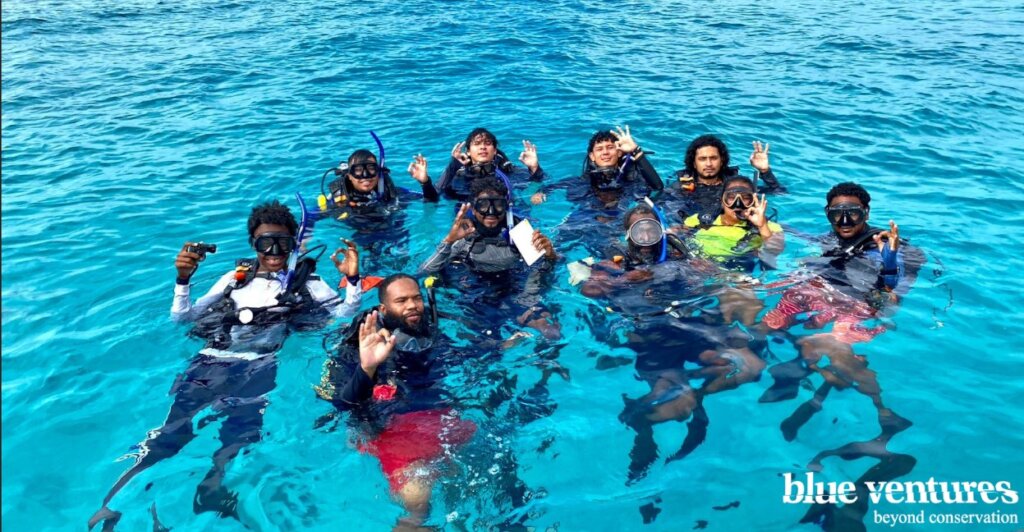 Heading back to Belize, we find ourselves within the South Water Caye Marine Reserve (SWCMR). Through the project "Building capacity for effective lionfish management in Belize's fish replenishment zones" supported by the Belize Marine Fund, a program within MAR Fund and developed by Blue Ventures Conservation who following the Belize's National Lionfish Management Strategy (NLMS) and using the training model developed for Turneffe Atoll Sustainability Association (TASA) supported previously; the Wabafu Fishermen Association ('Wabafu'), established in 2015 to enable fishers from Dangriga to manage their natural resources, and a new community-based lionfish brigade at SWCMR received training and support to undertake lionfish control and monitoring.
In December 2022, Blue Ventures held a workshop with the new lionfish brigade members to share an overview of the lionfish invasion in SWCMR. The workshop provided training to the brigade members in fish identification, later consolidated through a computer-based theory test, and an in-water test. To be able to monitor and perform lionfish control activities, by February 2023, the 10 brigade members achieved their PADI Advanced Open Water scuba-diving qualification and of these, nine were trained as Emergency First responders. All of them were trained in the Lionfish Focused Search (LFS) methodology, including fish identification for priority competitor species and native fish prey species. Three members were certified as LFS trainers, allowing them to train others to use the LFS methodology in the future, and five were certified in conducting surveys for competitor species. As part of the control of this species, the brigade members were trained in culling and safe handling, ensuring members' accurately collected data, and handled lionfish safely.
After being trained, in May 2023, the Belize Fisheries Department granted permission for the lionfish brigade to conduct regular quarterly culling in priority sites within SWCMR and in June 2023 the lionfish brigade was able to put their skills into practice, and removed a total of 46 lionfish across SWCMR (23 within the General Use Conservation Zones (GUZ), and 23 within the no take zone (NTZ)).
This project demonstrated how effective the participatory approach is, by ensuring members of fisher communities are involved and how an adaptive and collaborative management approach is essential to effective lionfish management in Belize. Providing community members with the proper training and equipment, has enabled them to understand the importance of data collection, helping them, and other organizations, identify the impact lionfish may be having on fishers' livelihoods and overall ecosystems.
Thanks to your support and engagement with our projects, another area has an established, well-trained, and equipped lionfish brigade.
We appreciate your trust in us.
The MAR Fund Team.