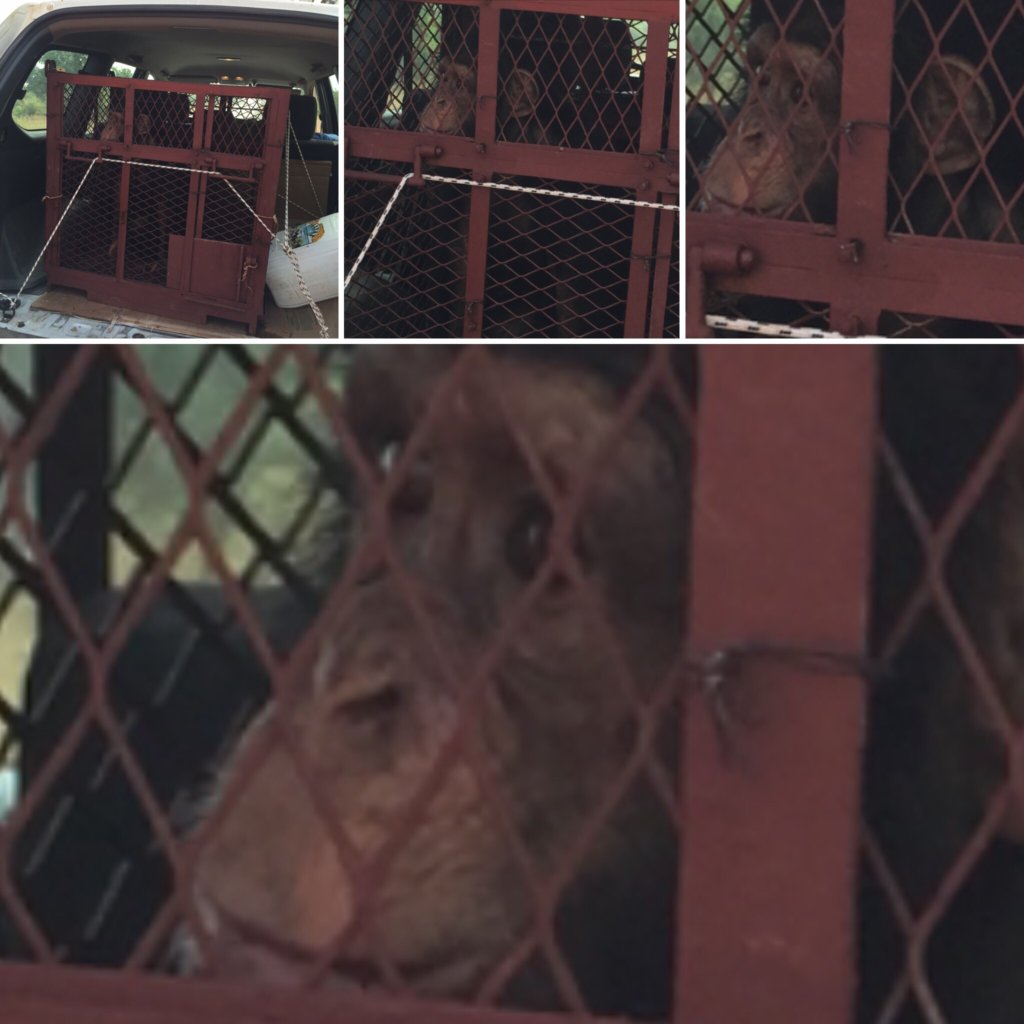 A new school year has started again in Senegal, and Neighbor Ape is supporting several school children in Kedougou and two young women in business school in Dakar.
Since the village of Djendji still has school supplies in hands from our gifts of previous years, we are focusing our efforts on making plans to build and help initially stock a pharmacy there - more info on that coming within the next few months!
Perhaps the biggest news item is that orphan chimpanzee Toto has finally been sent to his new sanctuary home at the Chimpanzee Conservation Centre in Guinea. I'm including a photo of Toto in his travel cage - the first time he's had to be in a cage, but he adjusted well and is out of it now. We have word he is acclimating well and should get photos soon! One of his "Dads", Dondo Kante, will be there with him awhile, helping him adjust.
Neighbor Ape was also able to donate one third of the funds needed to build new enclosures for Toto and his new group, while Friends of Animals provided the rest. We also financed half of his moving costs and wages for a new caretaker at the CCC for several months. We are especially grateful to Fongoli Savanna Chimpanzee project personnel, D. Kante, J. Keita and M. Sadiahko for taking care of Toto while juggling their usual duties, especially over the last year when Neighbor Ape took over all financing responsibilities for Toto. A new donor provided a large portion of the funds that were used to build new structures for Toto and his new family, as well.
Neighbor Ape will continue to support Toto via gifts to the CCC, even after his human Dad returns. You can also find info on the CCC Facebook page if you want to sponsor Toto directly via their fundraising page.
In other news, artisanal and corporate gold mining is still a big threat to chimpanzees in Senegal, but we are collaborating with other stakeholders in Senegal to come up with solutions. We can hopefully share some of those plans here over the course of the next year!
Thank you for your generous support from Neighbor Ape, the people of the Fongoli and Kedougou communities, the Fongoli chimpanzees and orphan Toto!