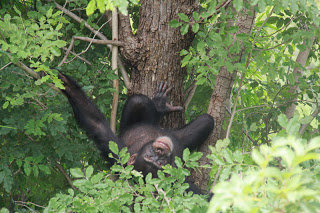 Greetings!
There is a lot of activity in Senegal - as the gold mining continues, the population of humans in southeastern Senegal continues to rise, putting chimpanzees in danger in many areas. Similarly, local people face shortages and perhaps some of the same longterm challenges as wildlife does in this area - water scarcity, increase in disease threats and others.
Neighbor Ape is devoted to improving the wellbeing of humans that live in the Fongoli area while protecting the chimpanzee population here. We continue to work specifically with the villages of Fongoli, Petit Oubadji, Djendji and Thiobo. We are also planning on focusing our efforts in the Tomboronkoto Commune, where Fongoli chimpanzees spend some of their time. The majority of the Fongoli chimpanzee range is in the Bandafassi Commune, but wildlife and people in this area face challenges that come with a burgeoning human population.
We are fortunate that the Fongoli chimpanzees received some attention via the BBC documentary, Dynasties. Alpha male David was the star of the Chimpanzee episode, and you can find videos and other information here:
Chimpanzee episode of Dynasties
We continue to work with the Senegalese organization OBARAR to fund village children's dormitory stays in Kedougou so that they might receive a better education. We also continue to fund education and health-related projects in the village of Djendji.
As we broaden our perspective on chimpanzee conservation and human development in Senegal, we hope that you will keep up with us and continue your valued support!
Please stay tuned for news related to our ventures!