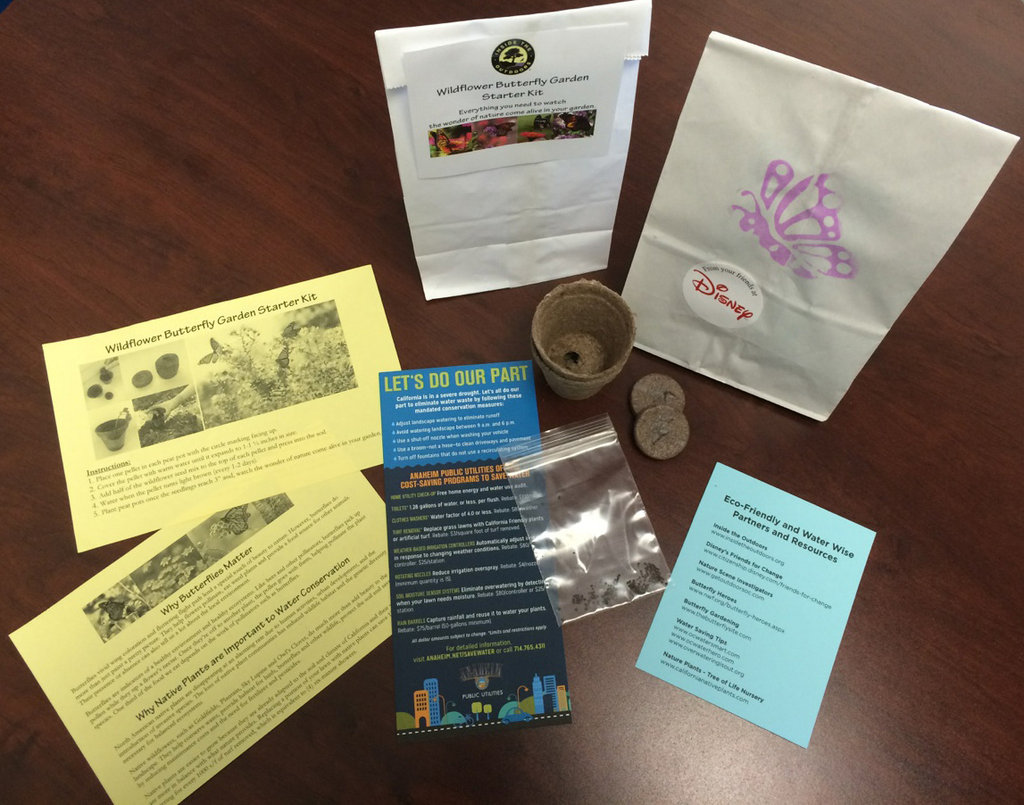 On Sunday, August 16, 2015, Inside the Outdoors Foundation partnered with Disney Citizenship and Disney VoluntEARS at the D23 Expo to host a volunteer project involving guests at the event. Attendees worked their way through an assembly line constructing 3,500 wildflower butterfly garden started kits and picked up water saving tip materials and resources, provided by the Municipal Water District of Orange County and Anaheim Public Utilities, along the way. These kits, including California native butterfly mix seeds, peat pots, soil pellets and growing and planting instructions, were also hand decorated by D23 patrons.
The Wildflower Butterfly Garden starter kits will be donated to schools in underserved communities to be used as a fundraising option. All proceeds from the sale of the starter kits will be used to support student field trips and activities providing powerful hands-on experiences that leave children with a lifelong enthusiasm for the environment.
Watch the wonder of nature come alive in your garden. Each started kit includes water-wise tips and resources and the following information:
Why do butterflies matter?
Butterflies vivid wing coloration and fluttering flight path lend a special touch of beauty to nature. However, butterflies do more than just paint a pretty picture. They help flower pollinate, eat weed plants and provide a food source for other animals. Their presence or absence can also tell us a lot about the local environment.
Butterflies are indicators of a healthy environment and healthy ecosystems. Like bees and other pollinators, butterflies pick up pollen while they sip a flower's nectar. Once they're off to another plant, the pollen goes with them, helping pollinate the plant species. One third of the food we eat depends on the work of pollinators such as butterflies.
Why are native plants important to water conservation?
North American native plants are disappearing at an alarming rate due to human activities, urban development, and the introduction of invasive species. The loss of native plant communities has reduced wildlife habitat and the genetic diversity necessary for balanced ecosystems.
Native wildflowers, such as Goldfields, Plantain, Sky Lupine and Owl's Clover, do much more than add beauty to the landscape. These plants help conserve water, provide habitat for birds, butterflies and other wildlife, protect the soil and save money by reducing maintenance costs and the need for fertilizer and pesticides.
Native plants are easier to grow because they are already adapted to the soil and climate of California and their water needs are more in balance with what nature provides. Replacing a portion of your lawn with native plants can save 120 gallons of watering for every 1000 s/f of turf removed, which is equivalent to (4) six-minute showers.
Inside the Outdoors Foundation is grateful to all of our partners on this project for helping to build environmental stewards for tomorrow.