Project Report

| Sep 5, 2014
Building Environmental Stewards for Tomorrow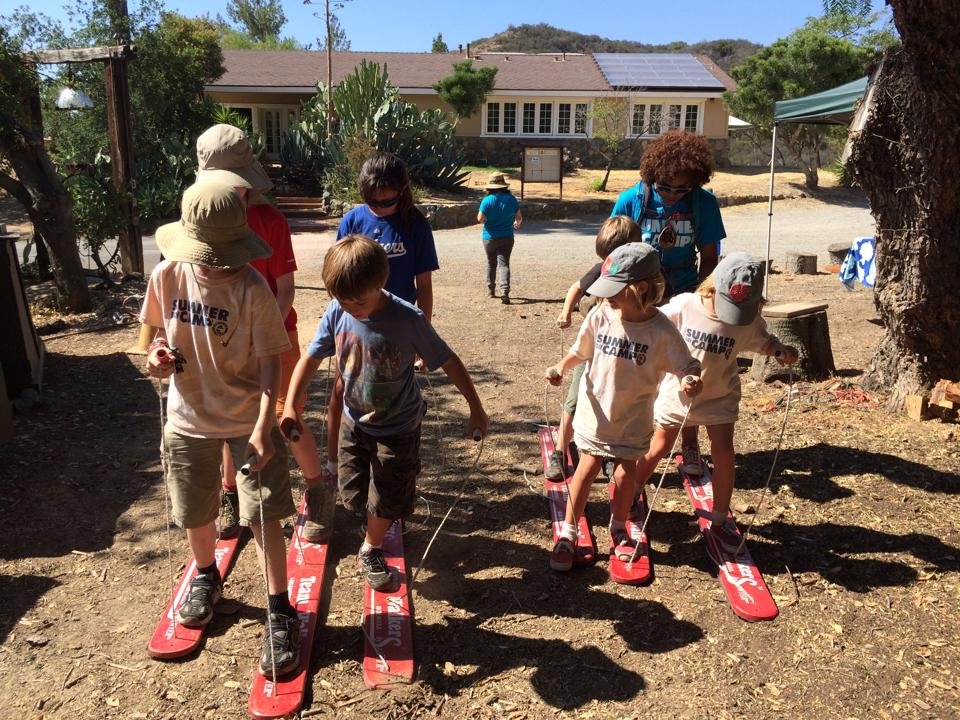 Summer Day Camp
Exploration, wilderness survival, and animal tracking are just a few activities campers experienced during their outdoor adventures this summer at Rancho Sonado, Shipley Nature Center and Irvine Regional Park.
Inside the Outdoors (ITO) hosted six weeks of Summer Day Camp, Youth Leadership Camp and Junior Naturalist training focusing on environmental education for 261 children, ages 6-18, with diverse themes such as; Wild Wetlands, Survivor: Ultimate Camp, W.O.W.: Wonders of Wildlife and Building Up STEAM (Science, Technology, Engineering, Arts and Math). Summer Day Campers experienced life as a water droplet, constructed natural shelters and sharpened their senses to observe the natural world and see, smell, feel, taste and hear like the animals. Youth Leadership Camp, for 12-15 year-olds, focused on advanced STEM education and built skills in communication, problem-solving, critical thinking and leadership through interactive and thought-provoking activities empowering youth to succeed in the world. Junior Naturalist training helped 16-18 year-olds to earn service hours and master skills as future Field Naturalists who will inspire and motivate the youth leaders of tomorrow.
The Register's 2014 Campership Fund and Project Save Our Surf sponsored a number of youth from Orange County for these outdoors environmental science opportunities. Twins, Ella and Jonah, attended Inside the Outdoors Summer Day Camp with the help of a campership. The 7-year-olds excitedly talked over each other about the day's tie-dye shirt projects, building a fort in the 18-acre habitat of Irvine Regional Park and composting their leftovers from lunch on the car ride home with their Mom. The single mom noted that her children have become more engaged and aware of recycling and other environmental issues since attending camp – a great start to building environmental stewardship. ITO's Summer Day Camp is in its 8th year and has hosted 1807 campers, 25% through sponsored camperships, allowing children from all economic backgrounds the opportunity of unforgettable hands-on experiences about nature.
Volunteerism
Volunteers are an invaluable resource to Inside the Outdoors. Through volunteerism, individuals are actively involving themselves with Inside the Outdoors and contributing to its mission to expand students, teachers and the community's knowledge, understanding, and stewardship of the environment. Year-round students, families, community members and corporate partners and executives volunteer with Inside the Outdoors to restore natural habitats, remove invasive plants, maintain trails, build awareness and understanding of environmental issues and protect wildlife. Volunteers help us enhance existing programs by providing the community with an opportunity to connect children to nature and creating healthier, happier and smarter environmental stewards of tomorrow.
Corporate partners such as Disney, Chevron, Starbucks, Cox Communications and US Bank frequently volunteer with Inside the Outdoors Foundation for coastal clean-up, habitat restoration and community outreach programs.
The Boeing Company regularly partners with Inside the Outdoors to mentor Orange County students on STEM (Science, Technology, Engineering and Math) related projects.
Visit www.insidetheoutdoors.org to learn about volunteer opportunities and community programs.