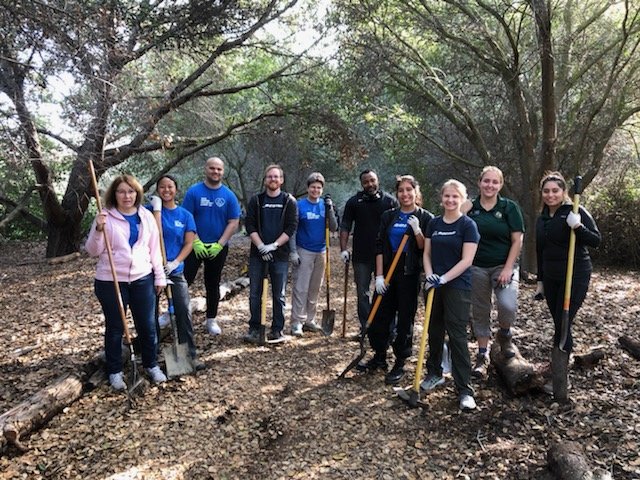 Boeing employees partner with Inside the Outdoors Foundation annually on a number of restoration projects througout the county benefiting schools, students and the community.
During Boeing's "Spirit of the Holidays" employees are encouraged to volunteer their time on-site and in their community. Inside the Outdoors Foundation brought projects to Boeing's Huntington Beach offices in December 2019, where employees signed up in shifts to donate their time. Tree Cookies were created for local students and teachers as name badges, special awards and thank you's for a job well done.
More than 165 local volunteers, including Boeing employees, removed 750 pounds of trash from the Upper Newport Bay estuary on Saturday, January 18, 2020, in honor of MLK Day of Service. 150 bags of trash was collected including golf balls, tennis balls, a basketball, shoes, a gym bag, sofa cushion, bike tire, trunk liner and piles of plastic and Styrofoam debris.
Upper Newport Bay has 13 different habitats and 21 distinct plant communities supporting life at the estuary. The worst visible threat to Upper Newport Bay is the trash that is carried there through the storm drain system. The trash is not only unsightly, it is also dangerous to the birds and marine life that get tangled in or eat plastic debris. Teams of dedicated volunteers restored the beauty of the Bay by helping to remove the tons of trash displaced there.
On Satruday, January 25, 2020, another group of Beoing employees volunteered with Inside the Outdoors Foundation at Shipley Nature Center in Huntington Beach. Trail markers were installed in the Coast Live Oak Grove to keep visitors on trials and preserve the native plants and animals calling this area home. In addition, Boeing volunteers helped restore the pathways in the Demonstration Garden which is hosts a Butterfly Garden, Hummingbird Garden, Riparian Garden, Color Garden and Waterwise Garden.
Not only do Boeing employees volunteer their time in the community, the Boeing Company also provides grant funding to Inside the Outdoors Foundation for a number of student programs that offer STEM (Science, Technology, Engineering, Math) educaiton to Orange County studnets.
We are grateful for this meaningful partnership!