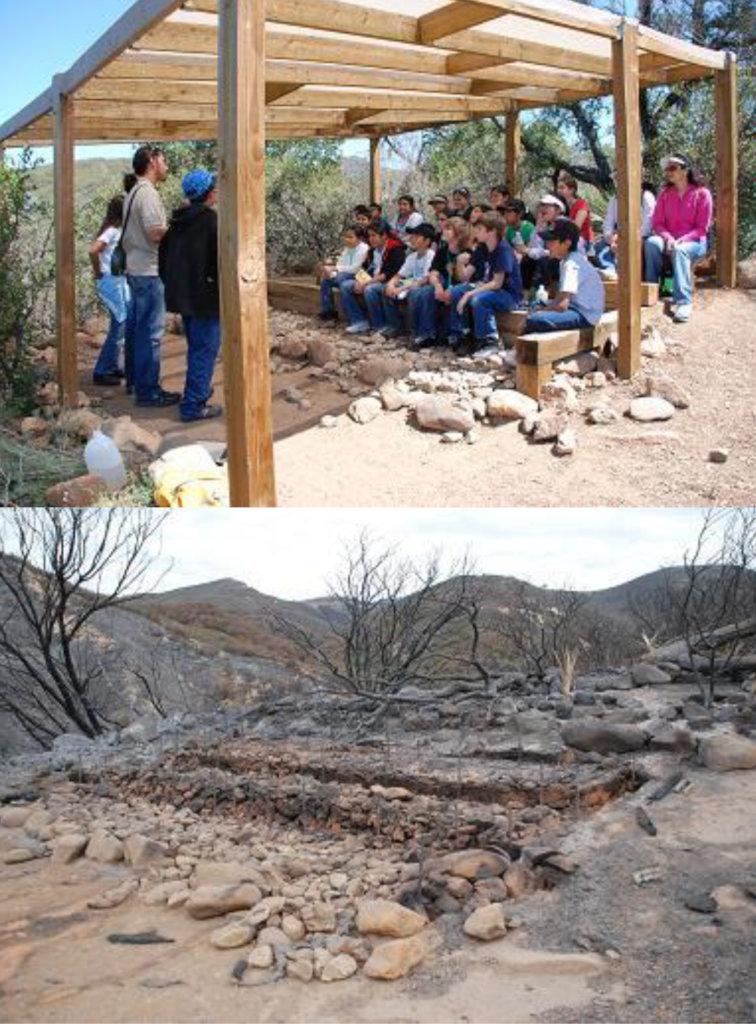 With the current California wildfire season in full swing we are reminded of the affects fire had on the Inside the Outdoors program at Rancho Soñado in 2007.
Rancho Soñado is Inside the Outdoors' (ITO) headquarters and a natural outdoor education site. Rancho Soñado is located in the midst of pristine chaparral at the edge of the Cleveland National Forest. It is used by Orange County elementary and high school students for outdoor environmental education field trips. It is also the home of ITO's traveling animal collection used for in-class programming.
The facility was significantly impacted by the Santiago fire in October 2007. Thanks to a well-executed fire prevention plan and the efforts of firefighters, the facility's buildings, animal shelters (all animals were evacuated), and infrastructure were spared. Damage included the total loss of trail structures, several outdoor learning stations (including shade structures and amphitheatre seating), and native chaparral ground cover. After the fire the facility was at risk of erosion and had reduced capacity to support school field trips.
To stay committed to our mission of providing students, teachers, and families with multiple environmental education experiences at Rancho Soñado, there was no question we would rebuild. In order to allow the burn area to recover but also return school field trip programs to full capacity, new school field trip teaching areas were constructed with the help of Disney VoluntEARS and Boeing Engineers. These teaching areas included new hiking trails, step and bridge construction, and wilderness area teaching stations.
Inside the Outdoors committed to using the burn area as a learning opportunity for students, teachers, and community members. Fire is an integral part of the chaparral ecosystem that comprises most of the natural area at Rancho Soñado. As such, we integrated fire ecology into the field trip curriculum for students visiting the site. Students lessons included; fire prone ecosystems, the fire triangle, natural and manmade ways that fires start, fire followers such as obligate resprouters, facultative seeders and obligate seeders, how fires affect plants and animals in an ecosystem and if the ecosystem is able to recover.
In 2008, Parker, a student from Wagon Wheel Elementary School, attended a program at Rancho Soñado where he learned about fire ecology and was able to see firsthand the effects of a fire and witness the recovery to native plants and local animals. What started as lessons on a field trip turned into a career for Parker. He is now a firefighter with Cal Fire Riverside. We'd like to think Inside the Outdoors' fire ecology program sparked his curiosity and started Parker on his lifelong path.
The fire ecology program has since been adapted and is now being taught by Inside the Outdoors at Irvine Regional Park where fire loss was experienced in 2017.