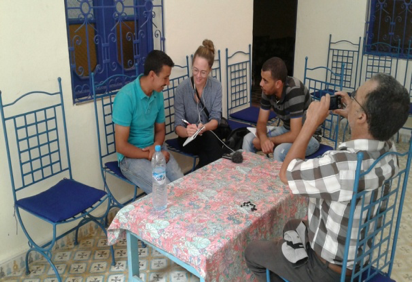 As we hope you are aware, the Kingdom of Morocco is hosting the 22nd session of the Conference of the Parties (COP 22) to the UNFCCC in Marrakech this November 2016. It will be an exciting time to come together and committment to global action and cooperation towards sustainable environmental practices as laid out in the Paris Agreement.
During the COP22, the High Atlas Foundation, aims to highlight it's Multicultural Cooperation for Fruit Tree Planting program as a solution to not only poverty, but peace as well. The German journalist, Tini von Poser, spent 2 days with the Marrakech field staff discussing these efforts and how, in particular, they respond to the climate challenges faced in Morocco. Below is an account of this visit told by HAF' s Agricultural Technician, Samir Azerboua.
"When I visited the Akraich nursery on last Tuesday 30th of August with German journalist and HAF staff, I felt that I have a spiritual feeling that I had never before especially when I saw the burial tombs. I was really amazed by this nursery that HAF built in this rural village; I would say it can be considered among the best nursery compared to the other nurseries that I have visited so far. It is well organized and well maintained provided with drip system and all the necessary agriculture things.
Miss Tini, the journalist loves the place as well. She began her interview with the nursery care taker, Mr. Abderrahim. He answered her questions with happiness, followed by another beneficiary who lives in next village. All their answers help the journalist to have a clear idea about operations and effort that it has been done by HAF regarding climate change.
Technically speaking, I have noticed that the fig and pomegranate saplings are growing well (vegetation growth and development). Since Akraich is a hot place fig and pomegranate trees grow very well here."
The COP22 is a COP of action; a global climate action agenda to boost cooperative action among governments, cities, businesses, investors and citizens to reduce emissions and help vulnerable countries adapt to climate impacts. The first universal climate agreement was unanimously adopted at COP21, which took place in December 2015 in Paris. The agreement aims to limit the rise in global temperature "well below 2ºC". This COP22 in Morocco aims to bring all States into action through the mitigation of greenhouse gas emisions and ambitious national commitments.
As part of HAF's committment to sustainable development and given our expertise in the agroforestry sector, we will be looking to market carbon offsetting initiatives to individuals, companies and states during the COP. Not only will this contribute to our 1 Billion Tree campaign, but also allow entities to uphold their commitments to mitigate greenhouse gas emisions. Global Giving will have a Bonus Day on September 21st, and we at the High Atlas Foundation plan to offer to our Global Giving supporters the opportunity to offset their carbon emissions.
Stay tuned here on Global Giving! You can also sign up for updates from the HAF newsletter for further information!