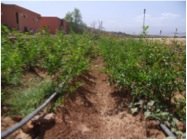 Thanks to continued support from you and our local partners, HAF recently signed four new agreements with the Moroccan Jewish Community of Marrakech to build tree nurseries on land adjacent to Jewish cultural sites. These nurseries will be for the benefit of the local communities and this agricultural initiative will be incorporated into a federation of cooperatives that promote organic, fair trade agricultural and artisanal products from Morocco.
Last planting season, HAF implemented this multicultural agriculture project on land near the Akraich village (Al Haouz province), adjacent to the sacred site of the Jewish "saint" Rabbi Raphael Ha Cohen. With the generous support of the Lodestar Foundation and wife and husband Wahiba Estergard and Michael Gilliland, HAF and local partners planted 50,000 fruit seeds for the benefit of approximately 8,000 people. In the second year of this five year project, trees from the community-managed nursery will be distributed to each household (starting with single mothers) in the local Muslim community. The trees will be planted and maintained by each farming family, in their own orchards, for their sole benefit. Trees are also distributed in-kind to primary schools in the municipality, as a part of Sami's Project.
This project, in addition to increasing household incomes, has created on a local and national level a symbol for Moroccan collaborating among Muslim and Jewish groups to advance sustainable human development. This collaboration is mirrored in our cultural projects, which promote multicultural history in Essaouira.
On January 16th, (which falls on the Jewish holiday Tu B'ishvat), the High Atlas Foundation will plant its 1 millionth tree in the 8 provinces where we currently have agricultural projects, simultaneously at noon. In Akraich, we will plant and distribute trees on that day.
Thanks to your generous support, HAF and local partners are able to expand the scope of this agirculture initiative, providing sustainable solutions to rural poverty. HAF and community members are so thankful for your donation, which has provided trees to be planted in the spirit of interfaith cooperation.