Project Report

| Aug 25, 2023
A Multicultural Journey of Coexistence
By Dr. Afaf HAMZAOUI | Professor Faculty of Letters and Human Sciences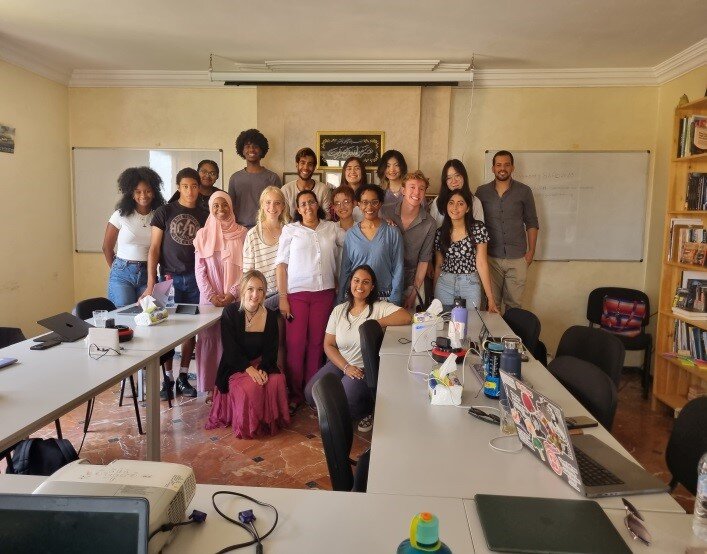 When I first visited the High Atlas Foundation in December 2022 in Marrakech, I knew that it was my first visit but not the last; however, I did not imagine that my next visit would be magnificent. What is special about my second visit to the High Atlas Foundation is my encounter with American university students, which is a new experience for me. I was meant to give two seminars to two different groups of American university students who came to Morocco in a special programme with the collaboration of the High Atlas Foundation in Marrakech.
At first I have selected seven topics in relation to the Moroccan multicultural identity focusing on both Jewish cultural components as part of the Moroccan cultural identity. I sent my topics to Dr Ben-Meir, president of the High Atlas Foundation, to choose two that fit to the guest students' programme and finally we agreed about two.
Accordingly, I met the first group, students of Virginia University in the USA on the 16th June, 2023 at 11h 00 a.m at the High Atlas Foundation new building. And I met the second group, students of Princeton University in the USA, on the 19th June, 2023 at 12h30 p.m.
Once arrived to the High Atlas Foundation On the 16th of June, I was welcomed by two nice members of the Foundation's staff, Mr Mountassir and then Ms Kaoutar. Once I came in to the foundation there was a group of students who were sitting in a round table, each one of them was working on his or her laptop. At first sight I had a strange feeling. I felt like if I knew them before. I had a positive inner feeling. Then, Ms Kaoutar came and accompanied me to Dr Ben-Meir's office. He warmly welcomed me and introduced me to new members of the foundation and informed them that they can attend my seminar if they wish.
Dr Ben-Meir introduced me to the group of students who came from Virginia University in the USA, and then he joined us. As I am interested in the Moroccan multicultural identity mainly the Jewish cultural identity component of Moroccan multicultural identity, my seminar was about the common and shared traditions and cultural practices among Moroccans both Jews and Muslims.
As soon as I started my presentation, I noticed complete silence and an obvious interest to the topic. Their attention to the subject was one of the main causes of the success of the seminar. There was a rich and fruitful debate among us after my presentation. All students were involved to the discussion. Our meeting had lasted for more than two hours. They asked various questions showing their thrust for knowledge about the Moroccan cultural identity mainly the Moroccan Jewish culture as most of these students are Jewish.
I focused on the shared and common Moroccan cultural practices by both Moroccan Jews and Muslims. The opportunity that the High Atlas Foundation has given to both of us, the group of Virginia University students and I, is a rich and fruitful experience, which is going to improve our cultural encounter and skills.
On the 19th June, 2023, I met another group of students who came with their professor from Princeton University in the USA. It was another different experience from the first one. Arrived at the High Atlas Foundation office, I was welcomed by a young- kind lady, Ms Fatimezahra. When I arrived, the students had a course given by Dr Ben-Meir. When he finished, the students took a short break, then he amiably presented me to the guests from Princeton University in the USA, professor and students. Then he apologised because he was obliged to leave us.
The Princeton University group of students belong to different nationalities and different religious backgrounds. There are Jews, Christians, and Muslims. Their common interest is the study and love of Anthropology. For these reasons, the topic of my seminar was a little bit different. I talked about Moroccan Jews though my mother's memories.
As the first group, these students were curious to know how my mother is going to represent the Moroccan Jews' memories through her memories. They were interested from the beginning and at the end of the seminar; they expressed their patience and their gratification listening to my mother in a short video at the end of my seminar.
I am so grateful to Dr Ben-Meir through hosting me at the High Atlas Foundation and for giving me the opportunity to give these rich and fruitful seminars to both groups of students from Virginia University and Princeton University in the USA and also gives me the chance to talk about the Moroccan multicultural identity Jewish and Muslim and present my mother's memories about Moroccan Jews mainly her Jewish neighbour whom she has never forget. Also, I would like to thank the students who have chosen Morocco and the High Atlas Foundation to enrich their studies' experiences. Thank you so much.