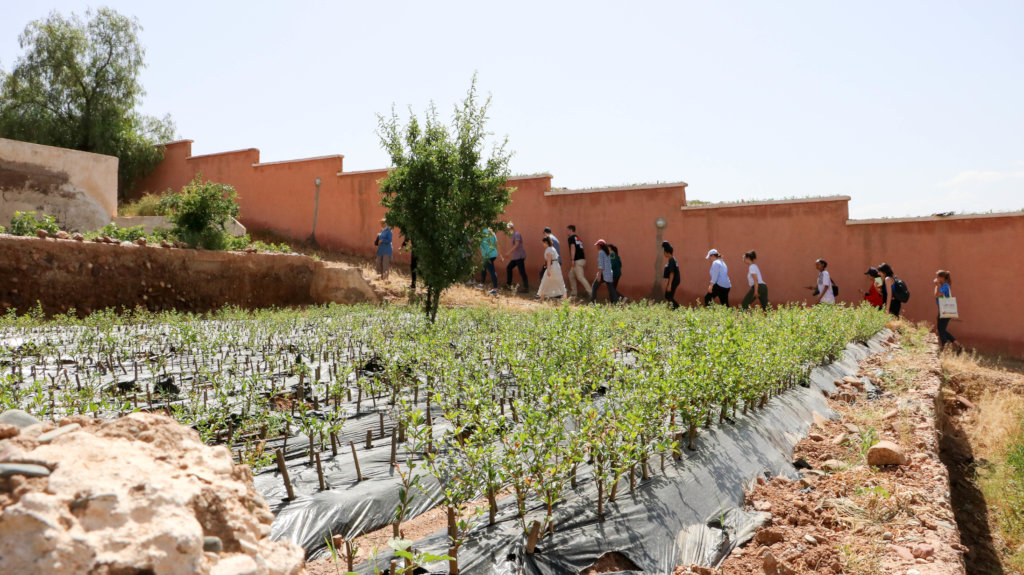 Over 40% of the Moroccan population is employed in the agriculture sector. Fresh fruits and vegetables belong to the top five export categories, which represent about 25% of the total Moroccan exports. The pomegranate cultivation occupies an area of 5,000 ha and provides an average yearly harvest of 58,000 tons of fruit (Hmid et al., 2018; pp. 302-9). Over the past ten years, as a part of the Green Plan, the Moroccan Department of Agriculture has been supporting the planting of pomegranate varieties to reduce poverty among farmers in rural areas across Morocco. Moroccan pomegranates are significant because of their specific chemical composition of cultivars, implying great potential for both the fresh market as well as juice processing.
Moroccan pomegranates
Alkhalid - in his paper "Pomegranate juice production in Morocco" - references studies led by Hamid (2016) about the characteristics and chemical properties of Moroccan pomegranates. He tested 18 different varieties of pomegranates grown in Morocco, local and foreign, and has found that the local cultivars 'Djeibi' and 'Sefri' have the greatest volume of juice per kilogram of fruit, which makes them of special interest for industrial juice production. Additionally, it was discovered that 'Onuk Hmam','Djeibi' and 'Sefri 2' cultivars contain high polyphenol and anthocyanin content, and that may be interesting to pharmaceutical and food industries to extract these bioactive compounds. As for fresh fruit consumption, the local cultivars 'Chioukhi', 'Bzou' and 'Sefri 2' have a good combination of highest aril percentage, least skin percentage, and least seed percentage, which are all highly desirable qualities by consumers.
According to volunteer experts of the John Ogonowski and Doug Bereuter Farmer-to-Farmer program, the variety of pomegranate which is desirable to grow is Sefri. On average it produces - given the area, water conditions, and growing season - 450 kg per mature tree. The High Atlas Foundation's research reports: "The Board president Mohanned Kouyes expressed the need to add value to the current crop through the installation of pressing, packaging and labeling equipment which now is provided to this cooperative through the Moroccan Department of Agriculture. As a part of our talks with the cooperative board they indicated that they needed technical assistance in the form of a marketing specialists and a food/agricultural engineer."
Problems for local farmers
Pomegranate in Morocco is mainly being sold to market vendors in October, November, and December. Additionally, local farmers, due to lack of technology, do not have sufficient capability to process fresh pomegranates into juice. Foreign countries capitalize on this problem by processing in Europe and shipping the bottled juice to Morocco during the off-season months (January through September). Therefore, the farmers lose the opportunity to reap the benefits of a higher price for their product and become a contributing member in the pomegranate value chain.
Heath benefits
Moroccan pomegranate can act as a potential nutraceutical, which can provide medical and health benefits, including the prevention and treatment of a diseases such as cancer, cardiovascular disorders, diabetes, male infertility, Alzheimer's disease, aging, and AIDS. (Arfeshany, et al., 2014). The assessment of pomegranate chemical compositions implies the great potential of Moroccan cultivars for both the fresh market and fruit processing (Legua, et al., 2012). The studies also found that "pomegranates showed a much higher antioxidant capacity than most commonly consumed fruits and juices".
United States-Moroccan pomegranate trade forecast
According to CBI Ministry of Foreign Affairs, antioxidants found in local pomegranates have a great potential to increase global demand for this product. The global pomegranate market in 2018 was valued at USD 8.2 billion and is expected to reach USD 23.14 Billion by year 2026.[1] Also, the trade between US and Morocco is improving every year. The U.S. goods trade surplus with Morocco was $1.4 billion in 2018, a 39.8% increase ($393 million) over 2017.[2] In 2018 Morocco was the United States' 70th largest goods export market.
To analyze global trade, it is important to understand the end-market price. Just 25% of the end price is export, further 15% shipping, another 15% import. The last 45% is the retail cost.[3] US mainly imports pomegranate from India, as it is one of the largest world providers. The distance between US and India which is 8, 431miles, the distance from US to Morocco is almost half that - 4,867 miles. Cutting the distance would be a great way to cut the shipping prices.
References
A. Arfeshany, S. Asgary, S. Haghjoo Javanmard; 2014. Potent health effects of pomegranate. Adv Biomed Res. doi: 10.4103/2277-9175.129371
Cbi.eu. (2019). Available at: https://www.cbi.eu/node/1892/pdf/ [Accessed 26 Aug. 2019].
Hmid et al., 2018. He physico-chemical characteristics of Moroccan pomegranate and evaluation of the antioxidant activity for their juices, Journal of the Saudi Society of Agricultural Sciences. Journal of the Saudi Society of Agricultural Sciences. 17(3), pp. 302-309.
Legua, P., Melgarejo, P., Abdelmajid, H., Martínez, J. J., Martínez, R., Ilham, H., Hafida, H. and Hernández T, F. (2012), Total Phenols and Antioxidant Capacity in 10 Moroccan Pomegranate Varieties. Journal of Food Science, 77: C115-C120. doi:10.1111/j.1750-3841.2011.02516.x
Ustr.gov. (2019). Morocco. Available at: https://ustr.gov/countries-regions/europe-middle-east/middle-east/north-africa/morocco [Accessed 26 Aug. 2019].
Reports and Data, h. (2019). Pomegranate and Pomegranate Arils Market Size, Analysis (2018-2026). Available at: https://www.reportsanddata.com/report-detail/pomegranate-and-pomegranate-arils-market [Accessed 26 Aug. 2019].
[1]https://www.reportsanddata.com/report-detail/pomegranate-and-pomegranate-arils-market
[2]https://ustr.gov/countries-regions/europe-middle-east/middle-east/north-africa/morocco
[3]https://www.cbi.eu/node/1892/pdf/