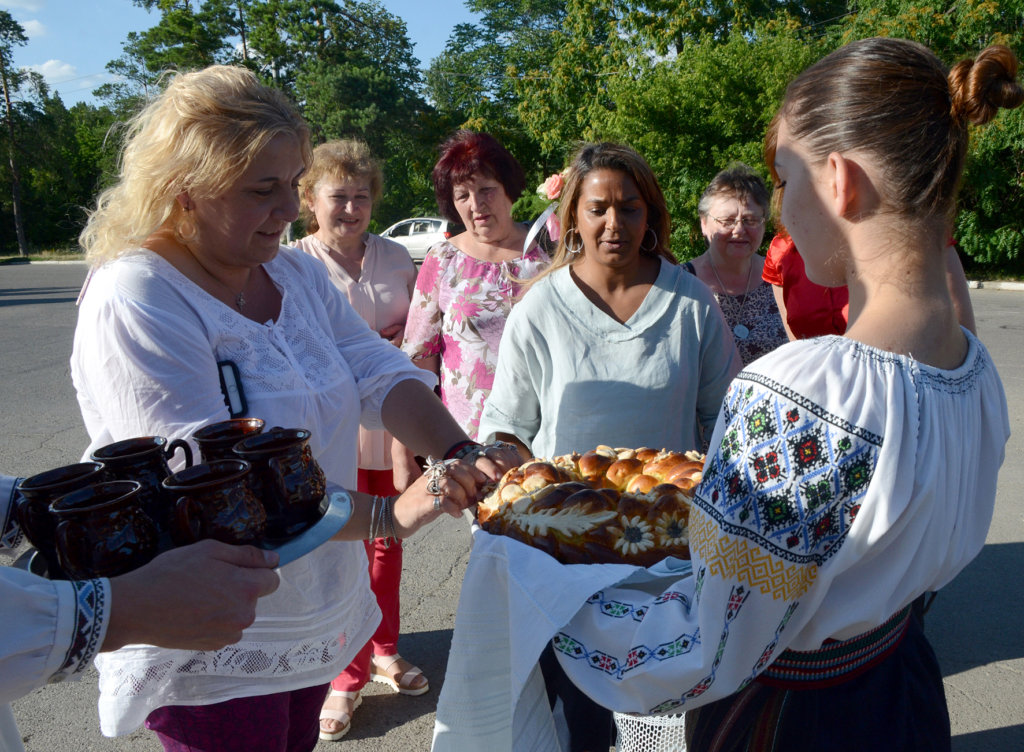 Balti municipality signed onto the Zero TB Declaration, committing Speranta Terrei's home town to reducing TB prevalence and mortality. Zero TB is an international initiative to apply proven, community-based tuberculosis control measures to meet the goal of ending TB. Speranta Terrei's and Tineri pentru Dreptual la Viata's (TDV, Youth for the Right to Live) staff greeted Stop TB Partnership's executive director, Dr. Ditiu, and human rights, gender & TB/HIV advisor, Colleen, with traditional Moldovan bread and wine upon their arrival in Balti (photo).
Dr. Ditiu and the acting mayor of Balti, Mr. Sheremet, signed the declaration at Balti City Hall on 29 June (photos). Mr. Sheremet underlined local and international cooperation in reducing TB, saying, "The signing of the Zero TB Declaration is of major importance for the local public administration of Balti, in the context of the severe tuberculosis burden and the success of the fight against tuberculosis…" Dr. Ditiu was impressed to see so much cooperation, noting, "The Acting Mayor and his team, the TB program representatives, the NGOs Tineri pentru Dreptul la Viata, Speranta Terrei, and the Moldova National Association of TB (SMIT) all came together and committed to join efforts to make the city TB-free." To implement Zero TB, Speranta Terrei and TDV will combine their respective expertise on TB and HIV to strengthen services to co-infected patients.
The Moldovan Orthodox Church added its authoritative voice to achieving Zero TB. A few days after the Zero TB Declaration was signed, Archimandrite Balti-Falesti Markel led a gathering of priests at Cathedral Constantin si Elena in Balti. Municipal councilor, Elena, and Archimandrite Markel spoke to the priests about their role in combating tuberculosis. He encouraged them to raise awareness of TB among their parishioners and to facilitate programs of NGOs on TB and HIV. A BaltiTV story on the gathering is at:
https://www.youtube.com/watch?v=Zlc9MJksqes
Speranta Terrei's talented and dedicated photographer, Alexandr (1960-2017), passed away in August. His photos depicted vividly the human face of TB and he eagerly brought Speranta Terrei's work to audiences far from Moldova. As in many previous GlobalGiving reports, this report features Alexandr's photos. In his honor, we attach an early photo he took during a TB awareness campaign in schools based on the Luis Figo and the World Tuberculosis Cup comic book. Because of Alexandr, we feel Jaroslav's unbounded joy as he kicks the Stop TB ball (photo) and we feel the profound grief of Alexandr's family.
We at Speranta Terrei would like to thank you, our GlobalGiving donors. Your generosity is critical to all our endeavors.