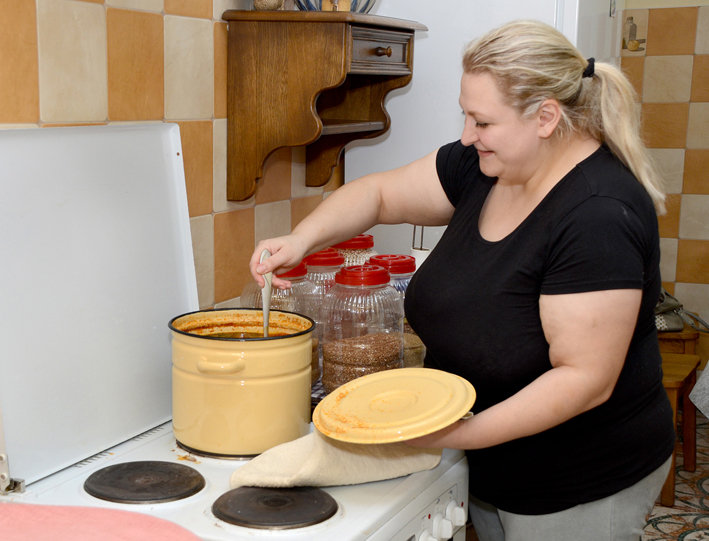 Tuberculosis is transmitted through the air and it can infect anyone. In Moldova, TB has a deep foothold because of individual risk factors and general socioeconomic and public health factors. At Speranta Terrei, we counter some of those risks thanks to the generosity of our GlobalGiving donors and other funds. We support TB patients to complete treatment so that they do not infect others, we assist individuals at high risk to be tested for TB, and we raise awareness of behavior which increases TB risk.
Homelessness and cigarette smoking increase the risk of TB. When Galina, Speranta Terrei's long-time moderator (treatment supporter), won the Kochon Prize last year, she saw a chance to expand Speranta Terrei's assistance to the homeless. Poor living conditions and nutrition contribute to TB risk for the homeless. Thanks to the Kochon Prize funds, Speranta Terrei serves lunch to the homeless (photos) at our Centre for Tuberculosis Patients and has a car to transport the homeless for medical tests. Galina recently went with Vitalii and Vasilisa (photo) in the car to the TB dispensary and clinic for diagnostic tests. Although Vitalii and Vasilisa were not diagnosed with TB, they were diagnosed with chronic pulmonary disease. They are among an estimated 450 homeless in Balti to whom Speranta Terrei gives special attention for TB control.
Smoking prevalence among adults in Moldova is 25 percent and smoking is all too common among patients to whom Speranta Terrei gives TB treatment support. Tobacco smoking doubles the risk of a recurrence of TB and increases the risk of TB infection, of developing TB disease, and of TB mortality. This year we took a step to attack this huge risk with the help of Alexandre, a professor at Balti Medical College. He organized 25 students for an awareness campaign for World No Tobacco Day on 31 May. To reach aspiring medical professionals at the college, the students set up information panels entitled, "Smoking Kills" and "A Day Without Smoking", and showed a film on the damage smoking causes. They asked students and workers to consider to, "Replace a cigarette with an orange". Several students agreed to this exchange and put their cigarettes in the trash bin and took the orange (photo). One student said, "I found so much information about the damage of smoking, I realized I should give up."
Students set up a tent in Balti city centre with the motto "Let's have a healthy life - stop smoking". They discussed with passersby the dangers of smoking, exchanged oranges for cigarettes, and measured blood pressure (photo). The students spoke to 300 and measured the blood pressure of 73 people. One woman said, "I am glad the younger generation is trying to stop smoking, I could not convince my husband to stop and my whole family suffered because of it". We want to do all we can to reduce the risk factors associated with TB and reduce the suffering it causes.