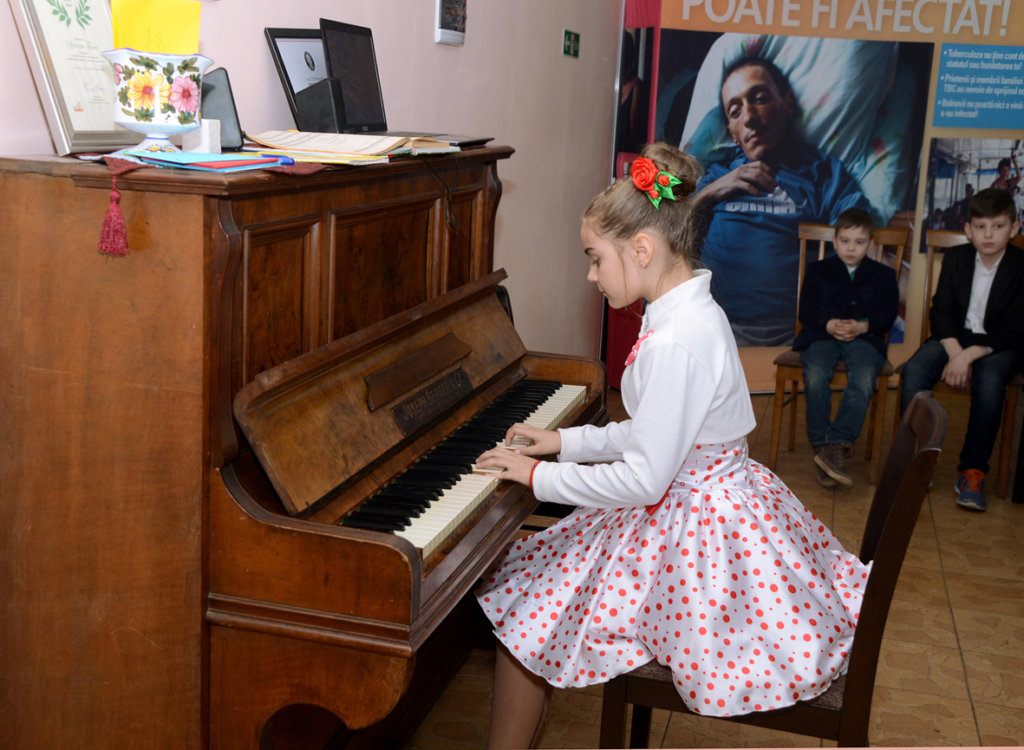 Speranta Terrei commemorated World Tuberculosis Day on 24 March with a children's concert at our Centre for Tuberculosis Patients in Balti. Alexandrina, chief of piano department at George Enescu Musical School, led the children in renditions of Moldovan, Ukrainian, and Russian music on piano, violin, guitar, and vocals.
The young performers' interpretations were as uplifting as the photos of Alina playing Goedicke's "Waltz", Artiom playing Artobolevskya's "A Short Waltz", and Elena playing Doga's "Scripunela". The five vocalists sang Zaporojan's "Spring", Alexandrina accompanying on piano and Ala, our psychologist, accompanying on vocals. These vocalists live in a group home and visit our Centre on Saturdays for music and play therapy with Alexandrina and Ala.
David Rochkind's portable exhibit is visible behind the pianists, his photos of Moldovan patients and medics a dramatic reminder of TB's human cost. Standing in front of the exhibit at the start of the concert, Nadejda, Speranta Terrei's consultant, explained the historic significance of Dr. Robert Koch's announcement on 24 March 1882 of his discovery of mycobacterium tuberculosis as the cause of TB.
Students at "Ion Creanga" High School in Balti have been meeting children from the group home for their civics education project on TB stigma (photo "Coloring Together"). Their project placed first among Balti schools and they are headed to the national competition in Chisinau in May! The students, Andreea, Tatiana, Cristina, Alexandru, and Anastasia conducted a survey that revealed 35 percent of patients do not present for diagnosis or abandon treatment because they fear social discrimination and rejection. Their teacher, Olga, explains the purpose of civics education is to "encourage students to be involved in their community, to be active citizens with an interest in society's problems." The 10th form students sensed the isolation of the group home children, some close to their own age. Cristina said, "I realized how much stigma can affect children's life and I am really sorry it happens in our society. It's not fair." We are rooting for the "Ion Creanga" High School students at the national competition!
These students, who contend with absent migrant worker parents, living with relatives, commuting to school from surrounding villages, find time for the children in the group home. Their genuine compassion and their easygoing manner with the children is apparent. The students and the young musicians fill us with hope that we can fulfill this year's World TB Day slogan, "Unite to End TB".
Many thanks for your donations which keep our Centre open as a place of compassion and commemoration.