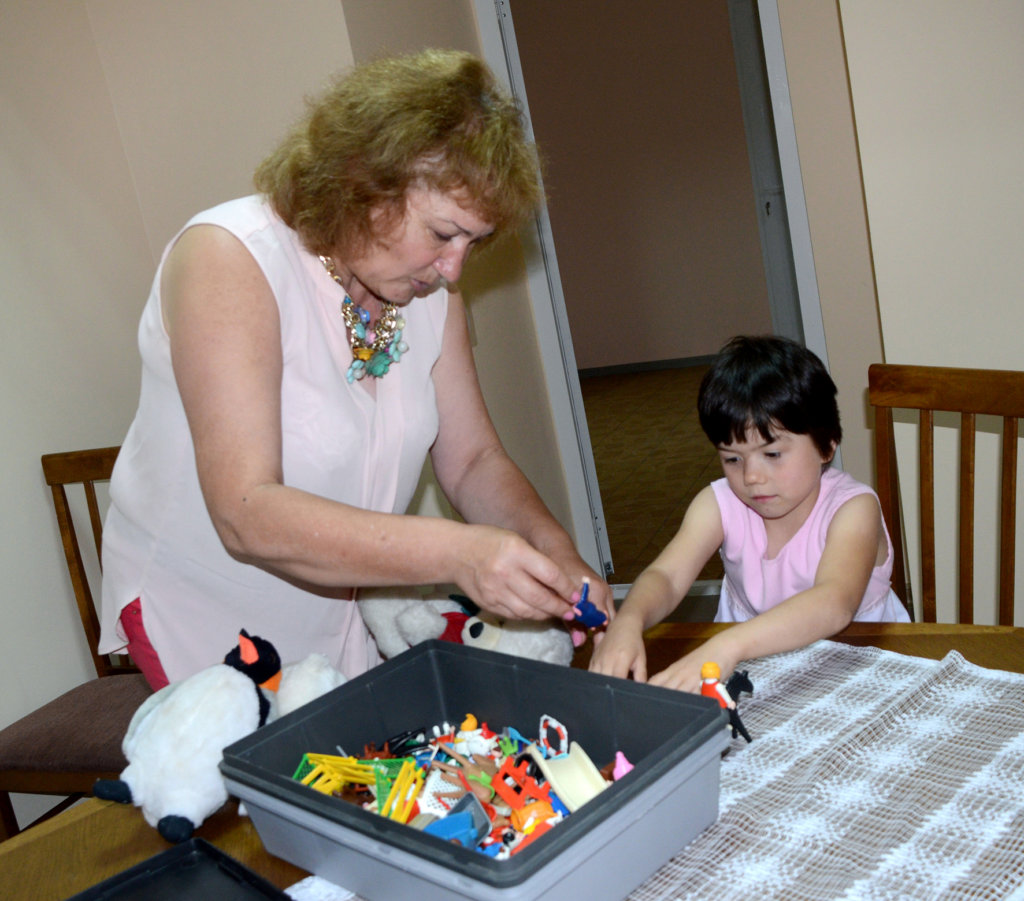 Maria is an irrepressible woman who shares Speranta Terrei's concern for children with tuberculosis. She and her husband, Valerii, started a residential home for children who were contacts of TB patients or who had TB themselves. Maria collaborates with a church in Norway to assist Moldovan children with TB. The Norwegian donors gave funds to establish the children's home on the outskirts of our hometown, Balti. Maria and Valerii alone look after the children, cooking and cleaning, transporting them to school and doctors, supervising homework and visits to the TB dispensary, and purchasing food and clothes. The nine girls and one boy live at the home with the permission of their families, who faced difficulties taking care of them.
Since June the children have been visiting Speranta Terrei's Center for Tuberculosis Patients for counseling and activities. Enter another irrepressible woman, Alla, our child psychologist. Through play therapy, speech therapy and handcraft making, she elicits the children's feelings about their circumstances and shows them how to respond to these feelings with positive effect. Little Tatiana (seen with Alla during play therapy) was 2 years old when her mother died. She was placed in an institution for the hearing impaired because her caretakers thought she could not speak. After being in Maria's home for a year, Tatiana began to utter words. Thanks to Alla's therapy, Tatiana's speech has improved tremendously and she is learning to read. Tatiana says of the Saturday visits to Speranta Terrei, "I love playing games here and I love Alla."
On a recent visit to our Center, our elderly friend Liudmila showed the children how to make needlework with beads (photo). At the ripe age of 84, Liudmila makes patterns of flowers and animals and relishes sharing her hobby with youngsters. After the morning's activities, everyone sits down to lunch (photo).
Maria says running the home is gratifying, though she is exhausted at the end of each day. She is especially gratified the children are free of TB. In a house full of children, she and her husband experience the ups and downs of a large family, the travails of adolescence and youngsters competing for attention. She says the teenagers have a mind of their own whereas the younger children are more attentive to her instructions. The younger children say to her, "You embraced so-and-so more times today than me so you must love her more!" Maria says the interactions with Alla have helped the children in their recovery and she sees how much they benefit from Alla's techniques.
Speranta Terrei's Center for Tuberculosis Patients was renovated with your contributions and we and the children are grateful for the sense of community it offers to those tuberculosis has affected.