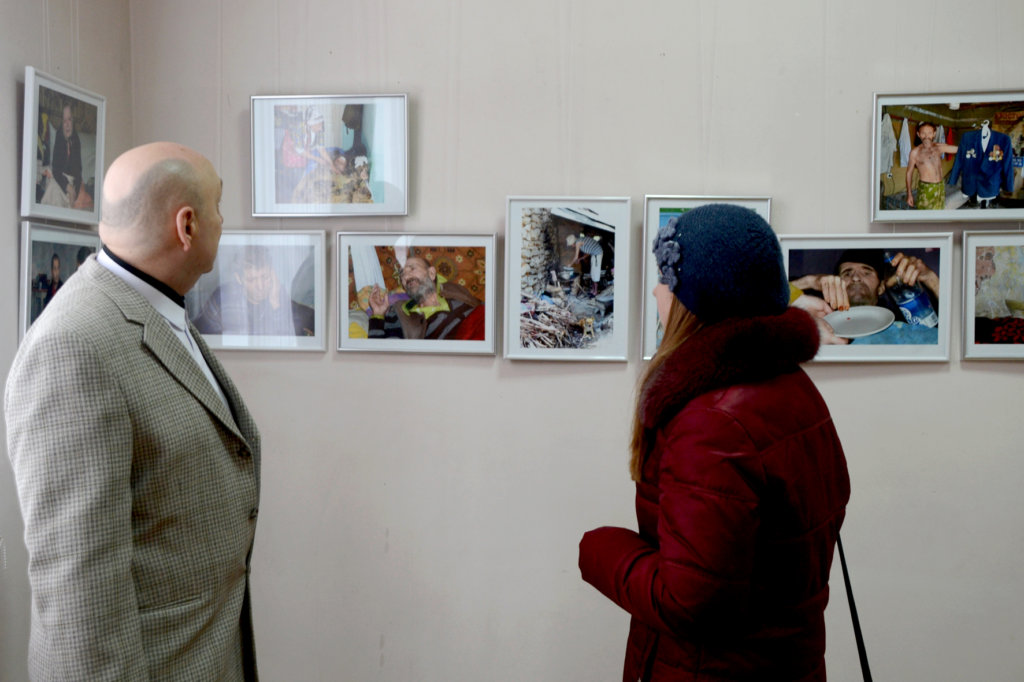 Speranta Terrei marked World Tuberculosis Day this year with a photo exhibition on TB and distribution of TB information at the market. World Tuberculosis Day on March 24 commemorates Dr. Robert Koch's announcement in 1882 of his discovery that Mycobacterium tuberculosis causes TB. For Speranta Terrei, it is a day when we highlight how the disease affects patients and how it is diagnosed and treated.
As Speranta Terrei's photographer, Alexandr has had his lens trained on tuberculosis patients and their emotions as they undergo treatment. Alexandr's collection of photos were exhibited at Balti Municipal Art Gallery "Antioh Cantemir", with the opening on World Tuberculosis Day. Alexandr says, "I was gratified to see officials from City Hall as well as former patients at the exhibition." In the attached photos, Alexandr shows and explains the context of his photos to visitors.
Alexandr's photos are a glimpse into the variety of people to whom our moderators give treatment adherence support. Attendees at the exhibition saw photos of a boy's puzzled look as he takes a series of anti-TB drugs and of an elderly, bedridden woman overcome with tears of joy at completing treatment with the assistance of a moderator. Among the photos were the anxious expressions of men who had not been outside in months and who appeared drained from the unaccustomed lack of activity.
Speranta Terrei's translator, Irina, organized a group of students from her Ion Creanga High School classes to hand out TB information to market vendors. On a rainy World Tuberculosis Day, 10 students gathered at the entrance of Balti's central market with TB pamphlets (see photo). They fanned out to speak to vendors (photos) and shoppers, explaining TB symptoms and encouraging people to be tested if they experience symptoms.
The students said they realized the heavy toll TB takes on their fellow Moldovans and learned from the questions the market vendors asked them. One of the students, Radmila, said, "Some people seemed to be so worried about a neighbor who was coughing for several weeks, they realize how important it is to make a medical test." Another student, Lia, was heartened that, "People understand they are responsible for their own health and kept asking us questions what to do and where to go for a TB test."
Alexandr's photos and students raising awareness were a fitting way to honor the critical discovery of Dr. Koch. Speranta Terrei thanks our generous donors for allowing us to continue the long battle against tuberculosis.